Interview By Paul Kerr

Photos by John Darwin Kurc & Gary Pudvan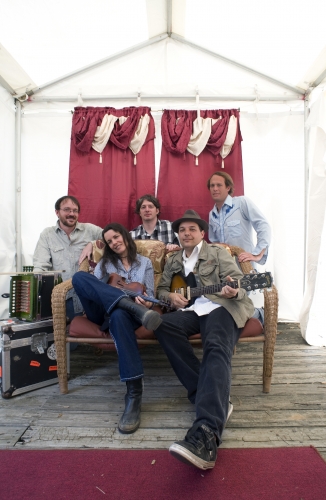 Tara Nevins has spent twenty years at the helm of roots-rock revelers Donna the Buffalo, delighting their dancing devotees with her songwriting, singing and instrumental skills. I sat down with her at the Shakori Hills GrassRoots Festival in Silk Hope, North Carolina as she grabbed a bite after a funky set backing up zydeco legend Preston Frank.
HGMN:
The Finger Lakes GrassRoots festival was started by Donna the Buffalo in New York. Did you say "Let's start a big music festival" or did it grow organically from a smaller idea?
Nevins:
We'd been going to festivals for years and enjoying different things about different festivals. And then one year we decided to do just a one-day event, three bands in Ithaca, and we decided to make it a benefit. It was an AIDS benefit and it was at The [State] Theatre and it went so well. It was sold out. It was so much fun doing it and it just created a great community feeling in the town. "We gotta do this again next year," you know?
As time went on, we were talking and Jeb [Puryear, Donna the Buffalo's co-founder and lead guitarist] said "Maybe we should try and do a festival. Let's try and do the whole weekend." The first couple of years Donna the Buffalo did everything. It was insane. There were very few people there. It was three days. And that was twenty years ago this summer that we did that. Since then it's just taken off and now basically we're the host band.
HGMN:
How did it expand down to North Carolina?
Nevins:
Jordan Puryear, who basically runs [Shakori Hills], was in Donna the Buffalo when we first started the festival and he always wanted to take the festival on the road. He actually wanted to travel from town to town with the Dance Tent and have a traveling festival circus kind of thing. Then it was the idea of starting festivals in different places. So he set out and he explored the idea and found this place here in North Carolina and he's been here since.
HGMN:
Are there plans to expand into more cities?
Nevins:
Yeah, there is. There's talk and speculation about going down to Florida possibly.

HGMN:
The festival in New York is a lot different from Shakori Hills.
Nevins:
The one up in Trumansburg is at a fairgrounds so it's real open. There's a race track and a grandstand. It's a great vibe and a great place. It's not way out in the country, it's in a small town. You can walk everywhere from the festival which is kind of nice. People can walk down to the grocery store, to the ice cream store, to the liquor store, to the restaurants. It takes over the town and the town probably gets a little worried but I think they're used to it now. They make a lot of money.
HGMN:
It's a lot more people than Shakori Hills.
Nevins:
[Shakori Hills] is still growing. This is a big one this year, it's really getting bigger. But Trumansburg now is somewhere around 15,000 or maybe more.
HGMN:
I think more towns would benefit from having festivals. I've never heard an argument here about any of the things that divide people, because you come to something like this and it just brings everyone together. Something about this spirit just opens people up.
Nevins:
Festivals promote community. They promote little microcosms of how life could be on a grander scale. But then again, this festival here pretty much so far attracts very like-minded people. So in some ways we're all preaching to the choir at a festival like this. There's some other festivals - and I know it happens with Donna the Buffalo's audience too - like if you go somewhere like MerleFest, that's huge, oh my God. Now that attracts all different walks of life. You have your alternative crowd, you have your straight families, you have your right, you have your left. You sort of have it all there, you know? And when you see that community feeling happening in a place like that, it really gives you a feeling of real hope for the planet because you can cross bridges at these places.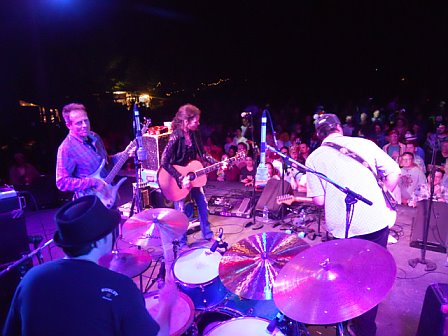 HGMN:
I interviewed Peter Rowan and we started talking politics and I asked him if he thought an artist had an obligation to speak out. He said you don't have to be that straightforward because basically if you spread joy it takes on its own political meaning.
Nevins:
Absolutely.
HGMN:
Somebody who's feeling joyful will make different decisions in the voting booth than someone who's feeling fearful. So I think things like this festival really have a carryover effect.
Nevins:
They do. It almost doesn't matter what you're singing about. You don't have to be singing about politics. You could be singing a love song or something like that and the vibe that you put out when you are singing it and the energy that it creates between you and the audience - that synchronicity or that connection - creates a very sociopolitical beautiful sort of bouquet of universal togetherness. You know what I mean? It just does. It doesn't matter what you're singing about in a way.
HGMN:
When you're all dancing together, it's really hard to remember that you're supposed to feel scared of each other on Monday morning.
Nevins:
Yeah, right. Everyone can relate to a love song and everyone can relate to a good melody and everyone can relate to rhythm and dancing, so all of that brings people together. There's no denying it, everyone agrees. And when you feel that feeling that everyone's agreeing, you're like, "Hey, we can all agree!"
HGMN:
Right. "This isn't hard at all." And that even happens with Bassekou Kouyate, where they're singing in Malian. There was an emotional message there just from the sounds.
Nevins:
Absolutely. That music was so deep, oh my God.
HGMN:
Do you feel like Donna the Buffalo is flying under the radar of the music industry? You play big clubs and big festivals and yet your career trajectory is fairly unique.
Nevins:
We've never been darlings of the press, I will say that. We're very organic, sort of did it for ourselves from the ground up, grassroots operation. Very self-reliant and interdependent on ourselves, which is actually in these times a really good thing because the whole music industry is so weird right now that it's good that we're not at the mercy of a major label or any label really.
A really funny thing that I've noticed is that there are bands that feel like they're getting a lot of attention in the press and maybe they've had a few videos on CMT or Great American Country and there's some hype about them. But then you go to their shows and they don't actually draw huge audiences. It always surprises me. Whereas you take somebody like us - we do have a video, but I mean after twenty years we just finally have a video - there's not tons of press on us, there's not tons of hype on us. In fact there's sort of been the opposite over time. But we have very happening shows and a very loyal, loving fanbase and a very happening scene and we're not reliant on all that stuff. It would be nice to have more press, but it is an interesting path we're on, which we didn't choose. It is what it is.
HGMN:
You toured recently with Grateful Dead drummer Bill Kreutzmann. How did that come about?
Nevins:
That came completely out of the blue. I got a phone call from my manager who got a phone call from their manager. Bill was going on the road to do a trio and they decided they wanted to bring a female vocalist. They had thought of a few different names and had thought of me and did I want to do it? I think the bass player knew Donna the Buffalo and liked the band and Bill's manager was a fan.
I was supposed to just go sing and I ended up playing fiddle and scrub board. It was a real challenge and really different. I had to learn to sing some Grateful Dead songs. I liked the Grateful Dead but I didn't have all the records and wasn't well versed on their material. So I had to really research and pick three songs to sing and then sang harmony on a bunch of other songs. It's weird to say but it's like I, for the first time, really truly discovered what was so amazing about the Grateful Dead.
HGMN:
They're deeper than you can see at first glance.
Nevins:
Well I never really looked that close even. I heard the songs that were the most popular. I liked them, but I didn't really sink into it or chase it down, you know? And now I have this incredible appreciation for the Grateful Dead - their movement, what they did, their music, their songs, Jerry Garcia, the writing, Robert Hunter, Bill Kreutzmann, his drumming. He's a great guy, and it's just awesome what they actually did. I feel very grateful to have had that experience.
HGMN:
Their influence and the scene they helped foster is really evident in a lot of these festivals too.
Nevins:
Absolutely. Their music influenced musicians and fans and the culture.
HGMN:
In interviews, people are always asked about their main influences. I'm more curious if there are obscure musicians who've really influenced you? Like if you could turn your fans on to somebody who they probably don't know about.
Nevins:
I'm actually more into obscure musicians. Probably the most popular musician that I'm influenced by for songwriting is actually Sheryl Crow, which is about as pop as you can get. But because I play fiddle, I'm really into really obscure fiddle players like Benton Flippen who actually lives around Mt. Airy, North Carolina. My fiddle playing is tremendously influenced by him, Frank Cochrane who's now gone, and Tommy Jarrell - all from the Mt. Airy region. They call it the Round Peak style of fiddling. And also I absolutely love the Roan Mountain Hilltoppers, they'e awesome. So as far as fiddle music, that's all really obscure and has really shaped my fiddle playing tremendously.
African music's gotten really popular now, but when Jeb and I first got into it, it was not. And I was really into Thomas Mapfumo and Mahotella Queens and there's a band called The Four Brothers and all these African bands. Now it's real popular, as is Cajun and zydeco. When I first got into that it wasn't so groovy and popular. Like Preston Frank, the Frank family, his uncle Carlton Frank - now all that stuff's not real obscure.
HGMN:
Thanks to the festivals.
Nevins:
Festivals have been incredible for spreading that traditional music everywhere.
HGMN:
I love seeing these kids dancing around to roots music, and you know they go back to high school with a Keith Frank CD and no one else knows what that is.
Nevins:
Absolutely. When we first started playing zydeco we went to Louisiana. I learned to play accordion. We play our version, you know, with all due respect to zydeco, but when we first started playing the zydeco tunes our fans didn't really know about zydeco. And they just fell in love with it and then on their own they just branched out and discovered zydeco music. It all spreads.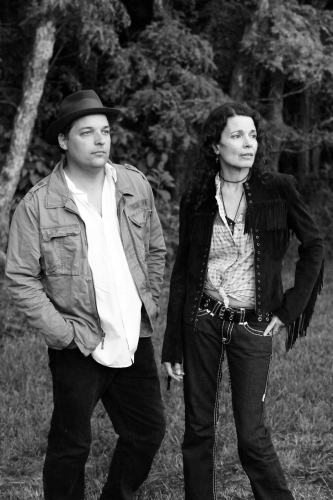 HGMN:
The cause and effect is really staggering. I know people who've met at festivals and gotten married and had kids. You can't imagine where those ripples end up.
Nevins:
Absolutely. I think festivals are healthy for families too, especially teenagers and parents all at the same festival together.
HGMN:
They can have fun together.
Nevins:
Together. And dig this thing together and not feel so separate and kind of find this common ground - bridge that generation gap. Yeah, endless reasons why festivals are incredibly important.
HGMN:
Do you have any side projects right now?
Nevins:
I'm actually about to make a solo record. Larry Campbell is producing it. He's in Levon Helm's band - he produced both of Levon's two recent records that both won Grammys, and he toured with Bob Dylan for eight years. I'm real honored about that, and nervous, and it's going to happen soon.
HGMN:
All new originals or some covers?
Nevins:
Some songs I've written that have a traditional vein to them and some that are not so traditional. I'm still kind of shaping it, but should be recording in the next month or so.
HGMN:
Do you have other artistic outlets or hobbies?
Nevins:
Not really. Music takes up all my time 'cause I also love old-time fiddle or playing zydeco. When I do have time when I'm home, I'm into exercising. I like to walk for over an hour a day and take care of myself in that way. I'm a clothes horse. I love clothing. To me, it's an art that I love. Music takes up all of my artistic energy.
HGMN:
Is there a single most magical experience that you've had playing with Donna the Buffalo?
Nevins:
Several years ago at the [Finger Lakes] GrassRoots festival. I had made a solo record called Mule to Ride. It was more of a fiddle kind of record. On one of the songs, Moontee Sinquah sang. He's awesome, he comes with Keith Secola to the festivals a lot. So Saturday night at the festival was a beautiful, clear night and we had Moontee come up and sing the song which was "Troubles." [starts singing] "Oh Lordy me, oh Lordy my." And then he came in with his Native American chanting, and I kid you not - you can talk to anybody who works at the festival - the clouds came, the wind started howling. Howling! There were little dust devils, like mini-tornadoes all around the festival, like he summoned the spirits.
It was this still night, the moon was out, and all of a sudden everything started moving and the wind just started twirling and some people got scared, took their kids and ran and went home. And then when he finished singing, the entire thing settled down again, clouds parted, moon was out, like nothing ever happened. And we all just stood there looking at each other like, "Did that just happen?" It was so powerful. Everyone felt it. Everyone at the festival, 'cause it's a big grounds so there were people that were two stages away that were like, "What the hell just happened? Did you feel that?" Just a wave through the entire festival. That was very magical. That was magic.
HGMN:
Musical experiences once in a great while become surreal experiences.

Nevins:
That was surreal. We've done a lot of cool, really fun things and played with lots of musicians, but surreal you don't forget.
HGMN:
How often do people think your name is Donna?
Nevins:
Thankfully, less and less. At first, every single person. I was like, "My name's not Donna. There is no Donna." "Who's Donna?" "Well there is no Donna. My name's not Donna." Actually today someone just called me Donna but I didn't even bother to correct them. But it rarely happens now.
HGMN:
Is that complimentary? "Do I look like a buffalo? What are you saying? Don't say that to a lady!"
Nevins:
Oh, it makes sense. I'm the one lady in the band. It's Donna the Buffalo, they figure "Well, she's Donna." It never bothered me. People know now.
HGMN:
How did [Led Zeppelin bassist] John Paul Jones end up coming to Shakori Hills?
Nevins:
He really likes traditional music. He always did, and he plays the mandolin. He produced that all-girl old-time band Uncle Earl. He produced one of their records, and I play triangle on it actually. I got to work with him in the studio. He was at MerleFest a few times and was just checking everything out. Because I had played triangle and was in the studio and had met him and worked with him, I think I might have said, "Hey we're doing a dance in the dance tent later, why don't you come by and sit in?" And everyone wanted him to sit in, you know? But he actually showed up and my drummer almost fell off his stool.
HGMN:
I was nervous just being in the audience. If you had to pick one, what's your favorite concert that you ever saw?
Nevins: Oh my God, I don't know. I know I'm going to pick one and then later I'm going to remember a different one. We had Rickie Lee Jones at the GrassRoots Festival and I remember that particular set she did was incredibly moving. But Lucinda Williams, or the first time I saw the Frank family I almost died. You know, it's really hard, I've seen a lot of really cool stuff.