My first introduction to Sol's music was listening to the album "Volume: Blue". It was something fresh and new to me and I just couldn't get enough of it. I always appreciated the blues but I was never really much of a big fan. It's just a genre that I didn't know too much about."Volume: Blue" takes old school blues and hip-hop samples with added grooves from the likes of such underground legends as Cootie Stark, Guitar Gabriel, Cool John Ferguson, Neal Pattman, Essie Mae Brooks, Frank Edwards and others. It really helped open my eyes (and ears) to some of the great early pioneers of blues and roots music. 
Since then Sol has toured and collaborated with many world class musicians such as Taj Mahal, BB King, Cootie Starks, Cool John Ferguson, John Dee Holeman, Robert Randolph, Kenny Wayne Shepherd and Derek Trucks. He has performed in venues all across North America, Europe, Australia and the Caribbean. In addition to touring with his band "Funk Root", Sol has also been heavily involved with the Music Maker Relief foundation, an organization that takes pride in keeping the spirit and tradition of the blues alive.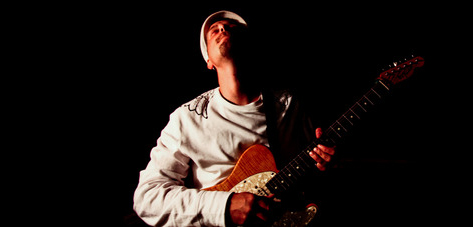 Interview by Chris Robie
Photo's courtesy of Sol
HGMN: How did you first get started doing music?
Sol: Well, my dad is a musician and my mom is a musician and my brother plays. So music was always around the house. My dad was playing with a lot of the old school blues and roots musicians right around Winston-Salem, NC. One guy in particular, Guitar Gabriel, who was one of the first artists with the Music Maker Relief Foundation. So I was around a lot of those musicians even before music maker was officially an organization. 
I learned a little piano, a little guitar in middle school and high school. I also had these older musicians that I got to hang out with, including my dad. It really had a deep impact on me. Then I got interested in recording music. I took a class in studio engineering while I was in college.  And that's what I ended up getting a degree in, recording and engineering. So I really enjoyed not only the performing side but also being behind the board and mixing and all those kinds of things. 
I started out working with Music Maker Relief Foundation traveling around the south helping Tim Duffy, the president; meet all these musicians and artists directly at their house. We would sit on their front porch and record them, interviewing them. I also worked at the Music Maker studio helping with backup and duplicate their whole library of field recordings. While I was doing that I ended up listening to a whole lot of field recordings that nobody  had heard and I was really inspired to try and create an album that took all these messages and philosophies of all these blues and roots musicians that I was working and being in contact with. I wanted to try and put them in a form that the next generation, the youth, would really dig and understand. I came up enjoying a lot of blues, hip-hop, rock, reggae, all those kinds of things. I wanted to do an album that presented all those field recordings in a way the young people would dig. So that ended up being the album called "Volume: Blue" on Music Maker. 
While I was still in college I was also performing with a lot of funk bands, rock bands, touring around in Tennessee, Virginia, Mississippi and Georgia. When Music Maker and Tim Duffy heard me actually playing some instruments they moved me from not just recording music and doing the technical side, but also backing up all these old school musicians like Cootie Starks, John Dee Holeman, Cool John Ferguson, all those guys, traveling around the world backing them up on bass and guitar. So it's been a huge blessing being a part of Music Maker. All their artists are pretty much like family. I grew up with them since I was a little kid.  And through that whole time I've also had my own band. We've put out the album "Freedom" which is a blend of funk, soul, reggae and rock. It's also got some musicians on there that's worked with Corey Harris, Jah Works and Squirrel Nut Zippers. It's been a great album to tour behind. And now I'm in the process with coming up with the next album. I know that's a long synopses but that's basically how things have progressed. 
HGMN: When should we expect the new album?
Sol: We've tracked a whole lot of tunes. I'm in the process of mixing it, putting some final touches on some things. So it's probably going to be late fall. Hopefully we'll have it out in time for this festival that we're doing called the Pink Moon festival. We've been a part of it for the past couple of years.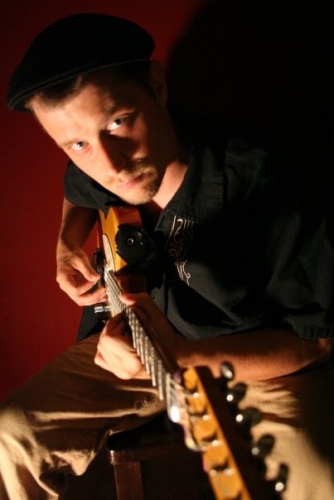 HGMN: How would you compare this new one with "Freedom"?
Sol: "Freedom", I really enjoyed making it. One thing that's interesting about "Freedom" is that it jumps around in a couple different genres. This new one is going to be a little more focused, mostly along the lines of funk, soul and just a little bit of the blues. I've really got some powerful musicians on it. One special guest that we're going to have on it is Phil Wiggins from Cephas and Wiggins. He's an awesome harmonica player and song writer. Also in the process of getting some other buddies that I've met while on tour, some of the guys from the Eric Lindell band and Amos Lee band. So there will be a lot of special guests on it. I'm excited. There are some really cool songs and some really good musicians.
HGMN: You've mentioned your involvement with the Music Maker Relief Foundation. Can you tell me a little bit about it?
Sol: It's a non profit organization, going on about 15-20 years, right around that time frame. It helps elderly musicians in the blues, roots and folk categories all across the US. It not only helps them record CDs and get their music out there but also helps pay for their hospital bills, rent, keep their electricity on, and get their medicine. It's something that really helps give back to the people. Their slogan is "Keepin' the bluest of the blues alive."  It helps out a lot of the obscure pioneers. There are a lot of artists on there that's influenced the Beatles and there's artists that's backed up Stevie Wonder, James Brown and all those guys back in the day. It's really giving back to the people that helped make the foundation of a lot of the music that we hear today. I'm real proud to be a part of it. I love all of the artists.
HGMN: Growing up around all these great old school musicians, who would you say had the most impact on you?
Sol:  I would say Cool John Ferguson. He's a guitar player that plays left handed, upside down, regular strung guitar. He's real funky and jazzy. We've done so many shows together. He's one of the most incredible guitar players that I've ever worked with.  Taj Mahal calls him one of the five best guitar players he has ever seen.  Then there are other cool guys that I've worked with, Beverly "Guitar" Watkins from Atlanta, Robert Lee Coleman, who was one of James Brown's old guitar players and Albert White. Taj Mahal, not only being able to see his trio and his different formations but also backing him up on bass and also working with him with Cool John in the studio. Me and Cool John were on guitar and Taj was on stand up bass. Those memories, especially with Taj, his groove is so right there. So he's been a deep inspiration. 
HGMN: Who do you think is the most underrated Blues musician?
Sol: I would say that Cool John is definitely one of them. He's gotten some nominations with Living Blues magazine for best guitarist of the year. In fact he's been nominated a few times but has never won it. So he's kind of like one of those underground heroes.  And in North Carolina, I'd say Tim Smith, the saxophone/flute player who's worked with Squirrel Nut Zippers and Countdown Quartet. He's on the "Freedom" album and he'll also be on the new album too. He's a good friend and is one of my most favorite saxophone/flute players and he's just an incredible song writer. He writes some really powerful stuff.  You may have seen him with the Dynamite Brothers. He lived in Mebane for a while and now he's in Durham.
HGMN: Can you tell me about the recording process for "Vol. Blue"? It's just so different from "Freedom".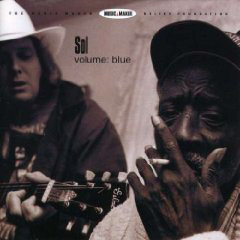 Sol: Yeah, they're two totally different albums. I like it when people can enjoy both of them but they definitely have different audiences. "Vol. Blue", like I said I was working with Music Maker, helping them duplicate their whole audio library of field recordings. I really got inspired a lot from all the songs and interviews I was hearing. I think the first track I did, it was like a demo, and I did it on a four track using a sampler and Guitar Gabriel talking over the top of it. I let Tim Duffy, president of Music Maker, hear it. He loved it and said let's just do a whole album like this. I tried to take the artists from Music Maker that I had worked with, had a personal connection with, and focus on finding some of their best interviews or best songs.  I had an Akai MPC where I could sample stuff and make different beats and different sounds. Cool John is on that album as well and my buddy Abe Reid from Blue Rags & The Spike Drivers.  So I had a couple special guests. So I tried to get all the messages and songs by my older mentors and put them together in a new way that the younger people would dig.  I've had some good response. "Living Blues" had a good review of it. The people in France really loved it. We were on tour over there a couple times where I was doing like a DJ type set, doing a replication of the album. It was fun.
HGMN: Would you classify that album as a DJ album?
Sol: No. I guess I would classify it as blues-experimental-hip hop. "Living Blues" called it, "The shape of blues to come". And after I put it out people started turning me on to acts like Little Axe, Wayne Baker Brooks and Tangle Eye, people that were blending blues and hip hop with electronic music together. In hip hop I love the raw funky stuff and that's what I tried to go with on "Vol. Blue".
HGMN: Did you grow up listening to a lot of hip hop?
Sol: I came up listening to a weird blend of rock and some old Brazilian folk stuff. With hip-hop I loved Run DMC, The Pharcyde and A Tribe Called Quest. All those guys were some of my favorites.  I loved Jay Dee (J Dilla), the guy that did all the beats behind A Tribe Called Quest, De La Soul and then he had his own thing Slum Village. Hip-hop has definitely been a big influence. It's weird, a lot of the shows I've been doing, sometimes it's all acoustic, sometimes it's all funk and rock...sometimes some people will see me at one show and think that's all it is. I really love and appreciate all music.
HGMN: How would you describe your typical Sol & Funk Root show?
Sol: I would say that it lays heavy on the funk, soul, rock and some blues. And if I've got my top musicians there I would dabble deep into the reggae. And I like coming back to the roots of each style, giving a nod to the pioneers of each genre.  I love the roots of all different genres.
HGMN: So with the new album, will you be writing all the material?
Sol: Most all of it is all my originals. There's one song that Phil Wiggins wrote. He wrote an incredible song called "Forgiveness" that I've really been inspired by. That's going to be on the new album.  Phil's original version is real laid back, bluesy, folksy. I guess I did something similar as I did with "Vol: Blue", take the song and twist it around and put some real stank on it, some other chord changes and funky rhythms. I've been real happy with that one. So the rest of the songs are all original... and there's also a Bob Dylan song that we twisted around.
HGMN: Cool. Which Bob Dylan song?
Sol: "Gotta Serve Somebody" .If the mix turns out alright that will be on the album as well.
HGMN: Do you think that you will ever record another album like "Volume: Blue"? How about a "Volume: Green"?
Sol: (Laughs) I've got about five other songs in the bag. They are along the lines of "Vol: Blue" with a couple different artists from Music Maker. I wish that I had more time where I could sit down and knock out the next volume. 
HGMN: It's definitely one of my favorite CDs that I can listen to over and over again.
Sol: May be I should do a "Volume: Home Grown". Do remixes for a bunch of HGMN artists.
HGMN: You know, we should seriously talk more about that later (laughs).
Sol: Yeah. Sign me up, I'm down. Let's definitely make that happen.
Be sure to keep an eye out for Sol's next album due out this fall. Featuring King" George Penn (also on "Freedom" album, as well as recent albums of Corey Harris, and early albums of Jah Works), Jake Dempsey (also on "Freedom"), Scott Rabino (Tommy Castro), Andreas Holmstrom (who has also worked with guitarist Adam Smirnoff of Robert Randolph and Lettuce),and special guest Phil Wiggins on harmonica (and songwriter of "Forgiveness").

Upcoming Shows
Thur Jul 26 - Carlyle House - Alexandria, VA
Sat July 28 - Private
Sun July 29 - Jo Jos - Washington, DC
Sun Aug 05 - Jo Jo Bar - Washington, DC
Wed Aug 08 - Capitol Riverfront Concerts - Washington, DC
Sat Aug 10 - Red Horse Tavern - Middleburg, VA
Fri Aug 17 - Miller's - Charlottesville, VA
Sun Aug 19 - Kennedy Center - Washington, DC
Fri Aug 31 - Catawba Farm Fest - Catawba, VA
Sat Sept 15 - Pink Moon Festival - Rock Camp, WV
Discography
2002: Sol - Volume: Blue
2005: Yohanus & Sol - Caravan
2008: Sol - Freedom