Posted by: leeway | June 25th, 2010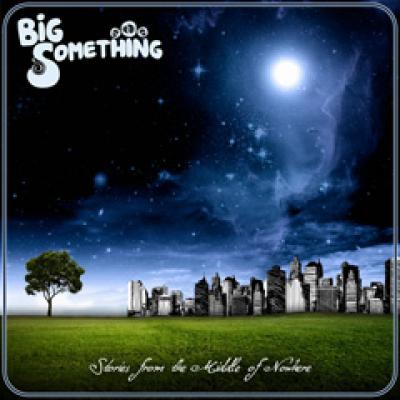 The roots of Big Something took hold after years of playing North Carolina as the Anonymous Band.  In changing directions with their creative nomenclature, Big Something offers a compelling debut with the release of "Stories from the Middle of Nowhere."  This is an expansive concept album detailing the life and times of Pinky, a figure who is part Robin Hood, part Clyde, part neighborhood Pimp.  The album offers excellent musicianship and a spirit of fun as it details these adventures, proving to be a remarkable debut for Big Something.  The band features the talents of Nick MacDaniels on vocals and guitar, Jesse Hensley on lead guitar, while Joshua Kagel offers keys, synth, and trumpet.  Doug Marshall plays bass, Hunter Gardner mans the drum kit, and Casey Cranford shows his talents on saxophones to complete the Big Something equation.  The tracks on this album blend many different styles of rock and jam to create a savory package, lengthy in scope, well-delivered in execution.
The album begins with atmospheric horns and the nice layered passages of "Pinky Goes to Jail."  This song depicts the tale of Pinky, a down on his luck adventurer whose money is stolen by an unnamed, yet opportunistic femme fatale.  The back story indicates that Pinky is on the run from "John Law," who's "only in it for the money and the money's all gone."  The song weaves a colorful story and has segments defined by excellent guitar.  "Big City Song" starts with lots of crunch and bluster before settling into a confident, bouncy groove. Lead singer Nick MacDaniels offers excellent, warm vocals throughout the recording and this is particularly evident on "Big City Song."  Crunchy guitar and synthesizer signal the arrival of "A Simple Vision."  The song ventures through various passages and moods, offering expansive jams and robust guitar before settling in sedate, calmer waters.  "Amanda Lynn" is imbued with the spirit of Southern rock, utilizing liquor soaked guitar and wailing horns.  If Pinky is the modern day Clyde, then "Pinky's Woman" tells the story of Bonnie.  The song displays enthusiastic horns and silky vocals as it tells of "love and lies and love and lies, cherry lips and big old thighs." Such distractions prove to be a possible downfall for Pinky, who dreams of the Big Heist and escaping with the woman of his dreams.
The next track begins with electronic flourishes, energetic horns and playful lyrics in detailing the story of the "Saturday Night Zombie."  This seems to be a tongue-in-cheek reference to the drug addled youth of the late night scene, apparent Zombies, who "spread the fever with just one bite."  Keyboards and guitar trade flourishes as the song ventures forth, offering a light hearted track that will be fun for the dance floor.  "Josh's Disco" begins with a light Afro-Cuban groove, but ratchets up intensity on the strength of guitar and keyboard before yielding to Casey Cranford's polished saxophone.  As with the other tracks on this album, confident, forward-moving jams are spiced with unusual electronic embellishment.  The tunes on this album are hard to pigeonhole or categorize, as funk, classic rock, jam and world music are all fused into one dense, layered package.  "Pinky's Ride" offers another chapter in the story of our hero, who relies on his "ride, his woman, and his six shooter" for a cross country journey from DC to Los Angeles.  Jesse Hensley's blistering guitar meshes nicely with Cranford's saxophone and gives this track lots of bounce and "pop."  The understated "Sunday" stands in stark contrast to the rest of the album.  Mellow, sedate guitar is plucked lonesomely against a backdrop of ambient noise.  Although fairly disparate from other tracks on the album, "Sunday" is a lovely, arresting interlude.  The album concludes with "In the Middle," a reggae-infused jam that spotlights saxophone and warm vocals.
 The debut of Big Something proves to be successful, as their richly layered jams offer lots to chew on.  The tracks are imbued with elements of funk, jazz, fusion jam, and rock, while the story of Pinky provides a nice backdrop and centerpiece for the album.  I rarely discuss packaging in my reviews, as that is often such a secondary concern.  However, the lush colors and graphic design on display for the packaging of "Stories from the Middle of Nowhere" are definitely eye-popping and engaging.  The CD case creates a nice first impression, while the tracks on the album will further strengthen and bolster such a feeling.  In employing robust rhythms, technically polished playing, and a sense of flair that is fun and disarming, Big Something's debut release proves to be excellent.
- J. Evan Wade