Posted by: leeway | May 24th, 2016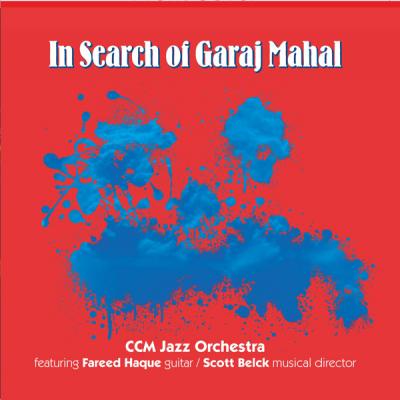 In August of 2011, the jazz-fusion/funk band Garaj Mahal put out this statement, "After 11 years of touring, nine albums recorded and roughly 1000 shows played, the East/West coast band Garaj Mahal has put an end to its appearances. There are no plans for future shows."
But thankfully the artistic universe has unwritten laws about never allowing music this groundbreaking to completely disappear.  
Fareed Haque, the band's leader and overall guitar virtuoso was approached by Scott Belck, the head of the CCM Jazz Orchestra (Cincinnati Conservatory of Music). "When [he] approached me at a gig about a Garaj Mahal big band album I thought he was joking at first. Then I realized this cat knew all our tunes! He seriously wanted to play our music arranged and performed by his orchestra!! Then debut it at Lincoln Center, play it all over the country, record an album. And here it is."
In Search of Garaj Mahal does what many thought impossible: raise their music up not one, but several notches. Garaj Mahal was always a small band playing complex and genre bending compositions, sounding much larger than four people on stage. They were true road warriors, playing venues and festivals of every size around the country, and except for guest sit-ins and festival jams, they were never able to explore the orchestral possibilities of their music. It only takes a minute into the first tune, "Chester The Pester," to realize how fertile this music is for the big band treatment.  
"Chester The Pester" receives the full CCM Jazz Orchestra treatment as the horn lines pile onto each other before going into the signature funky groove Garaj Mahal is known for. The song alternates between sparse, drum/bass driven syncopation, laying the foundation for quick bluesy solos and interwoven horns that are gleefully counter-punching each other.   
"The Shadow" brings the original four piece Garaj Mahal sound out front and shows why this band became headliners of nationally known festivals such as Floydfest, High Sierra, and Smilefest. When most instrumental bands choose between complexity and groove, "The Shadow" shows that in the right hands, they can be one and the same.  
The fourth track, "Uneven Mantra," is just that: uneven. Played in odd timings and featuring the Indian/Pakistanian instrument the Tabla, it shows why Haque was voted "Best World Guitar Player" in Guitar Player magazine's 2009 reader's choice awards. His ease within the Ravi Shankar style of rhythms and melodies is both infectious and graspable for western ears.
There's only one question surrounding this release, and that is whether or not it is the best instrumental album of 2016. My prediction is that it will be--for anyone that hears it, that is. A project featuring the music of a 5-year defunct band that was well known mostly within the jamband circuit probably won't make it to the national, year-end awards ceremonies this winter--and that's too bad. I'd love to put this album head-to-head with any big label releases of 2016. Not only would it come out on top, I firmly believe, but this album is so inventive, funky, interesting, and fun, that it could go head-to-head with anything that comes out this decade--it's that good. If you're one of the few people that wholly connect with bands and musicians like Jeff Beck, Bela Fleck and the Flecktones, Frank Zappa, Shakti with John McLaughlin, The Count Basie Orchestra, and all of the jazz greats, you'll love this album.
- Brian Swenk