Posted by: leeway | December 23rd, 2014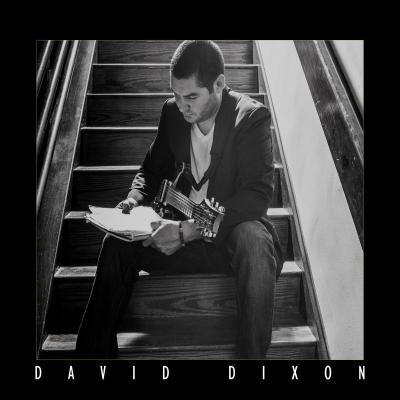 While displaying an impressive resume in both guitar performance and songwriting from the Berklee College of Music in Boston, as well as from East Carolina University, David Dixon is a Greenville, NC resident who specializes in genre-bending songwriting. The culmination of these talents has recently been put on display in his new, self-titled album with 10 tracks that range from blues to soul to confident jam and rock. Throughout these tracks, Dixon's guitar shines, but his confident, crooning voice might truly be the star of the whole production. Featuring Dixon on guitar, vocals, and violin, Evan Bartley and John Ray on bass, Jamaal Cody on drums, Adam Sebti on organ, Evan Roberson on trombone, and Chris Knuckles on sax and other guest musicians, the 10 tracks on this eponymous album shift in mood and perspective, style and delivery. Throughout these tracks, the production values are strong, the interplay amongst musicians is tight, and all 10 cuts are highlighted by strong songwriting and vocal delivery.
Featuring a compelling mix of crunchy guitar, Dixon's crooning, and tight interplay from the horn section, "Sway" proves to be a charismatic introduction to the album. The track gains momentum, coalescing nicely under Dixon's strong guitar and vocals and features lots of dense layers and strong production values from the get-go. After this spirited introduction, "Forget Tonight" strikes with bluesy chords and coalesces into a soulful, groove-laden jam. Dixon's confident voice is nicely displayed throughout the album, but this track proves a charismatic introduction to same. Lively interplay between horns, vocals and guitar bring this track down the home stretch. "Even Steven" confidently gallops on the strength of Dixon's voice and meshes nicely with Adam Sebti's organ and hornplay from Evan Roberson and Chris Knuckles respectively. The track "Love/Hate" features a yearning sensibility and lovely guitar from Dixon; the track culminates in an airy jam featuring sterling guitar work. The opening measures of "Wrong Way" invoke an almost theatrical feel, sounding like a modern version of a Western tune from some bygone time. Fellow Home Grown Music Network artist, Rebekah Todd, offers backup vocals on this and two other tracks, and her voice adds a nice contrast to Dixon when employed.
"Seven Years" features vocals from Sean Gregory and energetic guitar from Dixon. The song fluctuates in presentation, with flashes of swanky electric guitar coupled against other passages of more thoughtful, meditative acoustic work. The juxtaposition of styles works nicely on this track, and seems representative of the album in general; moments of quiet clarity are fleshed out and contrasted with raucous guitar and horns. The rather chameleon nature of Dixon's songwriting is well captured on "Black Heart" as this track rises from subtle, bluesy opening measures only to shift forward on a more energetic galloping jaunt. This tracks frequently changes pace and delivery as it humorously recounts the perils of loving a "black-hearted woman." The shortest track on the album, "Jimbos" captures more of a "jam" mentality, with hints of hip-hop beats layered over Adam Sebti's energetic work on the organ. After this brief, energetic jaunt, "Stay" strikes a decidedly more thoughtful pose, with the dual vocals of Rebekah Todd and Dixon proving very evocative. The album closes in yearning, thoughtful waters with "On Another Day."
In reviewing the 10 tracks on this album, I find much to chew on. The obvious strengths of the album are Dixon's varied talents and the level of musicians that he has chosen to record the album with. The album strikes different moods, with bluesy underpinnings meshing with more raucous modes of delivery on certain tracks, while others are decidedly more cerebral and yearning. Dixon's confident voice and delivery ties all these tracks together in excellent fashion, and the results of this 10-track recording are an unqualified success.
- J. Evan Wade