Posted by: mamasherry | July 3rd, 2015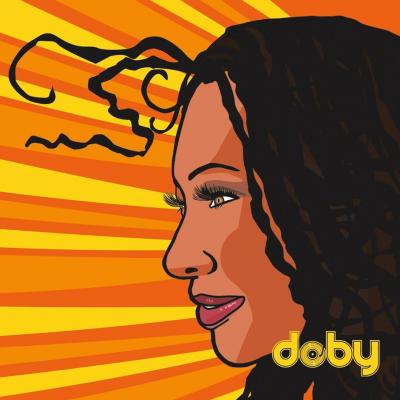 Doby is a five-piece band from Greensboro, North Carolina that offers a dazzling mixture of soul and funk, with splashes of roots rock and jam as well. The maven at the core of the group, Robin Easter, writes many of the band's lyrics and offers spirited performances and has a soulful, confident voice that proves to be quite the crowd pleaser. Backing her in Doby is a diverse, incredibly talented supporting cast with Marcus Horth (founder of The Mantras) on guitar and backing vocals, Jeff Yetter (Thacker Dairy Road) on keys, Leo Kishore (Funkuponya, Tiny Boxes, and Barefoot Manner) on bass, and Phillip Clarke (Hot Politics) on drums, percussion and backing vocals. With an impressive collection of musicians, and Easter's larger than life voice and stage performance skills, the results prove to be particularly impressive on the ten tracks recorded for this album.
"Huffin n Puffin" offers a charismatic introduction to the album, with a scintillating mix of keys, bass, and guitar. Jeff Yetter's keys offer a spirited workout and counter nicely with Easter's vocals. The track peaks and cascades, featuring crunchy guitar, lively bass and soulful vocal renditions. "All I Do Is Cry" begins with nice interplay between Easter and Horth's guitar, but ultimately gives lots of room for Marcus to flex his impressive guitar muscles. The track settles into a nice groove, with Easter embellishing the mix exquisitely. "Pass the Biscuits" is a live Doby classic and crowd pleaser that offers charismatic vocals and lyrics, the swagger of confident bass and excellent punctuation from Horth's focused guitar. "Haj Paj" serves up a loping bass line, honey dripped guitar, and vocals "sweet like honey." As throughout all the tracks on the album, Easter's presentation is focused and exact, measured and soulful, slick and well-crafted. She truly exudes soul in this recording, and the precision of her partners in crime complete the package nicely here. This track ventures forth into unexplored territory, with howling guitar and exploratory keys countered by Kishore's bass and Phillip Clarke's drums. The album starts in truly warm fashion but truly becomes more and more charismatic as each track progresses.
"I Saw You" proves to be soulful and powerful, with Easter's lyrics recounting the tale of a bittersweet, jilted love. Easter's lyrics offer perspectives of hard earned wisdom, the knowledge that comes from broken hearts and disappointment. Yetter's keys and Horth's guitar swell and swoon in complement, offering a nice counterpoint. Marcus Horth really shines in "Crazy Train," offering a blistering run up the fretboard that couples with Easter's clever, playful lyrics. Horth writes the lyrics and music as well for the roots-tinged "Way to Grow" and his guitar truly shines as well when given the spotlight, but Easter's delivery of Horth's lyrics proves excellent and life-affirming, as we all have "so much left to learn." Easter coos, howls, belts it out, then lulls with silk in "With This Groove"; such is the nature of Robin Easter's voice, the charisma it exudes, the sense of musical chemistry that flows in the grooves and jams of this album. The album closes with the wistful, soulful flourishes of "Gonna Make It," a track that offers grim determination in its early measures only to coalesce around a joyful sensibility and sense of optimism. The music is funky and energetic, with loping bass, layered keys and measured guitar countering nicely with Easter's lyrics of determination and self-realization.
The overall tone and delivery of these ten tracks proves to be buoyant, energetic and infectious. Robin Easter's soulful lyrics and delivery prove to be charismatic and engaging, winning new fans with the virtues of her voice alone. However, when you pair her impressive pipes and performance skills with the assembly of a stellar supporting cast, the recipe proves extra tasty and well-delivered. It takes an impressive band to match up to Easter's aura, demeanor and musicality, but the members of Doby do it well. Marcus Horth's experienced, smoldering guitar meshes nicely with Jeff Yetter's flourishes on the keyboard, while Kishore and Clarke are impeccable and precise, offering the foundation from which all these pieces emanate and evolve. The music is well-delivered and enticing; Easter offers lyrics that affirm the beauty of life while exploring the lessons that it teaches us, all the while served with a funky beat and a guitar that just won't quit. The combination of all these ingredients makes for a rather dazzling gumbo, one that will be savored upon first listen.

- by J. Evan Wade