Posted by: leeway | October 11th, 2013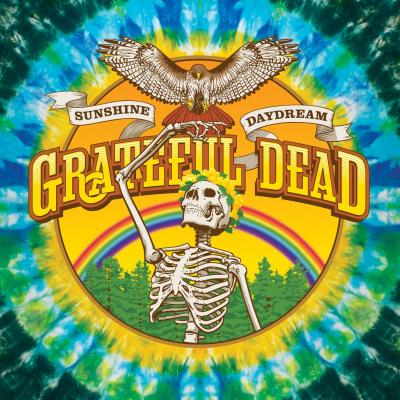 Long coveted amongst the now-antiquated tape trading community, this '72 (following the famed Europe '72 run) package is from the 16-track analog master recordings, and everything is crisp and ready for the ears of the most experienced Heads and any newbies who might need a palatable introduction to the movement.
This is the Grateful Dead at its most alive, still young and vibrant but with enough time under their belt to have matured and gelled as a unit. It's a show I could spin at any given moment, and if I had an uninitiated friend who wanted to have a listen to some live Dead, this is now where I would take them. It's a recording that David Limieux describes as "one of the most important, and best, Grateful Dead live releases ever."
Sunshine Daydream was an event put on in benefit of the Springfield Creamery, a dairy that belonged to Ken Kesey's family, and the Grateful Dead put their all into this fund raiser, for the sake of their close friend. Not only was the audio recorded, but we also have some video, to include (alongside snippets of the crowd in all of its beautiful debauchery) "Promised Land," "China Cat Sunflower" > "I Know You Rider," "Jack Straw," "Bird Song," "Dark Star" > "El Paso," "Sing Me Back Home," and "Greatest Story Ever Told."
So you get three discs of Grateful Dead musical magic, and then there's the inclusion of Sunshine Daydream, The Movie. The rights to the video have actually been the delay on this concert being released officially to the public. Now that the video has been set loose, we are lucky to be able to bask in both.
Lively versions of songs like "Promised Land," "Me and My Uncle," "Playing in the Band," and "One More Saturday Night" mingle with the more placid "Sugaree" and "He's Gone,"  while being lovingly annihilated by legendary heavyweights that include "Bird Song" and the transitions of "China Cat Sunflower" > "I Know You Rider" and "Dark Star" > "El Paso."
This show's myth-like status speaks more volumes than anything I could say about it. Trust the scene, and believe that this is a show to have in your catalogue. Or, keep trucking through life digging for the perfect hit… I'm here to tell you it was found long ago, and Veneta, Oregon, 1972 is a great moment to take a trip to.
- Jeremy Sanchez