Posted by: leeway | April 23rd, 2010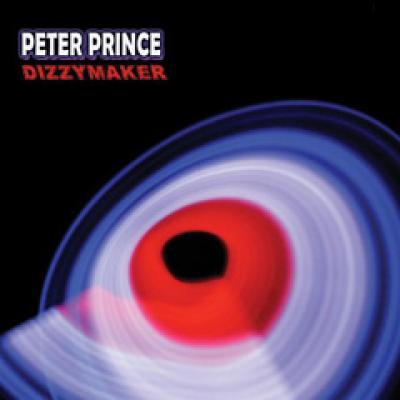 Peter Prince began his musical journeys in New York in 1993.  After nearly two decades of fronting Moon Boot Lover (with a rotating cast that has featured a veritable who's who of characters in the larger "jam" scene), Prince has released his most recent installment, "Dizzymaker."  Featuring 14 wildly varied tracks that span a wealth of different musical genres, the album is fascinating, energetic, and very well-produced.  In researching Prince for the review, I found an interesting description that seems to perfectly encapsulate the sound that he is striving for on this album.  With a sound that he describes as "Rock-ET Soul," Prince utilizes an exciting mixture of Al Green, Jimi Hendrix, Jim Croce, and Led Zeppelin for his elaborate musical gumbo.  The results are quite spectacular.
"Saved Me From a Lonely Day" displays Prince's powerful voice and blends with keys and congas for a soulful, stirring introduction.  "I Still Have You" is an elegant love song characterized by warm vocals, layered keys, and sparse, but satisfying accompaniment.  The title track of the album spotlights ridiculous funk grooves as Prince entices the listener to "catch a ride on the Dizzymaker."  This track demonstrates a dirtier sound than the previous tracks on the album, and this will be one of many satisfying mood swings that the album offers.  "New Heels," an upbeat scamper, features excellent guitar, vocals, and keys, while the rhythm section brings the thump that rocks the dance floor.  "Stop, Drop, and Burn," with its dirty, funky grooves reminds me of the best elements of P-Funk and the Meters.
"Rock, Soul, Ground" displays a polished, adult contemporary sound that is reminiscent of Cee-Lo and Gnarls Barkley.  This track, with its sophistication and alluring vocals, allows Prince to display another facet of his varied, confident voice.  "In & Out" correlates nicely with the previous song, feeling almost like a companion track.  "Another Drug Wonder" features Ryan Montbleau on backing vocals in a wistful number depicting the dark side of the drug trade.  "Can't Hesitate" is a playful number that utilizes saxophones, congas and DJ.  "Daddy's Here" is a gorgeous number featuring Prince picking lightly on his guitar against understated, but striking accompaniment.  "Music Gets Me In the Mood" is energetic, fun and enticing, and is guaranteed to bob the head.  "PG" is atmospheric background music, and stands in stark contrast to "Motherfinger."  Tim Reynolds offers his signature guitar chops to this track, and closes the album with an enthusiastic flourish.
In reviewing "Dizzymaker," I found myself incredibly satisfied with the album, and the varied moods it presents.  The album is soulful, energetic, and full of excellent tracks.  But for all the varied turns of this album, it is not schizophrenic in nature.  The track list was well-designed and certain tracks were placed perfectly in relation to one another.  This is sort of a nebulous concept for a review, but an album with too many arbitrary shifts in mood and application can sometimes prove jarring.  This album has no such problem, and offers a "dizzying" array of tones, styles, and vocals.  The tracks are warmly produced, excellently delivered, and the album has catapulted itself high into my musical rotation.

- J. Evan Wade