Posted by: leeway | February 18th, 2014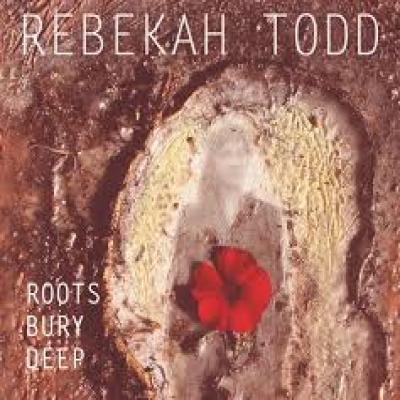 Rebekah Todd is a singer/songwriter based out of NC who offers a passionate blend of folk and blues, delivered with fire and conviction. After previously recording a 6 track EP entitled "Forget Me Not," the release of "Roots Bury Deep" finds Todd expanding her vision, enhancing her catalogue, and delivering with confidence.  The album features Todd on vocals and guitar, William Seymour on bass, Brandon Shamar on keys, Evan Roberson on trombone, Chris Knuckles on saxophone, and Demetrice Everett on drums; Shamar, Roberson, and Knuckles contribute vocals to the recording as well.
Todd claims lots of varied influences in the details of her press kit, with artists like Susan Tedeschi and Lauryn Hill claimed as such, but considering the more rustic style and traditional influences that these songs are grounded in, I can see a comparison to Gillian Welch being similarly valid, considering the rather stark, stripped-down nature of several of these songs. There is great variance in mood throughout this album, as some tracks feature just Todd and her guitar, while other tracks employ a full arsenal of instrumentation. The stabilizing force that unifies the album would be Todd's powerful vocals, and her performance throughout the album is confident, seasoned, and mature.
A solitary strum on acoustic guitar offers a sparse, haunting introduction for "Devils Gonna Buy," a track featuring Todd's voice, saxophone, and lingering keys. This track invokes the spirit of gospel, and its lonely, meandering strains mesh nicely with Todd's urgent lyrics. The second track, "Closer to Dead" bursts forth with layers of keys, while smoky saxophone spices the latter measures. Todd's voice lilts throughout the energetic "On the Run" as she details life on the road, while she offers a more introspective quality for the musing of "Thinking About You." This elegant track pairs Todd against the minimal strains of guitar, as she details memories and thoughts on past love. In "Your Smiling Face," Todd details how she doesn't fear "dying," "heights," or "those creepy-crawly things that might bite me in the night," as long as she can wake up next to "your smiling face." The album's title track, "Roots Bury Deep" offers a sophisticated combination of yearning vocals and sultry saxophone, while the 8-minute "Wishing Well" employs a torch song quality, before washing away in an atmospheric jazz-tinged jam.
The nine tracks of "Roots Bury Deep" are delivered with passion and reveal a charming, matter-of-fact wisdom in the stories they tell. Throughout these tracks, Rebekah Todd sings with passion, even ferocity at times, and the strength of her performance on this album will prove to be an eye opener for the uninformed.
- J. Evan Wade