Posted by: Robie | October 20th, 2010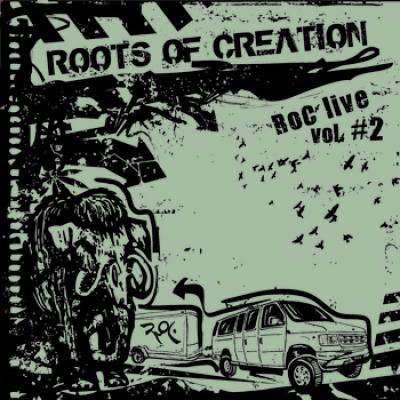 Click to listen to the CD while you read the review!

In 2007, the band earned a nomination for Best World Music Act at the Boston Music Awards for their second release, 'Rise Up'. In 2008 they joined forces with Harmonized Records and released 'ROC Live Vol. 1', showcasing their most highly energetic performances from that year. It would be a little over two years before they would release their highly anticipated fourth album, titled 'RoC Live Vol 2', slated to be released through Harmonized Oct 26, 2010. The selections for this new album were chosen from the best performances of 2009 and 2010, including songs from their very popular sets at Wormtown and Nateva Music Festivals, The Paradise Rock Club in Boston and more. The new album is aggressive, downright epic in places, and their reggae influences amalgamated with rock and electronica continue to thrive with an energy and attitude that is superbly captured here on these eight live selections. It is a very accurate representation of what they've worked so hard for all these years and upon first listen I'm sure you would agree that the band has come a long way since their early beginnings.  It is an achievement they should all be proud of.
The album opens with the very melodic 'Policy'. Brett Wilson's vocals are notably crisp, encompassed with subtle electronics, hook-y guitar, and deep bass that makes for a fine intro. Fairly new to their live setlist, 'Mammoth', is a heavy instrumental with some elements of Dub step. 'Death March' sounds like a superb throwback to the 90's ska days, with its reggae-ish rhythms and bursts of catchy melodies. You can almost hear the early whispers of Sublime hidden beneath the structure of the music. I think that they could really take this song to another level if they added some horns. It is one of my favorite tracks on the album. Next is the cover of what is probably the best song ever written, 'This Must Be the Place (Naive Melody)', by the Talking Heads. Seriously, I would find it very hard to forgive a band if they ever screwed this song up.  And we all know what can happen when an artist or band totally shits on your favorite song - i.e. Sean Puffy Combs, with his atrocious rendition of the Police classic 'Every Breath You Take'. It has just never been the same after that. Fortunately for these guys they manage to pull it off just fine thanks much to Tal Pearson who does a great job on the keys. It's a song that makes me smile every time.
The groove continues with 'Searchin' and like the west coast vibe it evokes, it is very jammy and like-able.  It is perhaps the mellowest song on the album. The band brings you into more atmospheric heights with the instrumental crowd favorite, 'Dubby Conqueror'. It's an energetic romp with some sick bass and inspiring improvisation. There's an appealing energy going on here between Chris Beam (bass) and Mike Chadinha (Drums) that resonates across the dance floor. The guitar and keys stand out remarkably as well. This is by far the best track on the album. Chris Beam plays bass on every track except for the final two tracks '6AM' and 'You don't know how it feels', a Tom Petty cover . Brandon Downs is their current new bass player.
Roots of Creation are a nationally touring act from New Hampshire and it has always been a treat for me whenever they head down South.  Their latest effort, RoC Live Vol 2 is a step above Vol 1 and while there is still certainly a catchy element to these songs, what surely stands out most is how much they've progressed through the years. It all seems to have come full circle on these live recordings. The band continues to deliver their familiar array of sonics and styles but it's just on a totally different level.
- C. Robie

Track Commentary by  Brett Wilson
Policy - Written in response to Obama running for president. Lots of "pro" Obama songs, I tried to write something that was timeless but influenced by the current situation. "We don't need your money" - written because Obama raised most of the money through grassroots organizing and so does my band and also towards our fans because I know that they would like that as a line to sing."We don't need your policies" - Broad statement, towards Bush's policies but also just our govt in general and specifically our drug laws. "You can't rewrite was has been written" - Patriot act=unconstitutional prohibition=unconstitutional. "Or take life that has been given" - death penalty topical, war, etc, most drug laws are racist as well as the death penalty.
Mammoth - Wrote this on my laptop on the road in the van and backstage down south. Debuted as a jam and has now turned into a nice instrumental.
Death March - originally released on our studio album rise up, this is a VERY angry breakup song with a phish influenced jam at the end that we had a lot of fun with.
This Must Be the Place (Naive Melody) - I usually pick my cover songs from listening to the radio and this was just like that. My wife was like, "that's one of my favorite songs" and I had heard a lot of talking heads before but the lyrics and melody really resonated with me. We made it our own. The fans absolutely love this one and I couldn't believe the response we have gotten. One of our most popular requests.
Searchin' - trying to mix the new cali-reggae roots sound and laid back feel with our own style and this is what I came up with. Lyrics are about looking for answers to life's questions and struggles and trying to make a positive impact and how that is tough if sometimes you don't feel good or positive yourself. Kind of a spiritual "quest" song. "You" is meant to mean either a "higher power" or "love".
Dubby Conqueror - Mike Tal and I (and former bassist Justin Linde) wrote this jam in college at Franklin Pierce in like 2002. It has stayed with us and evolved a lot (most old material gets dropped or replaced) this is one of my fav versions and a late night staple for us.
6AM - written at you guessed it 6AM partying in a dorm by Mike and I, where there were a bunch of guys and one girl and everyone was trying to get laid. Kind of written as a joke lyrically but a fan fav and classic for us.