Posted by: leeway | October 31st, 2018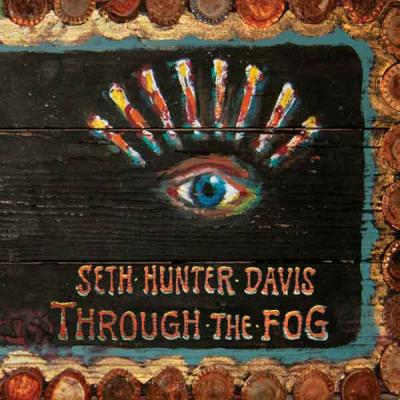 Seth Hunter Davis, also known as Chef Dave, is an explosive slide guitarist whose fiery new record "Through the Fog" is a wild ride boasting a world-class backing band. Joining Davis on his soulful musical excursions are George Porter, Jr. from the Meters on bass, Johnny Neel from the Allman Brothers Band and Blue Floyd on vocals and keyboards, and Alan Evans from Soulive on drums. Also contributing heavily to the potent sound are Darby Wolf on keyboards, James Cook on bass, and Derek Mixon and Doug Belote on drums. The album represents a musical journey through America, with tracks recorded from Massachusetts to the Nashville heartland to the bacchanalian byways of old New Orleans.
The musicians dive straight into the deep end with the heated opening instrumental "The Long Walk", with Wolf's funky multi-layered keyboard grooves making a satiny bed to tuck the guitar into. Jazzy guitar lines snake through the musical grass before easing into a bluesy stomp. Gritty slide guitar kicks off the slow, heavy blues of "Can't Save Me from Myself", with Johnny Neel's fervent vocals wailing out a heartfelt cry for help from the bottom of a psychic well. Davis' incendiary solo lights up the sonic plea like a searchlight in a dark cave. "Granny's New Mule" is a barn burner highlighted by the crisp enunciation of Evans' fleet-footed drumming, Wolf's rousing keyboard runs, and Davis' mighty guitar detonations.
The album rolls on like a rogue cannonball with Neel's growling vocals and grainy keyboards taking center stage on "Searching" before the mood slows down for the gorgeous and heartfelt instrumental "Oma." Legendary bassist George Porter, Jr. appears on the final two instrumental tracks to add his signature slinky and sultry tones. "Crawfish" bites into one of the Chef's meaty melodies and doesn't stop chewing until everybody's had a taste. The final track "Light it Up" offers a loping groove which Davis' slide guitar soars above with electrifying and intoxicating outbursts of emotion and energy. With "Through the Fog", Seth Hunter Davis has unleashed a rollicking record full of chunky rhythms, boisterous solos, and authentic, big-hearted songs. Winter is coming, and this album is guaranteed to raise the temperature.
- Paul Kerr