Posted by: Robie | November 15th, 2013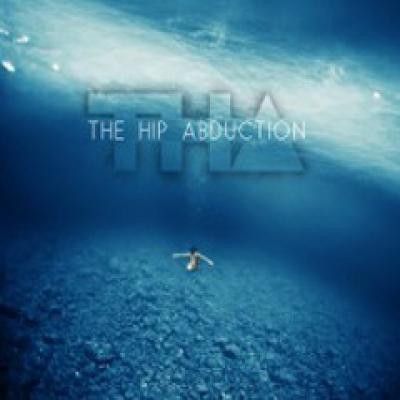 The sun beats down heavy and early. The ocean is your A/C and the island reggae music your motivation – Fruits for breakfast and a cold desperado – The sand is soothing this early in the morning. The cold clear water, uninhabited and calm, feels better than a warm shower. The people are setting up for breakfast and the locals are stocking their stands. Walking down the beach you hear African rhythms, roots, ska, and reggae. Everyone is smiling, dancing and tranquille. In these small pockets of paradise, it's easy to see why one would extend their stay for a while and call it home. David New from The Hip Abduction did just that. He spent two years in the Bahamas. The cultural and musical influence from the Islands is magnificently crafted into the band's recent self titled album, The Hip Abduction.
The album starts off with carving reggae rhythm, good lyrics, and a powerful sound in "Children of the Sun." The band consists of David New (guitar, vocals), Pat Klemawesch (Kora, Nyatti, guitar, Kamelngoni, vocals), Chris Powers (Bass), Paul Chlapowski (Keys), Kevin Clark (trumpet), David Johnson (sax), Matt Poynter (Drums), and Pat Hernly (Percussion).  Right off the bat you can't help but wonder how exciting they must be to see live. "Live it Right" carries the smooth irie feeling with positive lyrics, which I'm sure will be covered by many acoustic YouTube hopefuls. The next song, "Hideaway (ft Anthony B)," brings sounds of heavy dub bass and powerful vocals that take you back to a "nice place where good reggae music play."
David New's infatuation with African and Caribbean music began with his parents love for Paul Simon (tampabay.com – soundcheck). This influence shines through in "Holiday" and "Breathless."  They have an up tempo Afro-Caribbean rhythm led by the bass, with interrupting horns, keys, and bold lyrics. All that is missing is Lady Blacksmith Mambazo. After leaving the Bahamas, David moved to Tampa and began playing solo. He saw that, "there were a lot of tourists and a lot of requests for Jimmy Buffet, so I slowly picked up guys who were intrigued by these styles of music and put together a band that wanted to play original music" (tampabay.com – soundcheck). The bands original music as we've seen by this self titled album thus far is a blend of Caribbean, reggae, rock and soul. Towards the second half of the album a South American, rhumba style takes precedent. Few musicians such as, Elian Quesada and Cultura Profetica, have been able to blend this South American sound into an already heavily fused reggae style and make it work.  With songs like "La Resaca" and "Golden Sky" THA is a recent addition to the list.
The last part of the album takes you through the soothing effect of dub with "Walk Away," a unifying message with, "Why say One," a last nod to the gauchos with "Elana (ft Andie Dilley)," and a surf like instrumental, "Kala Pani."
The Hip Abduction's self titled album reminds us of those early mornings with the sun beating down, the ocean roaring, locals singing, dancing, with island music in the backdrop. A place most of us can't stay forever, but love to remember. The combination of various musical styles, instruments and energy makes the sound bold and unique. I hope that sound makes it to the Midwest. Until then, you can catch THA in the sunshine state. If not, press play, drink a mojito, sit back and let the sounds of THA take you way.
- Kevin Tshiamala