Posted by: Robie | August 9th, 2013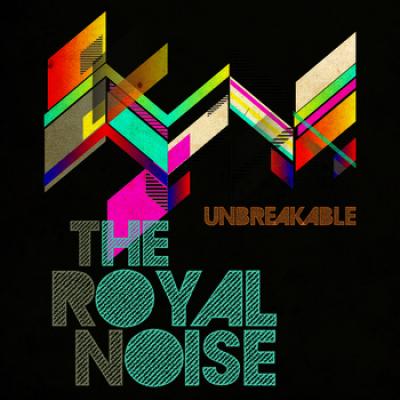 The other day a friend of mine asked me where I find all the music I listen to. I told him I research; just as if I was doing research for work, education purposes, or self enlightenment. I take my music just as serious as any other professional. His response was simple, accurate, but all the while ignorant – "But you have to filter through so much terrible s**t, it's a pain. Why can't there just be a place where it's nothing but good music".
Nothing worthwhile comes with ease.
It's just like those who mine for gold. Travelling thousands of miles to set up camp, construct the sluice box, dig through all the top mud, to get down to the pay dirt. The reward is only as gratifying as the work put into it. With this new album, "Unbreakable", I can assure you, The Royal Noise has put in the work. They've done more than their due diligence. They've released their souls through their instruments. You can feel their passion, dedication, education, with every tempo, scale, progression, note, sound, song.
You don't need lyrics when you can make the instruments sing
I remember the first time I heard Umphrey's McGee, all I could think of was man, their instruments can f***** sing. This Royal Noise's album, "Unbreakable", has that same vibe. With every song, each member has a moment to sing regardless of the tempo, time signature, scale, or direction. Johan Harvey (Guitar/synth), Mike Labombard (saxophones), Rodrigo Pichardo (Bass), Andrew Toy (Drums) are extremely talented musicians who complement one another. Everyone knows when to back down and let the other "sing", or when to puff their chest out, step in front and strut their stuff. If you don't want to take my word for it, as it states on Jambase, "The Royal Noise forges an ebullient fusion of sinewy funk, gritty jazz, psychedelic rock and live hip hop elements with a distinctly southern flavor reminiscent of funk fusion acts like Herbie Hancock, Lost Tribe, Lettuce and Mother Funk Conspiracy". To be compared to legendary artist/band such as Herbie Hancock and Lettuce may seem absurd at first, but not after you listen to their album, "Unbreakable", or see them live. "Their high energy performances deliver heavy grooves, genre blending composition, intricate synchronism, incessant experimentation and top notch musicianship that sets them apart from their peers and keeps avid listeners returning to shows," states Jambands.com. As they state to Bill Deyoung at Noteworthy, "That rings true for the philosophy of the band. It's always this ever-beingimprovised and moving forward kind of machine. Don't ever play it the same way twice, that's the test. How can we take the bones of this song and do it differently?" If that statement doesn't make you want to listen to them and see The Royal Noise perform live, I'm not sure what will.
"Unbreakable" is driven and creative in nature. It gives you a taste of constructed improvisation, stunning composition and fine musician carpentry. Song to song whales like an on flowing composition. In the beginning of the album you jump on an unidentified flying object soon to realize you're aboard the Funkatron. From song to song you traverse the depths of space diving into a bit of jazz, soul, hip hop, and electronica. Most of these spaces have been visited, but not like this. The album forces you to sit, ponder, and wonder. The end of "Unbreakable" brings you back down to earth; to come to the reality of standing in a crowd, listening through speakers, headphones, that yes, a band, human made, has given you the ability to traverse through the different depths of musical astrology. But don't take it from me, witness for yourself.
If you want to know how good something is, expose it at random
My favorite time discovering music is when I hear something new, unexpected, different and it moves me; grabs me by the ears forcing me to listen. As a result, I always play my music at random for others, to witness their take. I played The Royal Noise's, "Unbreakable", for some strangers, colleagues and new friends. Here are some of the reactions.  
1) Andirodack Tea
a. "I expected to hear James Brown's voice"
b. "It's like funk and light metal combined, but then it takes you back to that easy groove"
2) Dirt McGirt (my favorite song on the album)
a. "ODB would be proud"
b. "Definitely dirty and old and you could say bastard being born through wedlock between funk and jazz. Oooo smooth man"
c. "The horns, the organ, the guitar, everything in this song is perfect"
3) Unbreakable (my second favorite on the album)
a. "They remind me of the funk and jazz String Cheese"
b. "The horn is killing it"
c. That type of song that makes you want to put your hands straight up in the air and reach until you can't stretch anymore and reach some more"
d. "Makes your body want to curl over it's so good"
4) Tree Funk
a. "great song to wrap it all up"
b. "I want more"
In regards to the whole album a random guy at a party came up to me and said, "This is not usually my type of music, but thank you for playing it, they can jam". Whether or not this is your style of music, you will appreciate The Royal Noise's musicianship on "Unbreakable".
Bonus: Get to know the people behind the instruments.
I always want to make sure that the readers and bands can bond through both a musical conversation and a personal one. Therefore, I asked the band a question and to finish three sentences for me.
- Can you please speak to who your influences are?
"Our influences are so varied... if one could watch a montage of our road trips they'd get to hear everything we blast along the way, from Prince to Pantera, from Dream Theater to Deadmau5, from Robert Glasper to Robert Randolph, from Scofield to Squarepusher, Zappa to Zeppelin. At one of our last shows we started our set covering a Fugazi tune.
I think it's fair to say we all started with a love for jazz, for funk, and for anything with a groove. I personally can't get enough of just about everything out of the soul jazz era, and most of the New Orleans scene. My [Johan Harvey / Guitarist] playing is greatly influenced by Grant Green, Scofield, and Eddie Roberts of The New Mastersounds. As a band, we've collectively started to listen to a lot more disco, drum'n'bass and electronica, and that dimension is starting to come out in our live shows as well."
1) Music is…
a. Our lives. A medium that works to fulfill two human conditions simultaneously - the need to belong, and the need to escape. To paraphrase Joseph Campbell, we shouldn't be searching for a meaning of life, but rather the experience of being alive, over and over again. When we set up the external world around us and it resonates our inner world, we fully exist within the moment, lose our sense of individuality. Music can serve this purpose and it's a practice we should all strive to make a part of our daily lives. As a shared experience, a whitewater raft ride. Musicians work together to keep the raft balanced, afloat, and moving forward. While it's in motion, if one person shifts their weight, the others must as well, and so on. There is an intrinsic trust that must be shared, a dynamic communication, and a perpetual agreement. All of us in the band love jazz. I personally connect with music largely through improvisation, and draw analogies to improvise comedy, e.g. "Who's Line Is It Anyway". Everyone knows the scenario but nobody knows the dialog... if someone makes a statement the rest of the actors must agree - and add to the conversation - it is this perpetual agreeing, this "yes! And..", "yes! And..." over and over again that makes the practice of improvising so much fun, and keeps the music moving forward. Of course, improvisation can be construed as a deeply personal interpretation - heartfelt, and what is closest to you as it arises in the moment. To share this with a band, and with an audience, is what the language of music is all about to me. The crowd doesn't have to know what changes we're blowing over, and the band doesn't have to know what each of us is expressing, it's not so much "I know what you're saying" as it is "I feel you, man".
2) The Royal Noise Loves to…
a. Rage!!! Dance!! Rage!! We're pretty high energy and we love injecting it into the audience. We love taking the bones of our songs and recreating our tunes night after night, seeing where the night will take us. We love traveling, and this year we've been camping up and down the coast playing shows and meeting incredible people everywhere - it's been a real blast. We love pushing each other musically - one night we'll have some kind of new theme develop in a jam and the next night it will be a solidified section of that song, and so on. We love to keep the music evolving. We bore easily...Also, we love to cook.
3) What is your favorite snack food…?
a. Cupcakes. Definitely cupcakes.
Source:
http://www.jambase.com/Artists/93872/The-Royal-Noise/Bio
http://www.connectsavannah.com/savannah/summertime-and-the-jamming-is-ea...
- Kevin Tshiamala