Posted by: leeway | July 6th, 2011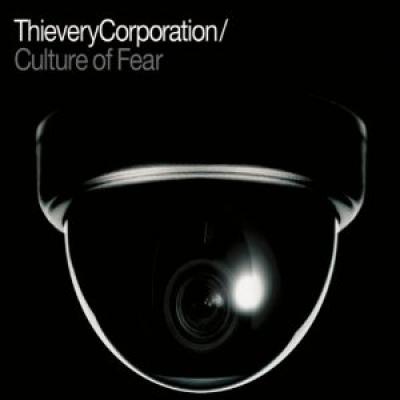 That excitement was not unwarranted in regards to their just released 6th studio album - Culture of Fear. This is an album full of Thievery Corporation's expectedly burly bass lines and dub effects over sparse but choice lyrics that shoulder a lean mindful of one's place as a positive energy in the world. You'll not find a harmful message on any Thievery Corporation release, only messages that call for a battle against the status quo and for unity as a planet.
The majority of Culture of Fear is comprised of tranquil soundscapes perfect for sedate and lounge-appropriate introspective moments ("Take My Soul," "Light Flares," "Where it all Starts," and the Latin Jazz based "Safar"). "Take My Soul," "Where it Starts," and "Is it Over," all like a shot of novacaine to the front of the brain, feature the petal-soft crooning of Ms. Shana Halligan.
With a soul heavy, funky Afrobeat attitude that peters out before being jump started back to life, "Web of Deception" acts as the fireplug for Culture of Fear. On the album's title track, Mr. Lif brings the sort of rap game that allows rap to be called an art, rather than just a pop commercial entity; it brings just enough of that old school back-pack style to have one yearning for the 80s and 90s, while remaining politically relevant as Mr. Lif comments on current social anxieties - "Don't succumb to this culture of fear."
My favorite Thievery Corporation moments hang on their Reggae offerings. "Stargazer" is a dub filled expedition that carries a calmness rarely afforded by anything else in this life, and if you're not a stargazer, the trance-inducing music and Sleepy Wonder's plain but yearning lyrics ("Late at night, I will stare up in the skies forever.") will have you second guessing that lost experience. Chris "Ras Puma" Smith imparts his vocals to the lyrically spare but thematically substantial "False Flag Dub," a nyabinghi threaded song where he simply cries to "Keep your vision clear," and "Overstand," the most solidly Reggae track, yet so far from the tenants of its Rasta roots. Ras Puma sings, "Let me make it clear, I don't care for religion, but you're still my brother, no matter your decision." As religiously confrontational as the lyrics may seem, they carry a message of peace many religious doctrines will not allow, and that is often the underlying message of Thievery Corporation's songs; we may not be single minded, but we are of one spirit.
"Tower Seven" is a standout track full of strutting echo dosed horns over a confident rhythm that could act as the soundtrack for a 21st century wild, wild western. That confident swagger is juxtaposed with moments of musical serenity that can seem scattered, but the overall effect is a track that you're likely to replay a couple times through before allowing the disc to progress.
Thievery Corporation's albums tend to have a little of something for a variety of ears. They often spread it heavy with more ambient tracks, but influences from around the world are guaranteed to rear up throughout. I'm a fan of the band for its diverse tastes, but I'm betting almost anyone can find some reason to fall in love, even if every song doesn't blanket the tongue as palatably as the next. While a culture of fear is certainly something to fight against, Thievery Corporation's Culture of Fear is a release I'm glad to have in my collection.
- Jeremy Sanchez