Posted by: leeway | May 5th, 2010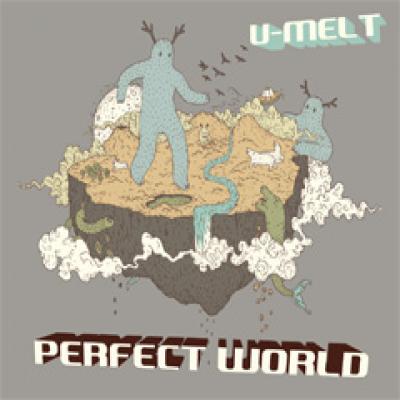 Who wouldn't want a taste of this material at around one or two in the morning? U-Melt's pulsating music is perfect fuel for these bleary-eyed hours. As with all of their releases to date,
Perfect World
has found a perfect niche in my collection, and it is sure to do the same for any jam fan.
Psychedelic minded tracks are always personally preferred at these early-morning hours, and I'm excited to potentially hear instrumentals like "Disillusion" while grooving away in some far-flung field, surrounded by fellow jam lovers. The beats hit just right, the guitar work is thoughtfully wrought, and the bass line is a treat that will hypnotize even the most jaded and experienced listeners into wonderful lapses in space and time that only great psychedelic/trance music can evoke. At only about three minutes in length, this is just a sample of what is sure to grow in a live setting.
This band can certainly rock anyone's socks away. The listener may be fooled at times into thinking that a track is going to be mellow throughout, and then songs like "Disclaimer"  hit on rock riffs that will have heads nodding in approval. This is a band that can switch from dance grooves, before up-shifting at a moment's notice. These changes are exactly what act to keep the listener interested. "Elysian Fields" could fall under the heading of Prog Rock (don't be scared by it), and it's a glorious creation. It switches through various paces, all of which complement one another beautifully; its full 11 minutes should be enjoyed in totality.
Not to ignore the messages the band wraps in its fine music, "Pura Vida" is one track that waxes philosophical. Transcendentalist thought is exposed in lines like, "Everything's connected, everything you are." U-Melt obviously recognizes the connections we all share, and they share that ideology in their songs. This is a good message to live by, even if it's not so easy to entirely buy into the reality of it. It's one thing to have a band that creates music that sounds good and is addictively danceable, but it's altogether another thing (a great thing) when bands attempt to educate their listeners and instill worthwhile value systems. Some would question their right to preach to the listener, but who has the right to tell them not to instill a deeper message in the songs they craft? After all, it's the listeners choice to turn the volume up or down in the first place.
The season we all long for is fast approaching. Since it's not here yet, why not get a taste of what's to come? U-Melt's Perfect World will keep their long-time fans excited for the future, and it's sure to bring in the undecided and the uninitiated. During the winter, I get a little sad and long for throngs of muddy campers wearing three-day-old mud, twisting through the sounds of bands that love to jam. Luckily, we have cd's such as this one to keep us going strong. Whatever particular festivals you are destined for this year, at least Perfect World is already in stock and ready to fix your desires.
-  Jeremy Sanchez