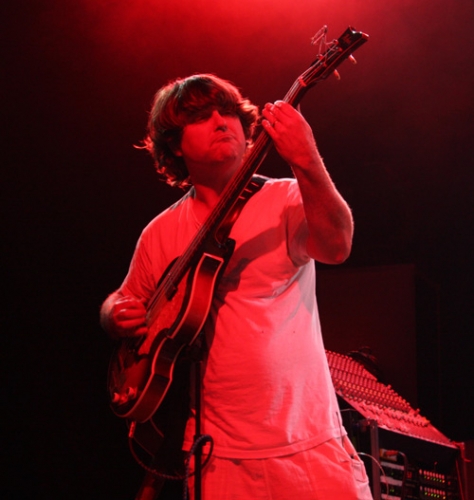 In spite of delays and technical difficulties we made it to Marvin's Mountaintop in time to catch some of Thursday's music. As the Security guards at the VIP entrance rummaged through everything we owned (for our safety, of course) we could hear Boombox's house party reverberating through the hills. We got in and found our spot just as Keller Williams was starting his one-man musical carnival. All the Early Arrival shows were on the GrassRoots stage, which would host a smorgasbord of workshops, intimate acoustic performances and band interviews over the course of the weekend. We hiked up to that stage to watch K-dub do his thang. Timing is a big part of that 'thang' and he played Porta-Potty just as I was standing in line and grooving  (never wait for anything) with a lady who, just as the song says, would be gone when I was done with my business. Best Feeling, as many times as I've heard it, was still a high point.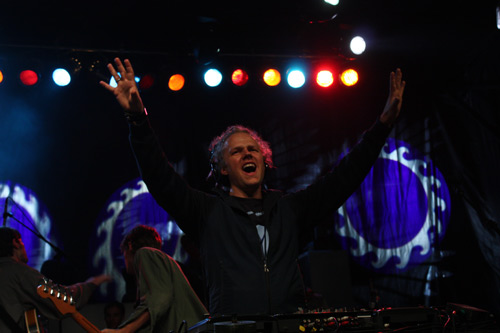 DJ Harry followed Keller with a set that included a Michael Jackson tribute that seamlessly segued into a couple of Lotus remixes as the actual band set up. A lot of people, myself included, thought Lotus had already started. There was no need to begin early – they played to a stalwart crowd that refused to let them go until the sun came up. The highlights for me were the older tunes Flower Sermon and Nematode.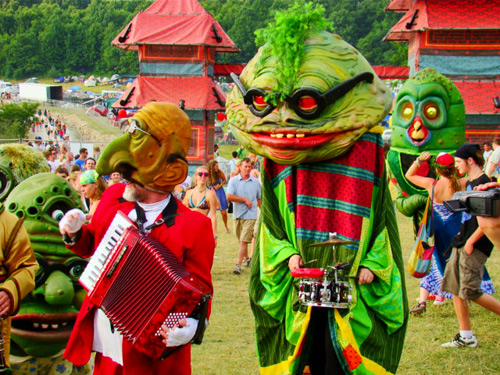 Friday's music, for me, didn't begin until 2 pm when Hill Country Revue (an offshoot of the North Mississippi All Stars) turned the All Good stage into a biker bar with their ballsy blues. Scratchy guitar and a washboard took Jelly Roll from a straight blues tune to a zydeco romp.  Thanks to the 'no overlapping sets' angle that separates All Good from other festivals of this size and notoriety, the blues didn't stop when Big Nazo started on the Golden Crane stage, conveniently located right next to the main stage. It was like a Southern Baptist Tent Revival from another galaxy.  Fins, tentacles and big green trunks flopped and flailed to the surprisingly soulful singing of a ratchet-headed puppet called Quasimodo. The West Virginia Mountain Trolls made an appearance during the show and the entire zany cast would parade throughout the grounds all weekend.
I wish I would have checked out Jackie Greene solo, but I wrongfully assumed he would sit in with at least one other band given the Dead-heavy lineup and his stint with Phil and Friends. So, I missed that one guy but got to see That 1 Guy slap and slide his way around his homemade contraption during a show you have to see at least once.
Galactic returned to their New Orleans groove-oriented roots, fulfilling a psychic request I've been sending for a few years now. Not only did they fill ou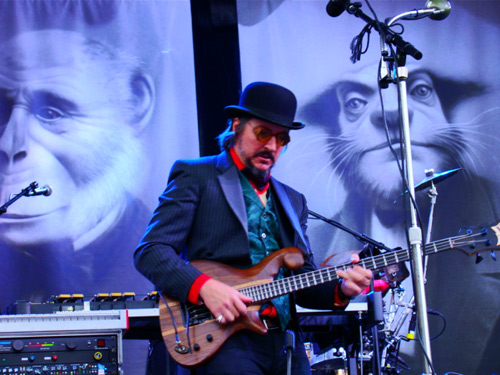 t their deceptively simple deliciously raw sound with the trombone of Cory Henry and the sax of Mo' Money; drummer Stanton Moore had to do his best to outplay guest player Mike Dillon, one of my favorite percussionists of all time.
I was otherwise engaged for Robert Randolph and Todd Snider , but made it a point to be there for Les Claypool and his masked band, which included Mike Dillon. Les abused his upright bass in a way that caused the mountains to shake. Walking around during that show made you feel like your legs belonged to someone else.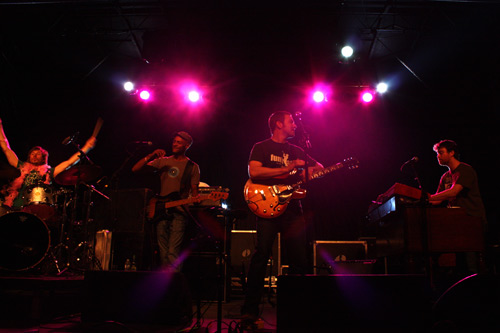 I only got to see The New Mastersounds' last song, but these guys are as funky as it gets. Bob Weir and Ratdog meandered into a slow jazz jam immediately afterwards, then launched into Truckin'. Tomorrow Never Knows was awesome, and would be revisited later in the set with Les Claypool on bass. Loose Lucy is always a delight, and they closed with China Cat>I Know You Rider.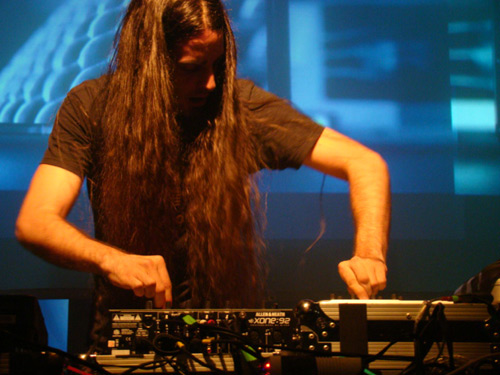 Bassnectar started his ritual at midnight, but was one of the artists who got a very short set. At least he got 45. There were actually 20 minute sets sprinkled throughout the lineup. moe. filled Friday's late night slot, but I decided to explore the campground. Schwilleville. Sketch Vegas. All Hood. I could go on; the gist is it was scary out there. The final attendance numbers came to around 17,000 people and I'm guessing that at least a quarter of those didn't come for the music, the Love or to be part of our community in any positive fashion. It was disheartening, but let's not focus on the negative.
Saturday kicked off with the hard-edged reggae/hip-hop/punk of the Fear Nuttin' band.  It was a little early to rock out the way they did, but I appreciate high energy shows like theirs and they greased me up for Cornmeal. With Wavy Dave Burlingame on banjo and Allie Kral on fiddle, Cornmeal has become one of my favorite new bluegrass bands. I kicked up some dust at the front of the stage with a couple of topless ladies. Don't worry – I kept my clothes on.
Steve Kimock's new project, Crazy Engine, got most of its funky freshness from Melvin Seals' organ (!?) and vocals. It was easy to zone out to Kimock's spacey guitar explorations; Melvin would bring us all back with his spinning Leslie and deep, soulful singing.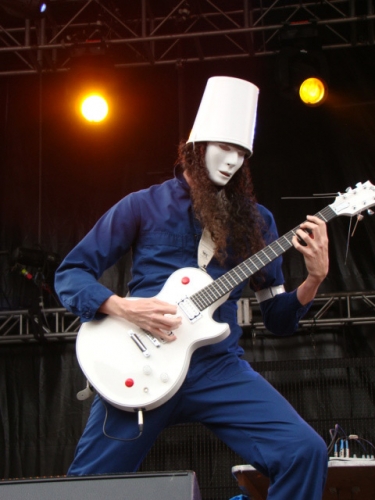 Jeff Austin (YMSB) and Brendan Bayliss (Umphrey's McGee) teamed up for an acoustic performance that was full of sarcastic lyrics and some fairly blue banter. The tunes Liar and Always Up were memorable vehicles for the interplay of Brendan's flamenco-inflected guitar and Jeff's mandolin chops.
Buckethead must have run across some copyright issues with KFC. His bucket was as slick and white as his mask. I think he receives interstellar transmissions with that bucket; he is out there. His tapping/shredding guitar pyrotechnics were backed by tracks apparently playing from an iPod. He played Santa to Toys for Bots, tossing out swim goggles and other goodies from a big blue sack. The numchuks (I know – nunchaku. I am a ninja, btw) came out for The Embalmer and he did the robot to a song that was nothing but camera shutter clicks.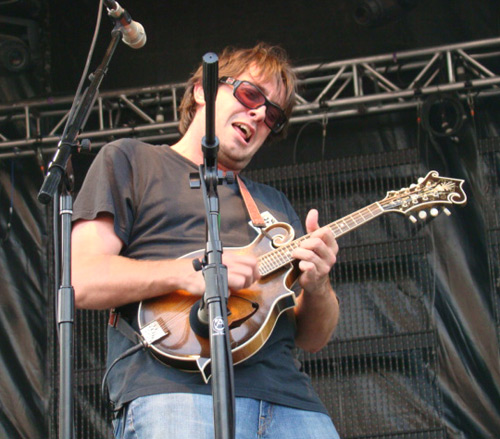 Assembly of Dust was another band with an undeservedly short set. They were done before I could get up there to check them out. Yonder Mountain String Band drew a huge crowd with their high-energy-call-it-anything-but-bluegrass show. They played Stuck In A Hole and Two Hits And The Joint Turns Brown among other favorites.
It was odd to see STS9 start while the sun was still out. I am a huge fan and I know this is blasphemy, but their recent shows have not impressed me in any way. It's nothing I can put my finger on musically – it might be having to
watch my pockets throughout the entire thing.
I missed Dumpstaphunk and had no interest in Ben Harper and Relentless 7, even though he got top billing on the flyers and t-shirts. 
Umphrey's McGee opened their late-night set with 40's Theme.  Women Wine and Song had some honky-tonk flavor and segued into a faithful, show-stealing Shine On You Crazy Diamond.  The girl behind me "Wooted" herself hoarse. The encore was Nothing Too Fancy>Resolution>Nothing Too Fancy.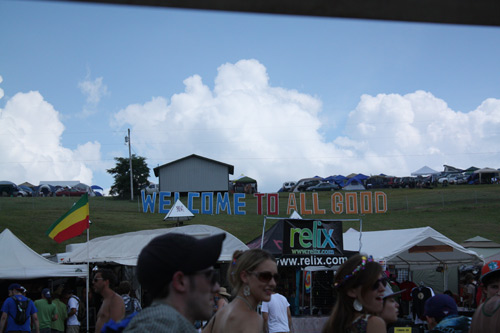 By Sunday the Welcome To All Good had gone through a few changes. The 'L' dropped out on Saturday to spell We Come To All Good and Sunday morning it was completely rearranged to say Love To All. It would get changed twice more but we'll discuss that later.
One word about the Porta-Potties on Sunday. Mounds. Just because it's the last day doesn't mean you can neglect the pumping.
I love a little funk on Sunday morning. Trombone Shorty and Orleans Avenue took the stage at noon, which is still morning when you're on festival time. Troy Andrews aka Trombone Shorty charismatically conducted his band through Let's Get It On and a Cab Calloway tune I have yet to identify.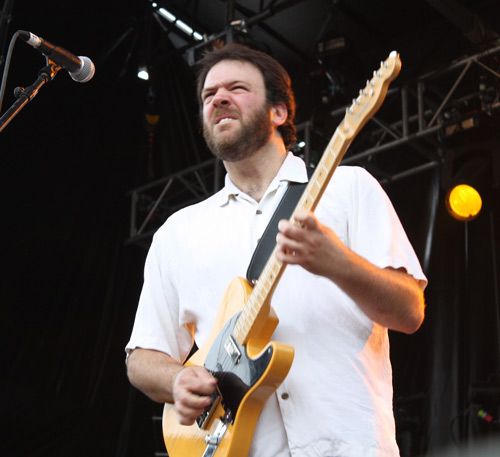 Donna The Buffalo brought their eclectic Americana to the All Good crowd; both parties were feeling mellow. They played Blue Sky, which I've always called "Everybody Gets High" because of the catchy, uplifting chorus. Next was the Rex Jam hosted by The Bridge, which sounded just like The Bridge' s set on Saturday. I never got up to the stage to see who else joined them for the Jam.
Tea Leaf Green was awesome as ever, even though my tastes have moved away from the guitar-noodling-build-and-release jamband genre.  They were followed by BK3 featuring Tara Nevins of DTB. The BK in that trio is none other than Bill Kreutzman of the Grateful Dead. He sounds like two drummers even without Mickey Hart. Scott Murawski (guitarist from Max Creek) and James Hutchinson (bass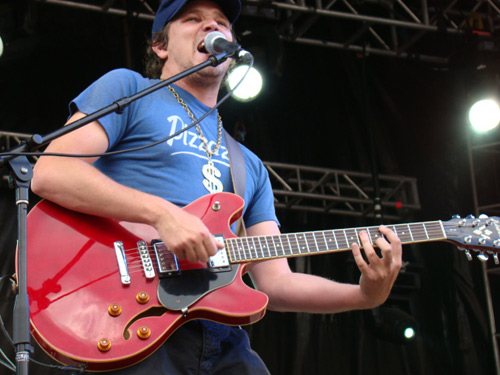 player  for Bonnie Raitt) filled out the core of the trio, and Tara played washboard and fiddle while adding her distinctive voice to the proceedings. Their rendition of Franklin's Tower got everybody in the Dead mindset, which was fitting considering Dark Star Orchestra was set to close out the festival. They chose to recreate an Arrowhead Stadium show from 7/1/78. There was a loping Tennessee Jed and transcendent versions of Terrapin Station and Estimated Prophet. I got real funky to Mr. Charlie, but Johnny B. Goode as the encore didn't do much for me, especially being the last 'official' song.
The music was great and there's some magic on that Mountaintop. As much as I want to avoid editorializing, some of the people there made it very fitting for someone to change the big sign on the hill to No Love. That's open to interpretation depending on who did it; it could be a message from the staff towards the disrespectful and even violent actions of some of the campers or it could be a camper who was harassed by some of the Security folks who couldn't just do their jobs without the power-trip attitudes. Either way, I was sitting on top of the Water Bus when we saw it and one guy jumped off, ran down to the concert area and either knocked the N down or got someone on the staff to change it to O Love.
Other than the aforementioned aspects, which are to be expected when you're creating a microcosmic village in the middle of nowhere, All Good was All Good.
- By Larry Martin
- Photos by Buffy Bender and Lindsay Chandler
More images!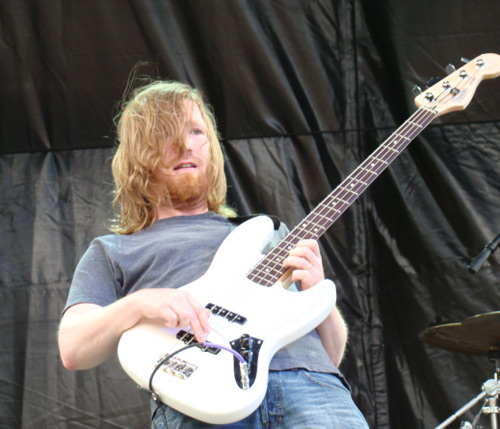 Reed Mathis of Tea Leaf Green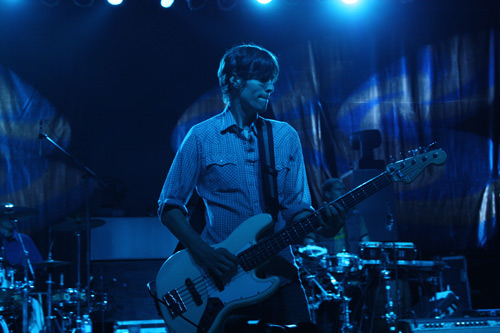 Jesse Miller of Lotus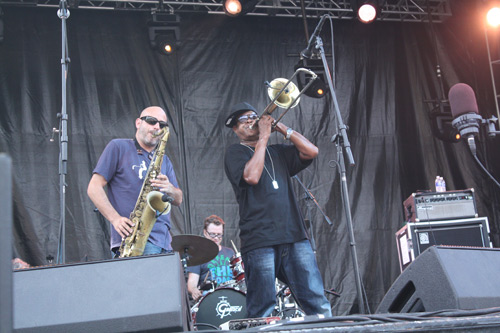 Corey Henry & Ben Ellman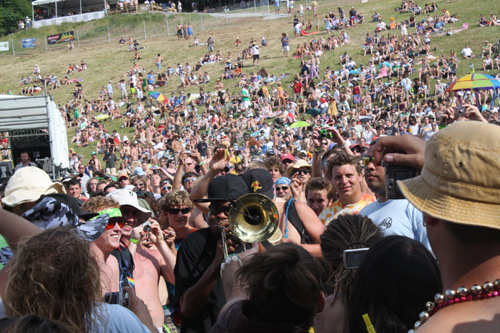 Corey Henry takes the 'bone to the crowd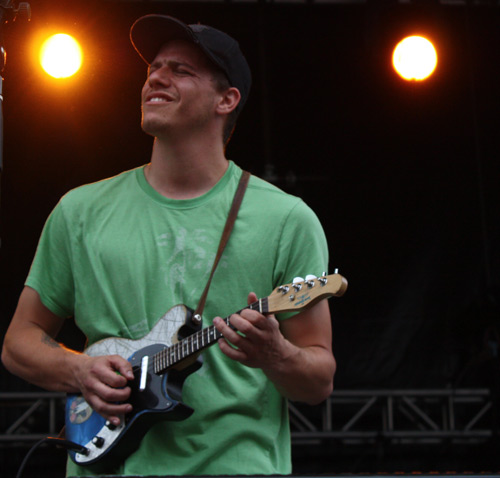 Kenny Liner of The Bridge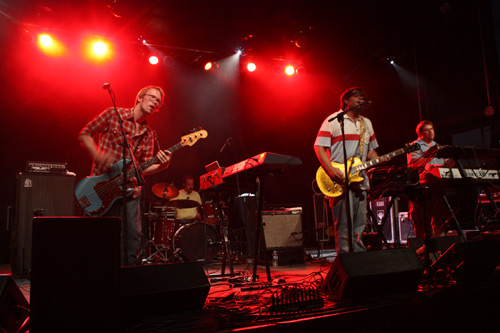 Seepeoples