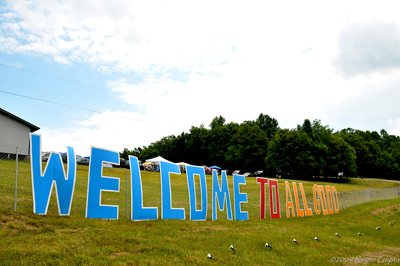 It was a time not long ago, when the All Good Music Festival was a humble vessel setting sail on the ever-shifting waters of the jam-scene circuit. Like a true captain, promoter Tim Walther has masterfully manned the helm of his noble flagship since it's christening, prodigiously plotting the path to success and steering the course strong regardless of turbulence. On its 13th annual voyage, Walther Productions' monumental party barge came to port harboring its heaviest payload to date, touting a titanic line-up of 40+ bands buoyed between 3 stages.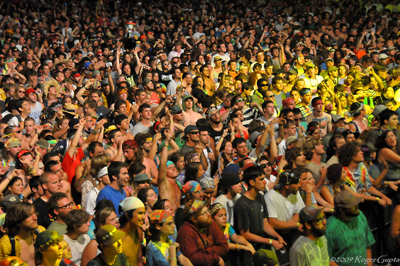 Thursday night's attendance grew thick and dense as
Boombox
stepped to the campground centric Grassroots Stage to oversee soundscape maintenance; shearing hedges with tightly trimmed guitar licks and leveling the lawn with bass drops deeply rooted in fertile house rhythms. Boombox hoed the row for a hard hour, seeding the soil for
Lotus
to blossom on the late-night set and making it hard for heads to vegetate for
Keller Williams
, whose organic fretwork, although danceable at certain points, didn't cultivate a solid groove prior to Lotus, who flowered colorfully under the misty, ominous sky to a record early attendance. The Grassroots Stage-formerly the Rope-A-Dope Stage- has been, in times past, the site of mythical mash-up sessions, where fearsome jam-monsters like John Medeski, Skerick and Karl Denson once collaborated to wreak carnage on innocent campers' aural faculties. This year, the Grassroots roster with the exception a few early morning sets, was more reminiscent of a sideshow attraction than a full-length creature feature.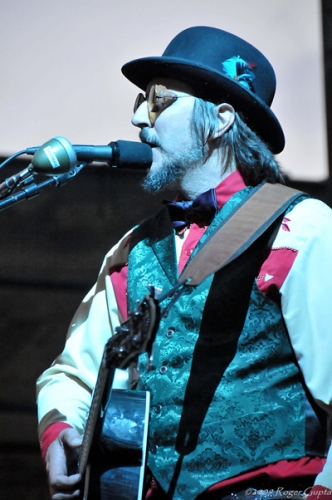 The funk followed freely on Friday, with appearances by
Galactic, Robert Randolph & Family, Les Claypool
and
The New Mastersounds
, there was enough stank in the tank to make a head full of dreads go 'fro. Despite the caliber of funk guns on deck with sights set on blasting asses,
The New Mastersounds
undoubtedly cracked open the most crucial can of crunk all day. In comparison to their more seasoned counterparts, the Brit-based NMS have risen meteorically from obscurity and are still considered fresh meat to many jammies. However, when these blokes dropped the beat on the Golden Crane Stage, they burst any pre-conceived bubbles of typical crumpet munching, tea-guzzling, tidy whiteys; the frequencies swelled and the foursome took flight in a funk pocket the size of a hot air balloon. They exhaled groovy new life into the retro-lungs of their predecessors, filling the musical membrane full of swirling, Hammond-drenched, chicken-scratch guitar licks driven by raunchy back beats for the entire set.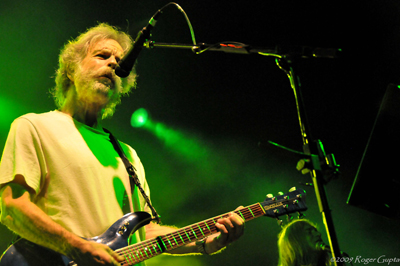 Night mode took hold long before the sun set. Glow sticks were the choice fashion accessories for the cooked wookies roving in droves towards the concert arena to salivate over
Bob Weir
's headlining performance. Weir and crew came out of the hatch swinging strong, hitting home on a spirited Truckin'>Tomorrow Never Knows. However, the momentum sputtered quickly and each song progressively waned, prompting heavy nods from the dead-tired.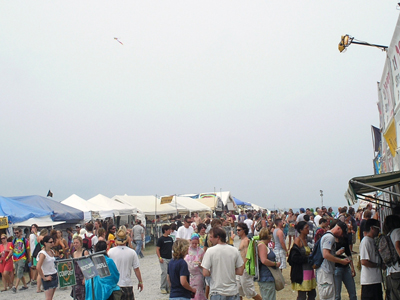 Returning to camp to unwind, a steady flow of foot traffic trekked between parked cars adjacent to camping, when a crew of strung-out spunions randomly approached our campsite peddling contraband. Something unsavory about their energy left a suspicious taste lingering in my mouth and a quick inventory of personal items revealed my campmate's wallet missing from the tent, literally stolen right out from under our nose. Neighbors reported similar stories with missing items ranging from cameras to coolers and would-be thieves were overheard attempting to enter locked. The realization that someone in my circle had been preyed upon was not all good. Lack of evidence or a real suspect made it difficult to pinpoint whether these crimes were the handy work of some local, red-neck, hippie hater, hell bent on cashing in on the thousands of vulnerable guests camped in his backyard. Worse yet is the possibility that the source of this heinous behavior originates in one of our own flock; a one-time happy hippie gone shady-gravy lot kid marinating in a chemical-crust of his own perspiration. If the latter holds true, then the fault falls on the head of the jam community as a whole for allowing this type of activity to go unchecked. One might easily point fingers at Walther Productions, who holds no fault. From the promoter's perspective, petty crime on this level is next to impossible to quell without bringing in additional strong arms, which presents its own set of pitfalls and could potentially increase the number of non-violent arrests among the good folk looking for a kick, ultimately killing the chill vibe that made All Good great. Regardless there's something terribly array when treachery becomes commonplace in a community that once heralded peace, personal freedom, and brotherly endearment above the self-centered love of money, malice and greed.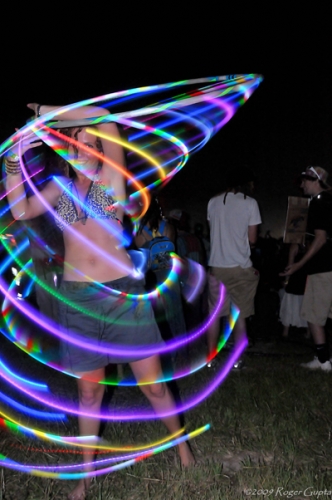 Cold beer made a suitable substitute for mouthwash on Saturday morning.  Early overcast skies and high winds made it decidedly easier to log extra downtime before a big day of music. Immediately after chroming my dome and running a comb through my facial hair, I ripped a gelatinous lung buster of a thumbnail slab of bubble hash and forgot my face at camp. The grueling, mile+ hike uphill in the heat didn't warrant the walk back to retrieve it, so I made due with one of the many face puddles accumulating stage front, where
Cornmeal
was bakin' up a batch of homemade boogie biscuits. Deep in the heart of the wookie-bowl, faces weren't the only things on the fryer - I personally held on to hope for a taste of fried, cheddar corn bread to accompany the patchouli glazed ham hawks belonging to the hairy hunny crisping to perfection on a crochet Steal Your Face blanket on the turf below. Somebody stole your face all right and they brought it back busted baby. I finally found solitude schlepping down ghastly amounts of the $2 discount brews available in the media tent, pinching my bladder until it nearly burst in an attempt save legs for the long walk from the media compound to the nearest restroom. Admittedly, the porta-john situation was a wee skimpy for the capacity crowd on-hand and a hard night of chottling down copious amounts of psychedelics, had by Saturday afternoon escalated to a level of sheer desperation. Longhairs were backed up for days, stacking poo pies to the sky, like an ancient Babylonian edifice, without much adieu to the next poor bloke patiently waiting to drop trough. The waft creeping across the audience from the restroom corridor to the right of the Golden Crane Stage had the gut-wrenching, chemical overtones of Taco Tuesday at a toothpaste factory.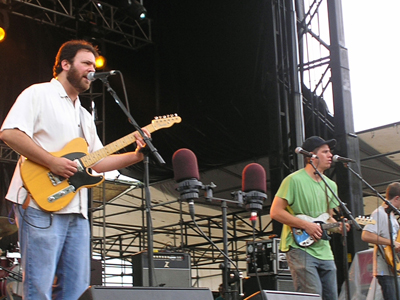 Aside from
The Bridge
's thorough working over, Saturday afternoon's activities were fuzzily consumed by an all out manhunt for the freakishly badass,
Buckethead
or B-head to the homies. The larger than life, chicken-headed guitar god was slated to be tromping about the premises and I had a mountainous slab of ready-to-smoke, gooey goodness nearly burning a hole in my pocket but I felt reluctant to smoke the entire gob to my dome after the nearly debilitating solo sesh earlier. Hot on Bucket's trail, I dug deep into my paparazzo's bag of tricks but all efforts to unearth the mysterious Buckethead were either thwarted by security's eagle eye or by the lethal tractor beam emanating from within the keg of Jomo Lager, both of which obviously had my number. Buckethead may have missed out on a nasty hash bash but made it just in time to crack duel nunchuks on the catalyzed mob's collective cranium.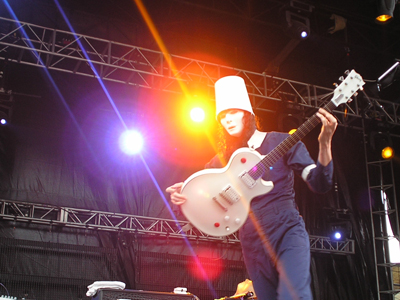 Buckethead served up a tasty batch of his original recipe and lopped off wings and thighs, chopping down the entire lot, armed only with his oversize Les Paul and an iPod. His set, though musically monstrous, mirrored song-for-song, the set he performed at Wakarusa, even down to the toy-tossing interlude. It was without a doubt, highly entertaining to witness the Bucket bust a nasty note on the eardrums of the unaware.
Late night duties, headed by
Umphrey's McGee
lured a macabre batch of crisp, zombie-fried spectators out from the shadowy depths of the campground and onto the dance floor where the laser lights fell upon a field full of saucer-black pupils, wide-eyed and affixed un-blinking in awe of the display. Those folks on the lot lacking the grit to venture into the psychedelic void, opted for icy brews and stimulating conversation with neighbors and newfound friends under shelter of canopy tents.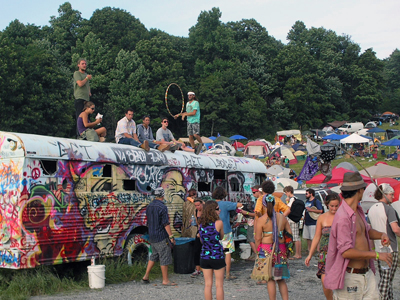 Sunday morning hit like a dust storm in a ghost town as festies closed shop and hit the asphalt for home. I too harbored sediments of departure but lingered instead to scrounge up any remaining morsels of head stash to be found on the grounds and possibly dip in for a few minutes of
Tea Leaf Green
. After 2 sets of Dead at Rothbury, followed by the lackluster lulling from Friday night's Rat Dog performance, a scorching hot Sunday afternoon of Dead tribute dosed by
Dark Star Orchestra
was not striking the energetic chord I needed to hang. My crew and I were anxious to sleep off the dwindling moments of the weekend at the home front and proceeded to head forth.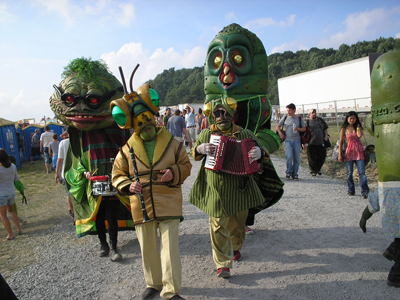 Few festivals can boast over a decade of shelf life, even fewer have ability to multiply its capacity while retaining its core integrity and far less possess the proper grit to roll with the punches, tighten down and retaliate with a stronger, more focused plan of attack in the next round. Much kudos goes to team Walther for holding down the fort. Yet another fine AG came and passed like the breeze and I can certainly say I survived and truly enjoyed my experience on Marvin's Mountaintop. Hell, all things considered it was a scream. Next year, I'll be anticipating another amazing weekend but I'll only pack the bare essentials (hash pipe, mouthwash, beer huggie, etc...) and I'll certainly be sure to keep my guard up to fend off any shadies looking to perpetrate.... if worse comes to worse, I'll borrow Buckethead's nunchuks. 

- Words by Rev. Zicka-funk
- Photos by Roger Gupta & Rev. Zicka-funk