Using such logic, I would have to give up my favorite candy, M&M's. M&M's are incredibly popular and loved by people of all ages and backgrounds. Should I give up such yumminess based on the logic that "popular" equals "not worthy?" I think not. Much like Dave Matthews Band's music, M&M's taste just as good now as they did 15 years ago - if not better.
I saw DMB at Walnut Creek in 1995. They played "Tripping Billies" that night, and also at this most recent Walnut Creek show. Despite 13 years between them, you couldn't squeeze a penny between the differences in the energy of the two performances. Only now "Billies" is a resounding show closer with a dazzling light show where in 1995 it was standard mid-set material from a band just breaking out of clubs and bars. The world surrounding DMB has changed very much, but at the roots, the band is basically the same - an explosive live band fronted by a guy whose songs are too damn catchy for their own good.
On this pleasant evening at the classic southern amphitheater, DMB was joined by Michael Franti and Spearhead to create a wonderful double bill full of powerful musicianship spanning roots, reggae, rock, radio smash hits and arena-rock anthems. Opening with the dynamic acoustic-electric flip-flop of "East to the West," Franti ushered in the first of the evening's many jams, letting guitarist Dave Shul and bassist Carl Young run rampant over the song's driving rhythm. Next, he added a bit of Bob Marley's "Sun is Shining" to the end of the jubilant "Yes I Will" and treated us to a new reggae-influenced tune that bore the unmistakable influence of the band's recent time spent in Jamaica. This was all done very enthusiastically to a 20% full amphitheater.
Franti, bound and determined not to let his set slip forgotten into the overpopulated netherworld of ignored amphitheater openers, raced from the stage into the audience and all the way out to the lawn during a segue between "Sometimes" and the pulsating "Everybody Ona Move." Some of the less attentive lawn dwellers didn't even notice what was happening until the imposing 6-foot-6 Franti appeared right in front of them, wireless mic in hand, leading a growing troupe of revelers into their lawn space, never missing a word of the song. He passed right by my spot in the pavilion on the way to the grass, but since cameras were being treated with the highest prejudice at this show, I didn't get a photo of that or anything else.
Making his way back to the stage, Franti presented the brand-new song "Hey World" before the band was joined by Dave Matthews and Tim Reynolds for a humorous and fun if not note-perfect version of King Harvest's 70's nugget "Dancing in the Moonlight." Franti altered the lyrics to match the atmosphere - "dancing in the sunlight." Closing out with the unfiltered glee of "I Love You," Franti and Spearhead made the very most of their 50-minute set and undoubetdly made an impression on the mostly clueless crowd.
As the crowd swelled for DMB, one thing was clear - this was going to be a very different band than the one I saw at this same venue two years ago. Not only was longtime collaborator Tim Reynolds on board, but keyboardist Butch Taylor unexpectedly quit after a decade with the band, possibly facilitaing Reynolds' inclusion to fill out the sound. To top it off, saxophonist LeRoi Moore was injured in an ATV accident at his home in Virginia shortly after the band finished up the first leg of the tour. On June 30, the band announced that Flecktones saxophone scientist Jeff Coffin would be filling in starting with the North Carolina shows.
With LeRoi's condition heavy on the minds of the audience, it was great to hear from Dave and read on the band's website that Roi is going to be OK. He likely won't return to the stage in 2008, and while he'll be missed, it was a rare treat to see DMB at work with a much different saxophonist. Any Flecktones follower knows that Coffin is a highly skilled player and musician of the highest order, and the thousands gathered in Raleigh were treated to several doses of Jeff's decidedly jazzier (and some would say more inspired) playing.
The opening 20-minute reading of "Seek Up" proved that the performance would certainly not be toned down because of Moore's absence. "Seek Up" was perfect in all of its dark, dramatic, triumphant glory, and I was surprised by its extensiveness. I think the band was surprised by Coffin's gusto, as they wound up cutting a few songs from the set due to the lengthy jams in "Seek Up" and "Crush," the latter of which featured a magnificent guitar-and-sax sparring match between Reynolds and Coffin. That's right - they had to cut songs from a show that lasted 2 and a half hours!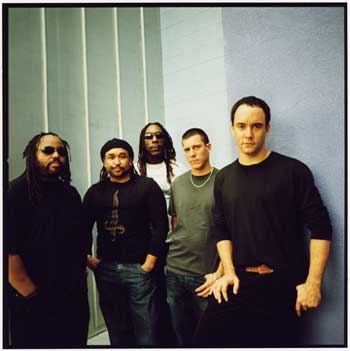 DMB's light show has, with the aid of some super high-tech translucent video screens, become a self-aware monster in itself. Year to year, you can expect a general look and feel from designer Fenton Williams' show, but the interactive visual ante is steadily upped each time I see the band. This incarnation centered around a large see-through video "banner" across the top of the stage and a monstrous video screen that spanned the entire width of the stage behind the band. Completing the picture were two large vertical screens on each side of the stage along with a costly smorgasbord of standard concert lighting. The effect was overwhelming, and there's a limitless supply of appropriate visuals that can be displayed. A palette of falling rose petals appeared during "Rapunzel," bursts of psychedelic fractals zapped my eyes during "Tripping Billies," "Dancing Nancies" featured luminous images of fields and blue skies (offset by evil red textures during violinist Boyd Tinsley's scorching solos), and images of comedian Judah Friedlander soliciting hugs on the street appeared during "Everyday," which were very thoughtfully utilized.
Having served up a flawless set including gems like "So Damn Lucky," "Granny," and a thundering cover of Peter Gabriel's "Sledgehammer," the band took a a brief respite after "Rapunzel" with "The Space Between," featuring the trio of Matthews, Reynolds, and drummer Carter Beauford. "Nancies" proved to be the zenith of the show, with the band working through a huge jam that featured some glorious harmony horn lines from Coffin and trumpeter Rashawn Ross. Ross used the sizeable "Nancies" violin solo to work some things out for the impending jam, as he and Coffin removed their in-ear monitors and played to each other at the side of the stage before returning to the fray.
Along with the aforementioned tunes, "#41" and "Corn Bread" helped comprise a near-perfect set until the show took a drastic left turn into the not-so-exciting "Idea of You." The "Smooth Rider" that followed was a dissapointment to start, but Reynold's slashing slide guitar saved it from mediocrity. The set-ending "Louisiana Bayou" was also a bit of a curious end to an otherwise outstanding set, and the first encore of "Gravedigger" let the air out of the crowd's balloon before it was resuscitated by the "Tripping Billies" show closer.
As critics and fans rush to utilize terms like "post-jam-era" DMB stands in defiance of wide-open improvisational rock's supposed last breath. Whether you revere them or revile them, there's no denying that they're popular because they're so damn good.
--Bryan Rodgers