By Andrew Place
Photos by: Blake Robertson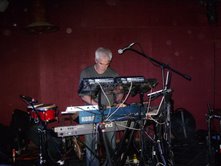 If you go to an EOTO show with that mindset you will undoubtedly be in for a surprise. Their music is an electronic styled journey through improvisation where nothing is set in stone. On stage they evolve musically right before your eyes without any samples or loops to fall back on. Sometimes it works and sometimes it doesn't but that is part of the thrill of seeing these musicians who put it all on the line night after night trying to achieve pure nirvana through their almost telepathic interplay. With Jason Hann keeping time you can't help but move to the infectious sounds layered with bass and tasteful synth by the multi-talented multi-instrumentalist Michael Travis.
    For much of the first set it seemed they were just trying to find their groove, trying to find that pocket of perfection where they could take the audience to bliss. This was something along the lines of what Jason told me over a beer during their setbreak. The crowd at the Goat Head Saloon in Tempe, AZ was more than willing let them find that niche as watching them do so is almost just as fun as seeing them in the zone. Good people and a fun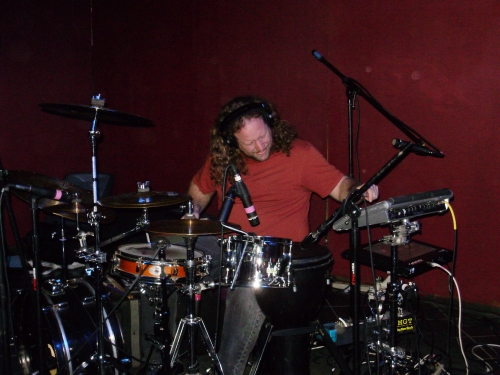 atmosphere permeated the night and everyone seemed to be dancing with each other. The second set brought straight improvisational fire to the stage and subsequently the dance floor. The musicians seemed to be enjoying the hell out of playing for us and watching the wild dance craze that pretty much engulfed the entire dance floor.
    These guys in EOTO, even though they were superstars in one the countries biggest live acts, (Cheese), are completely down to earth and have no problem mingling with fans and taking pictures. I asked Jason Hann after the show, "You gotta tell me, man, how you get such a large sound from such a small kick drum?" Answer: "All EQ and mic selection".