Review and Photos by Scott Preston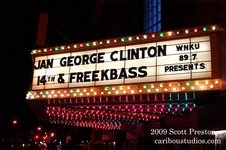 On a cold Wed night in the mothership landed with the force of an atomic bomb. For the people that wanted to have a good time and dance, they didn't have to go far to find the funk! The Madison Theater in Covington, KY was the landing site for the legend George Clinton & Parliament Funkadelic as well as the next generation of funk, Freekbass.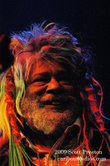 The night started off with Cincinnati's own Freekbass. Freekbass brought his own brand of funk to the masses while keeping true to the bone shaking funk of George Clinton & Bootsy Collins. You don't find too many 3 piece funk bands that can pull it off the way that Freekbass does. Freekbass started off with a few of his earlier songs Invincible and Check It off his album "Air is Fresher Underground". He gave us a nice selection of his older and newer tunes which span 5 albums, 2 of which he has released in the past year. Time and Milkhunt come from his live cd release "Grooveyard" as well as "Higher" from his most recent studio release "Junkyard Waltz". Nobody has to worry about the tradition of funk dieing out anytime soon with this band from Cincinnati. 
Soon after Parliament Funkadelic took the stage and kept the night of funk going without
missing a beat. A George Clinton & P Funk show is by definition going to be a exciting, mind expanding evening of music where the journey is as important as the destination. About 45 minutes into the set I saw George make an appearance on the side of the stage. Slowing bobbing his head and moving from side to side, he was getting into the feel of the groove. About 30 minutes after George took the stage a banner was unveiled behind him that read "Funk George Bush" which drew more than a few smiles out of the crowd. If the band wasn't forced to stop around 1 am they would have surely played through the night. They would have had most of their funk followers along there with them feeling the groove of P Funk.  
http://www.cincygroove.com/?q=node/966
http://www.georgeclinton.com
http://www.freekbass.com