By Larry Martin
Photo's by Lindsay Chandler & Mike Thut

We all gathered to celebrate the 40th anniversary of Woodstock and to do our best to carry on the legacy of that defining event. Bad weather and one tragic, mysterious incident conspired against us but we survived and thrived.

The first band I caught was on the Green Vibes Stage. Reckoning, a cover band with improv chops and a feel for working with the energy of the crowd, kick-started my live Vibes experience with Floyd's Run, Rabbit Run. Everyone was receptive of Help On The Way, including your Dead-jaded narrator. I'm glad I didn't know then just how many Grateful Dead covers I would hear over the long, wet weekend.

The Main Stage got its hymen gently broken by P.J. Pacifico. Having no prior knowledge of the band I thought I was hearing the soulful wailing of a lovelorn woman - nope, P.J. was totally a dude, backed by a gritty yet mellow band that brought a few people out into the drizzle that we knew was the beginning of a storm that seemed to be the size of Texas on the weather radar.

Performing double-duty as a short-handed vendor meant I was shaking hay in the front of our booth when the Donna Jean Godcheaux Band played Sugaree. Shake it, Shake it, Larrr-ry. Just don't tell 'em that you know me. I was bound and determined to be the Eyes Of The World when they played it. I'll present my overall tally of times a Dead song was used and abused later - this wouldn't be my only Eyes.

Donna Jean herself sounded better than I've ever heard her.  Listening to old Dead shows with her on backup vocals can be painful at times. She threw in Loretta Lynn's You Ain't Woman Enough To Take My Man, which she covered a few times in the early '70's, and it was appropriately sassy, defiant and twangy.

It was pouring rain by the time Dark Star Orchestra really got going. Since there was no lightning with this storm the music never stopped, and the crowd reveled in the rain. I was hunkered down under the HomeGrown tent and barely paid attention to the set, which was an original and not a re-creation. There was the opening China Cat>I Know You Rider - ding-ding-ding - don't want to spoil the ending but I Know You Rider got the most covers at 7. Donna Jean sang on Catfish John before they closed out the set with Lazy Lightning (at least it wasn't Looks Like Rain)>Supplication.

The second set began with Cold Rain And Snow. By then it wasn't funny anymore. Our booth turned into a swamp and I barely had enough high ground to set up my tent underneath our EZ-up and out of the water. I think at one point in the night the rain stopped for a while and I contemplated making the trek to the Green Vibes stage to see The Machine's late-night set; I ultimately decided I had seen enough bands playing other people's music for one day.

Friday started with more hay spreading and watching a crew dig holes and try to pump some of the water out of the ground. If I had known they had these pumping capabilities I would have held off on the hay - once you throw that down it soaks up the water and holds it there. And it smells like rotten tomatoes and wet dog.

King For A Day got the music rolling with a rocking version of She Caught The Katey (And Left Me A Mule To Ride). They announced they were going to play a song for America, subtly titled America's Song. Their set was heavy on riffs and rhythm but I was still concerned with drying out tarps and tapestries in order to make our merch presentable.

After all these years it's still a little odd to see Strangefolk without Reid Genauer - even more so when he's with his 'new' band at the same festival. The spine-tickling opening riff of Come On Down formed the musical motif Jon Trafton, Patchen Montgomery ( both on guitar) and Don Scott (keys) traded with each other for a nine-minute exploration of that song. After a countrified Fallin', Jen Montgomery ably backed her husband on vocals for Float.  We got a new game. It's called guess which Dead song got covered. Strangefolk chose Candyman.

J.J. Grey, I remember back when it was just Mofro. I don't know what circumstances lead to putting his name in front, but, whatever. The entire crew (including a horn section that wasn't part of the show the last time I saw them) served up that Florida flava' with Hoe Cakes. I was raised in the South on black-eyed peas and collard greens, picked right out my Granny's garden, so I know what that song is all about. Except for the smoked mullet.  They laid down the lazy-summer-funk on Everything Good Is Bad and Brighter Days and get extra props for playing all originals.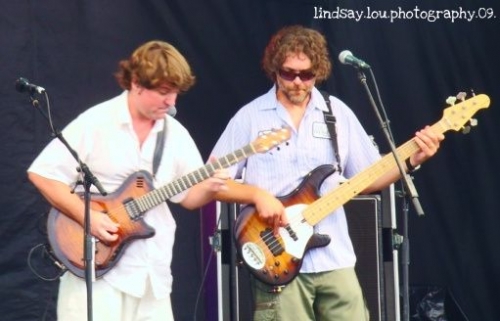 Keller Williams and MDS (Mosely, Droll, Sipe) were a lot of fun, even though I could live the rest of my life without hearing Breathe or Best Feeling and be better for it. Oh, and put two tick marks under the Eyes Of The World column.

I never actually saw Wavy Gravy. Whenever he did his desultory emcee shtick he was behind the stage somewhere, rambling about a flight from New Mexico, a Turkish truck driver, Thelonios Monk and Neal Cassady of the Merry Pranksters. That might have blown a few minds in the early Acid Test days.  We all just shook our heads and Tweeted 'WTF?'He also told the same joke three times. What did the chicken say when he (yes, he) laid the square egg? Ouch, that hurt my butt. It got funnier every time.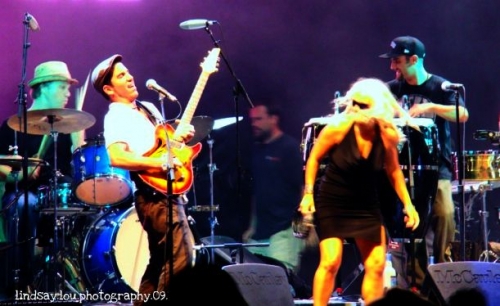 I hope my tone does not taste bitter to your inner ear. I had a blast. In fact, I can't tell you much about George Clinton & P-Funk other than I spent that set hugging, high-fiving and de-crackerfyin' the throngs tromping their way through the muddy trail by our booth. Pardon this pathetic pun - I suffered a Deep Banana Blackout while laying in the back of our trailer. I revived long enough to hear moe. get cut off in the middle of their first set. They would not return due to a thunderstorm that kept me away from a much-anticipated Lettuce late-night. I felt like a punk the next day when I heard everyone raving about how they tore it up.

We were blessed with sunshine come Saturday morning. Moonalice, a super-group composed of Jack Casady (Jefferson Airplane, Hot Tuna), G.E. Smith (yes, that guy from SNL) as well as sometime members of Phil & Friends and Jefferson Starship, took to the Moon stage around 11 a.m. with a slow version of Somebody To Love. They were as prone to rambling banter as Wavy Gravy. There was much allusion to the Moonalice legend, which remains a mystery. Supposedly the Frisbee was invented in Bridgeport and it was originally a hemp pancake too hard for Alice to eat. At least that's what I thought I heard.

They were big on covers as well. Whiter Shade Of Pale was ethereal, especially with female vocals from Ann McNamee. Stella Blue gets a pass on the Dead- heckling because of it's rarity and because my friends dog was named after the song. Not so, for you, Sugaree. Moonalice played the fourth version I would hear. I couldn't tell you who the other two bands to cover it were - they were on the distant Green Vibes stage and the song wafted to me on an ocean breeze.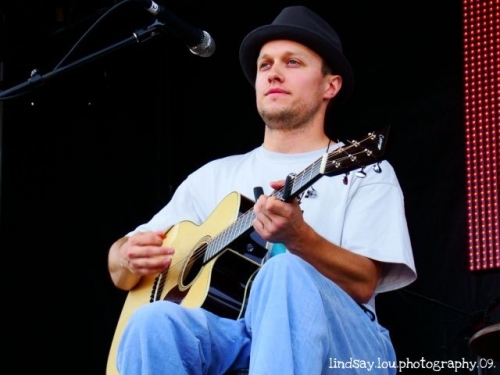 Ok, this message is exclusively for the dudes - whatever you may think of his music, Ryan Montbleau can get you laid. His lyrics and that folk-funk that gets raunchified by his band turn the ladies to puddin'. He started the set solo acoustic; revisiting his early days and his occasional solo tours. Inspired By No One>Eggs was a highlight. I won't knock their cover of Unbroken Chain - he sang it better than Phil does and the jam in the middle was funkadelic.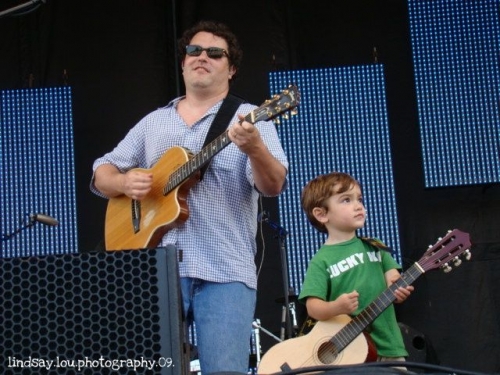 Assembly Of Dust built layers of sound, starting with a deep bass line and gradually adding spacey guitar textures that complemented lyrics like "melting in the moment" and "don't know where I'm goin' but I'll get there". Other than Reids energetic presence I don't hear much difference between A.O.D. and Strangefolk in a live setting. I can't say the same about their new album, which has guests like Mike Gordon, Grace Potter, Richie Havens and Martin Sexton. Yes, that was a thinly-veiled advertisement.

Jam veterans Max Creek have that magical 'something' that keep them relevant in this indie-electronic age; at least in the Northeast where they have a rabid following. I don't get bored during some of the twenty-minute jams, and I assure you that means a lot. Even with three Dead covers - One More Saturday Night, Cassidy and Bertha. For those keeping count with me that makes once for each of those songs. So far. They played that Phish song, too. Cities, I think the Talking Heads called it.

One of the most anticipated shows got cancelled. A lot of people that passed by our booth said they bought day tickets just to see State Radio. Instead they got to watch the sunset over Long Island Sound while Wavy Gravy babbled about a chickens butt.

Guster, out of place on paper, was a refreshing palate cleanser. Guitar jangle, gratuitous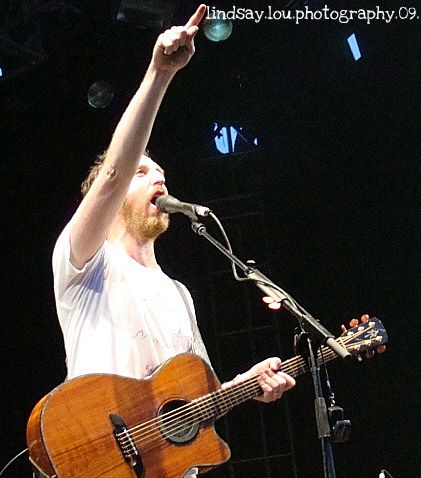 reverb and smart-ass college-boy lyrics usually get tuned out by my seasoned, discerning, neophilic ear. Not today. The harmonica on One Man Wrecking Machine was polished yet soulful. I couldn't get to the stage in time to scream "More Cowbell!!" when they covered Don't Fear The Reaper so I ran around with no shirt, bedecked in a gold sequined cape. I wandered, via seashore sidewalk, to the other stage and turned myself out for the Pimps of Joytime. It was their last song and it had a sexy klezmer/rock/funk sound that made me want more. Dejected, I went back to Guster to hear them denounce the bull jive (my euphemism) fake encore that has become a tradition. They played four more songs, effectively eschewing that tradition - unless they chose a point way earlier than they intended to finish to banter about the encore.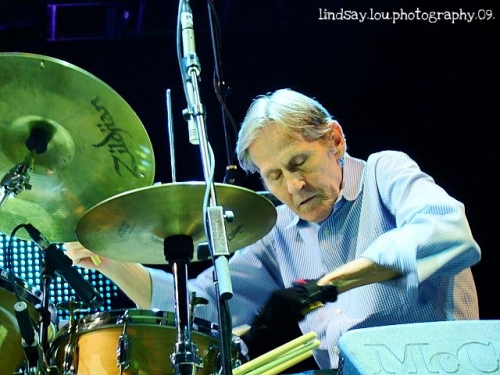 Levon Helm, drummer for The Band and Woodstock alumnus, opened with The Shape I'm In, a tune he only sang back-up vocals on back in the golden-oldie days. There was an odd moment for me when a female vocalist sang Long Black Veil without changing any gender tags. And what would any Vibes set be without Deep Elem Blues and my third Tennessee Jed of the weekend?

Bob Weir and Ratdog played Jack Straw. I'm pulling a Forrest Gump - that's all I have to say about that.
Late-night Saturday smelled like blunts and tasted like pink stars. Since Gonzo Journalism is passe, I won't elaborate. We also had our first night of clear weather, allowing me to see Perpetual Groove perform Three Weeks and Take On Me (by a-ha;  are you old enough to remember the video?). I roamed the campground to check out the late-night 'scene', man. Of course, being the intrepid adventurer, I ended up seeing police confiscating nitrous tanks in a sketchy neighborhood that would be abuzz with rumors the next morning.
Sometime Sunday morning a body was found right around the area we had seen the nitrous bust, and people we know said they saw it and it looked like he was beaten and burned. Later news reports said he died of natural causes, then it was an overdose; there were also comments on some of the online articles from 'eyewitnesses who were questioned by the police because their tent was part of the crime scene' who say the body was dumped. I am only reporting what I heard about it and will not conjecture as to who is right or what really happened - there are some nasty flame wars going if you Google "Bridgeport Vibes body" or some variant thereof.
I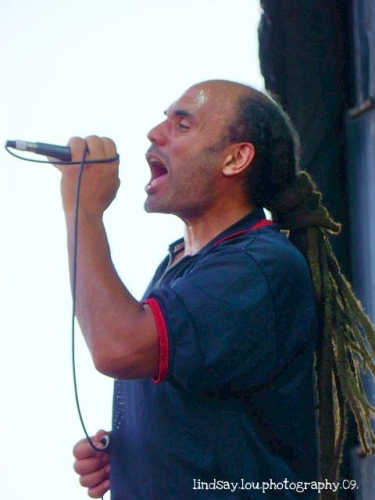 hadn't heard anything about it during the World Peace Prayer or the Harlem Gospel Choir, so Sunday morning was slow and soulful. John Browns Body kept it that way with their 'Future Roots' brand of reggae. Amplify and Resonate are apt titles for said songs, as well as being very descriptive of the bands Vibe. They played New Blood, a song for people who had never seen them before, as well as 33 RPM, one of the most progressive reggae tracks ever. I wanted to check out Blues & Lasers, a Nocturnals side project, on the GreenVibesstage. Poor me; I had to settle for a full-blown Grace Potter show.They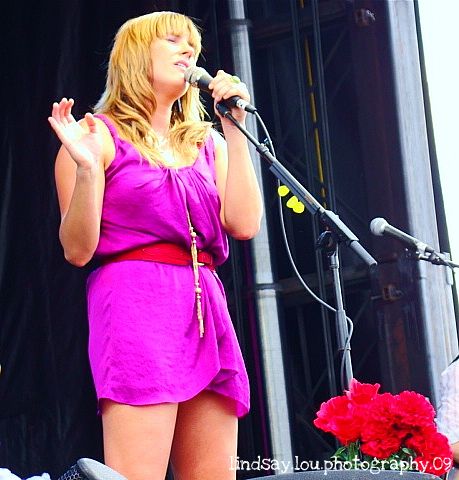 openedwithSome Kind Of Ride, and I hopped on board. I swear she was singing every song right to me and I know she looked straight in my eyes when she delivered the line "You got me down here on the floor; what you got me down here for?" If you only knew, Miss Potter. A lot of her songs dealt with 'modern' relationships and role reversals, themes that juxtapose with their neo-classic blues/rock style in a dynamic way. Nothing But The Water closed out one of the best sets of the weekend. Before Buddy Guy brought us 'the kind of blues you don't hear on the radio anymore', we got to hear the chicken butt joke again as Wavy talked about cooling off a plastic swimming pool full of Jello with dry ice and then there was something about Kathmandu. Don't know how we got there.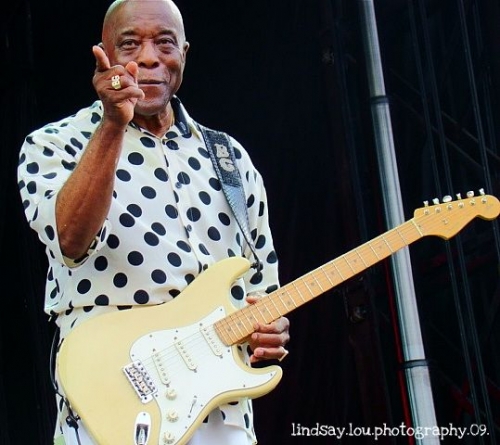 Legendary blues guitarist and Hoochie Coochie Man Buddy Guy ripped his Strat to pieces - playing behind his head on the aforementioned tune as well as Best Damn Fool That You Ever Met and a slow number entitled Skin Deep that sounded a lot like Purple Rain. He enlisted the crowd to help him finish "I Just Want to Make Love to You". But Buddy had nothing to do with the standout moment that dropped everyone's jaw. Quinn Sullivan, a 10 year-old, stole the show with a song he wrote about meeting Buddy Guy. Afterwards Buddy remarked that when he tried to give the kid lessons he said, "Come on, man, show me something I can't play."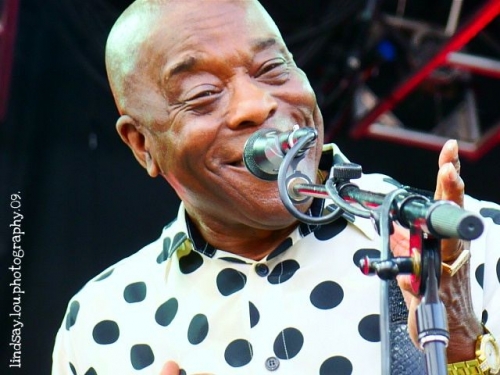 >Sunday must have been the day for the younger generation to technically surpass the icons they were influenced by. I didn't get to see the You-Tube sensation known as McLovins, but credible sources say they effortlessly played a spot-on You Enjoy Myself, almost as if to show Phish how easy it was. I also heard someone threw a porno mag on stage and it was quickly snatched up by a manager out to protect these kids (they're all around 14) from the big bad world.
Keeping with the Woodstock Vibe, Crosby, Stills and Nash headlined Sunday evening. They sounded great if just a little tired, but, hey, how old are these guys? Or maybe it was the crowd that was tired. I know I was; I spent most of their set, which began with Love The One You're With, sitting on a rock watching boaters steal the music and clouds play peek-a-boo with the sun.It wouldn't be CSN without a couple of war protest songs. All I heard was their signature harmonic interplay and the phrases "nuclear madness" and "no more war". They covered Ruby Tuesday, a James Taylor and a Bob Dylan song (neither of which I recognized so I'm taking Graham's word for it), and Rocky Mountain Way . There was an insane organ solo during Our House (Is A Very Fine House). They were cut a little short by the announcement that ANOTHER big storm was on its way; Teach The Children Well was the last official song of the festival and everything (including the beer tent - you heathens!) closed up shortly thereafter. So, it was another early bedtime while the rain pelted the tent that protected my tent.
Packing up Monday was a mess but went quickly. We were all ready to get home and wash away the mud (a week later it's still in my toenails) and any negativity that might be lingering in our minds regarding some of the weekend's events. The rain definitely hurt all the vendors' sales in spite of a valiant effort on everyone's part to battle the encroaching swamp. It's during the tough times that our 'family' really shows the love that keeps even the most cynical (cough-me-cough) of us coming back for more. I've read reports that the Vibes may have to find a new home next year. That's fine -we'll all roll with it until we don't or can't anymore.