Rested and showered, we started on the second leg of our epic adventure. There was more rain; of course. Along the way the locals asked if we were going to Bonnaroo and commented that they always got rain when we came to town. My theory is that nature surrounds us with a protective shroud when that many music-loving hippies mobilize. Cops don't like to get wet, and free spirits like to roll in the mud.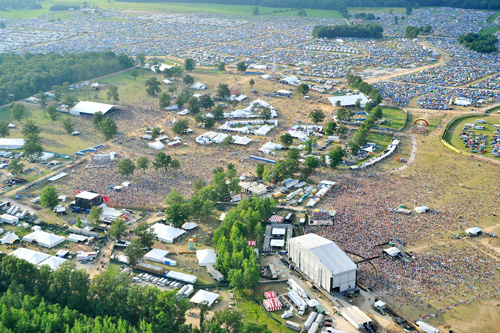 We made it to Manchester. We waited in the rain for over an hour to get our Press credentials! Hopefully next year they'll figure out a more comfortable and efficient way to take care of the press. Then we headed to staff check-in for the others that were traveling with us. Staff Check-In went smoothly except for a mis-communication regarding our vehicular access. We waited three hours for an escort that would never come. Considering what the riff-raff (I kid, again, my beloved festy folk) had to go through - traffic for miles, random and multiple vehicle searches - sitting in a plush armchair under a tent and surreptitiously drinking beer from a Taco Bell cup was a comfortable lesson in the virtue of patience.  I got to see Coffee County Law Enforcement, including some of the most obvious 'undercover' agents ever, check in as Staff. And, not really surprising after the previous night, the Giant Panda Guerilla Dub Squad was waiting in the Campground Vending line. I saw them recognize me and vice versa.
We finally made it to camp and made ourselves at Home. Our gracious accommodations, with the coolest crew at the 'Roo, happened to be right behind the Other Tent so we could hear The Knux as we set up.  It was all bass from that perspective. No mind; we were at Bonnaroo and ready to DO IT.
I didn't venture out until midnight - for Midnite, no less. It was 'modern' reggae in the sense that it was fairly polished and clean. It was also 'roots' because there was no rock or hip-hop adulteration. I got down because that's what I came to do. Being older and relatively wiser, I got some sleep since this was the first of four days of debauchery.
Friday at the Other Tent carried the 'Africa Calling' theme, so I awoke (promptly at noon) to Asheville, NC's Toubab Krewe. The subtleties of the kora (an African instrument we get a master class in later) and the twangy guitars were lost from our vantage point, but the rhythms were just right for a morning in The Compound as I perused the overwhelming schedule. Previous experience and a timely reminder lead to the decision to just head out with no itinerary. The trick is to surrender to the phlow.
I took a few pictures of the Graffiti wall and various art installations, including the set of Such N Such, an interactive Sideshow that was on my must-see list. That's later when the clock hits midnight and they light the fires.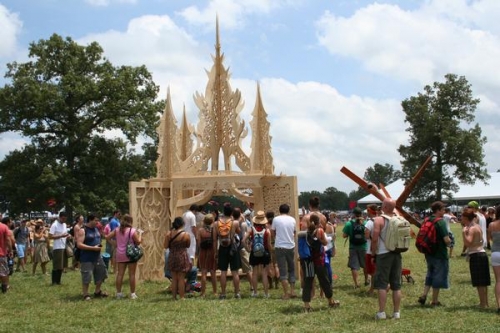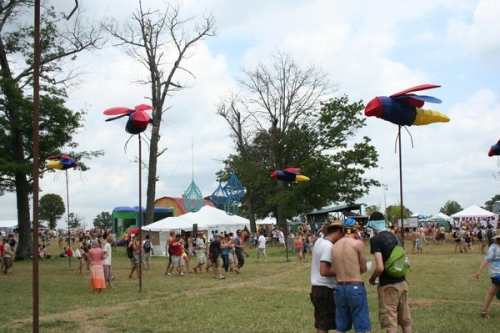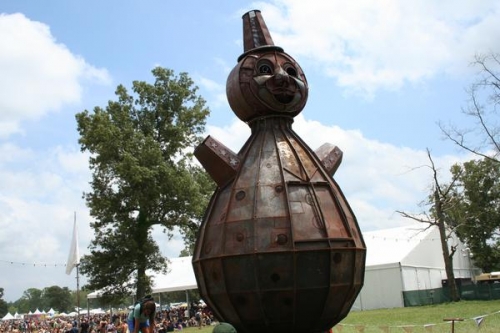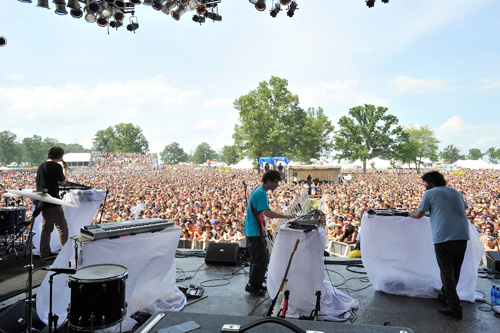 Alright, time for some music. I chose to check out Animal Collective at the Which Stage. What, Which, This, That, The Other - someone thought it was clever to name the stages this way. What is the headliner stage and Which is the next largest. Neither offers the shade and shelter of This, That or The Other, so if I'm going to swelter in the Tennessee sun the band better 'bring it'. I am a fan of Animal Collective but some of their softer, more ambient passages didn't translate well in this situation so I wandered on.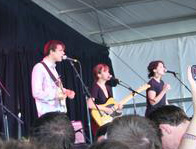 I found myself at That Tent.  The Dirty Projectors, according to a placard beside the stage. They had a bouncy Indie sound reminiscent of Vampire Weekend; the major difference being three young ladies that caused me to rename them the Jailbait Band. They shook their lithe bodies while belting out soulful harmonies. When one of them grabbed a guitar and rocked it raw I nearly lived out that Andy Samberg video short from SNL. You figure out which one I'm referring to.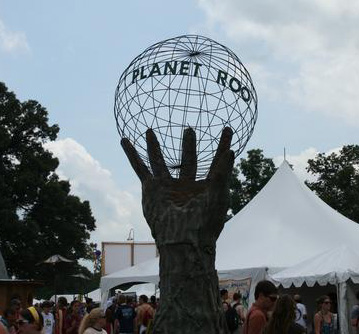 Planet 'Roo, an oasis of activism and consciousness amidst the hedonism, was the next area my wandering took me. The Poetix Vanguard, a powerful spoken word duo, worked lyrical magic on The Solar Stage. It was a sensual and uplifting experience
What day is it again? Oh, Friday. Africa Calling at The Other Stage was about to host a collaboration between banjo master Bela' Fleck and kora player Toumani Diabate. I got there to see a mini-bulldozer spreading sand in the pit area, which gave me the opportunity to move very close to the front before they let in the eager crowd. Toumani thumped the bass notes on his instrument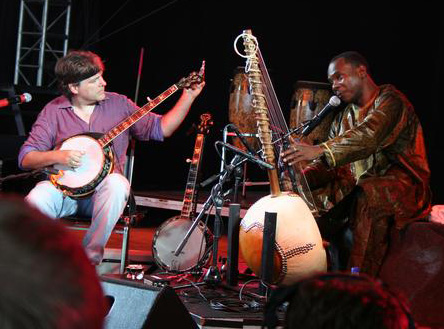 to supply a foundation for Bela' to do his fluid banjo rolls over, then added ethereal harp-like tones that harmonized with the banjo. For a skin-covered gourd, a stick and some strings the kora fills a lot of sonic space. After a couple of songs Toumani gave us a lesson on the kora's history (700 years) and showed us which fingers he uses. Just the thumb and pointer of each hand, and he can make it sound like a bass, dulcimer and banjo all at once.
To my chagrin but with no regrets I missed Kaki King, Grace Potter and the Nocturnals, Galactic (with horns!), the Yeah Yeah Yeahs and Al Green. I was at The Compound 'saving up' for later. We were also watching the weather radar (again, it just seems 'wrong' to have all these laptops and Internet access at a festival). A massive storm was heading our way, complete with tornado warnings. The sky was ominous for a while and we all considered hunkering down and riding it out. I believe our collective wills pushed it south, because soon the sky cleared and the radar projections confirmed the mess was going around us.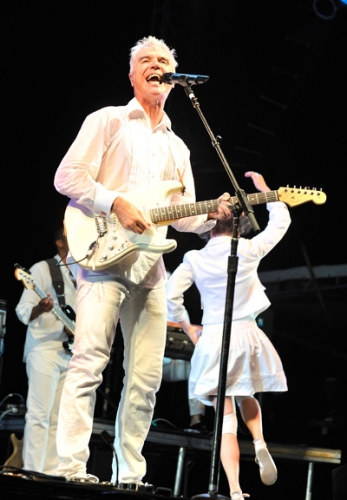 When the time came to head back to Centeroo I had two acts to choose from - David Byrne or the Beastie Boys. Having seen the Beasties before and knowing exactly what their show would be like, I watched David Byrne. Decked out all in white he had an amazing presence. He rocked, stoically center stage, while his dancers (also in white) expressed themselves all over the place. Every Talking Heads song I wanted to hear got played, and not in some Greatest Hits-going-through-the-motions way. With Phish about to go on after his set, it was awesome to hear Cross-Eyed and Painless. "Still Waiting", taken out of the song's context, takes on a Zen meaning. Take Me To The River, another popular Phish cover, prompted some kid beside me to say "He's doing a Phish song!" I didn't bother to tell him that they did a cover of a Talking Heads cover of an Al Green song.
Everything That Happens Will Happen Today made me smile and cry at the same time. For his encore, Byrne played the song everybody screamed for anytime there was a pause between songs - Burnin' Down The House.
It was back to The Compound to 'prepare' for Phish and find out where in that huge field we would all meet. We missed the first two songs, but Divided Sky was the perfect intro for our fashionably late arrival, given the weather situation. Possum and Down With Disease brought the energy level way up. Alaska, another new song I was hearing for the first time, sounded like Ocelot during the chorus. Stash and Golgi Apparatus both invited crowd participation -the claps for Stash and the "I Saw You" sing-along during Golgi.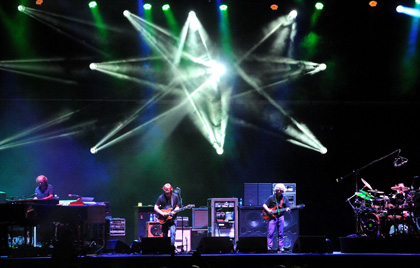 Wolfman's Brother, Poor Heart, KillDevil Falls and Free were all impeccable; as in Knoxville, everything was tighter, nastier yet somehow 'safer'. A lot of their peak experimental jams in the past (I'm trying to leave them there) were the result of a 'happy accident' that one or more of them took off with. Perhaps there's such a thing as too much rehearsal? Wading In The Velvet Sea was next, and I love when I see a saucer-pupiled spunion 'get' this song. There were a lot of people "ahhh'ing", caressing themselves and others.  Didn't I just hear Harry Hood? That's alright. This was a different crowd and they had an arsenal of glowing things to punctuate the appropriate moments of the song. Highway to Hell was fun but forgettable.  2001 had those staggered build-and-release moments that made up for the lack of experimentation in previous jams. YEM is always welcome; Wilson in the middle of YEM was unexpected but there was no vocal jam. The Beatles' Day In The Life was our uninspired encore.
Back to The Compound and not quite ready to call it quits, I put on my shiny gold cape and slipped through The Other Tents backstage security to check out Pretty Lights. I had hyped myself up for this late-night dance party; with Paul Oakenfold right next door I just knew I'd see the sunrise. Something was missing, either in the music or in my physiology, so I went to bed.
Two days down, two to go. I'm breaking this up because there's only so much you kind folks can digest at one time. It's taken me a week to gather up the memories, so please be patient.
- Words & select images By Larry Martin
- Byrne, Phish, Animal Collective & Ariel photos courtesy of Bonnaroo