Words & Photo's by: Lindsay Chandler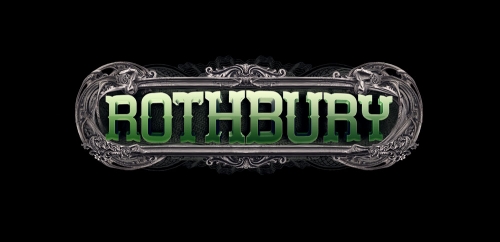 Rothbury 2009 lives up to all the hype and has established itself as one of the "must see" festivals of the summer. It's like a fantasy world summer camp for adults topped off with some of your favorite bands. Bring along some of your best friends and you're in for one of the most memorable weekends of the summer.
Thursday
Upon my arrival at Rothbury 2009 one of my first priorities was to check out the celebrated Sherwood Forest. I've heard so many stories about it from last year. Everyone was like, "Dude, you should have seen Sherwood Forest. It's a visual paradise!"  I wanted to get a good look at it while there was still light out and then go back later and see the transformation at night.
Sherwood Forest is, in every sense of the word, a magical place to be. It is the forest you wished so much to stumble upon as a child. It is an adult interpretation of that wonderland you held inside your mind, finally able to be touched and explored.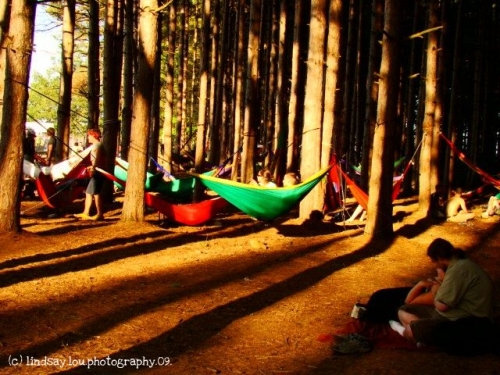 In the daytime, the real awesomeness of Sherwood Forest lied in the trees. Hundreds of slender, 50ft pines shaded and cooled the quarter-mile area. Colorful hammocks were scattered throughout the trees. If you were lucky enough to get close to the edge of the trees, you could hear the shows on the Sherwood Court stage clearly.

Also in the daytime, you could fully explore the wonder of the Reincarnation Garden. Upon entering the garden, there was a motorcycle made completely of recycled cans. Looking around, we realized the rest of the garden was built out of recycled items and natural items like flowers, sticks, etc. There was a Buddha statue, a communal area with benches hidden under a pseudo-tree, and lots of little art installations winding through the small, gated area.
The Speak EZ was also located in Sherwood Forest. It was host to a burlesque-type circus and a few 'secret' sets, including a rager from Lotus. The Speak EZ included a bar with tables and chairs to give it a, well, Speak EZ-type of feel. Continuing on through the forest, your eyes were greeted by jugglers, face painters and novelty-esque performers. There was also a tree-decorating contest being held all weekend. The Sherwood Forest then spit you out at the Sherwood Court stage or the Odeum, depending on which path you walked up.

As I pulled myself away from the serenity of my surroundings I made my way over to the Ranch Area stage for some Keller Williams. Keller appeared on stage strumming away at his acoustic guitar. There seemed to be some minor sound issues but he kept on strumming along and before you knew it he started his first song with a Michael Jackson tribute, 'Rock with You." Later on in the set SCI bassist Keith Mosely joined in for the song 'Port-a-potty,' a tune about falling in love with someone while standing in line at the port-o-john while attending a show. Two more members of SCI joined in, Jason Hann on drums and Kyle Hollingsworth sat in on keyboard for the songs, 'Kidney in a Cooler' and 'Breathe.' With everyone on stage Keller closed the set with 'Fuel for the Road.' What a way to get ourselves prepared for what proved to be a musically phenomenal weekend and I just couldn't wait for the SCI show on Friday night!
I wanted to go and catch some of The Quannum All Stars and I was more than eager to make my way through Sherwood Forest again in the dark. From a distance, the area glows blue, green, red and purple in the sky. As you get closer, the colors begin to outline the shape of spindly, wicked tree branches reaching towards you, welcoming you into their home. And if that wasn't enough to convince you to enter, the large, glowing, geometric patterns suspended in the middle of the path were.
As I submerged further into the woods, I encountered hundreds of other festival-goers meandering through the trees. Most of them were decked out with some type of glowing device. There was the constant hum of voices, laughter, and notes from distant bands echoing off the trees, making the area alive and thriving even at 2 in the morning. If you were brave enough to veer off the path, you just might see trapeze artists swinging in the branches, or a 6 foot tribal mask walk out of the darkness.  The feel inside Sherwood Forest at night could only be described as electric.
I was just in time to catch a little bit of Lyrics Born. LB is a Hip-hop artist who is also one half of the group Latyrx with Lateef the Truthspeaker. If you haven't heard any of his mix tapes 'The Lyrics Born Variety Show' featuring collaborations, remixes, exclusives and special guests, then you're totally missing out on some of the best hip-hop stuff out there.  His live show was a lot of fun and his band was pretty tight. They had a really hoppin' groove going on. At times I found it difficult to make out what he was rapping about but his flow absolutely had my body grooving.

Passing by the Tripolee stage I was momentarily locked on to the electric rock and techno beats synthesized by Chicago's instrumental trio, Future Rock. Glow-sticks and strobe lights imitated and inspired a typical rave, setting the scene for disco crazed throw down. Between frontman bassist Felix Moeno, break-beat extraordinaire Mickey Kellerman on the keys, and Darren Heitz delivering dance-driven percussion at premium, the sonic vibe transcending from the retro-futurists left a well deserved understanding of the act who take such a title. For anyone who knows the basic of audio editing, the progressive fusion of Future Rock's live mix of synthesized layers proved mind-blowing in performance. Highlighting much of the self-released debut Sugar Coated Bullets, a hype version of Daft Punk's "One More Time," killer light show and an unbelievable stage presence, die-hard fans would agree that this was a stellar show.
I quickly made my way over to the Ranch Area stage to catch some of
Lotus
. Lotus had a pretty big crowd and kicked off the evening with Shimmer and Out. The sexy waling of Mike Rempel's guitar complimented by the smooth heavy basslines of Jesse Miller fused for a sound so tight that I couldn't stop my body from moving. Lotus threw in some of their newer tracks off of Hammerstrike, including Age of Inexperience and Behind Midwest Storefronts. They capped it all off with an out of this world Spiritualize.
After Lotus I walked along the dusty paths, full of people already, to the Tripolee Tent to catch Break Science featuring Adam Deitch and Alex B from Pnuma Trio. Deitch is the son of two professional funk drummers, and from the trip hop, drum and bass of Break Science, to the dirty funk of Lettuce and to the jazz fusion of John Scofield, Deitch has his musical fingers dipped in all sorts of projects. I had never seen Break Science before but I was pretty sure it would be some heavy hitting dance your face off tunes. They did not disappoint.
Wandering around after Break Science I noticed tons of art installations made of recycled goods placed around Sherwood Forest. Not to mention the hundreds of hammocks set up for the fans pure enjoyment. I snagged one of them and laid back to enjoy the sounds of
the Disco Biscuits
in the distance from the ranch area. The Disco Biscuits are a trance fusion, electronic jam band from Philadelphia. The band consists of Jon Gutwillig (guitar), Marc Brownstein (bass), Allen Aucoin (drums) and Aron Magner (keyboard). I found myself wanting to leave the comfort of my hammock and dance but I was just way too tired. It was going to be a long weekend.
FRIDAY
I woke up the next morning around 11AM, just in time to catch a quick breakfast and go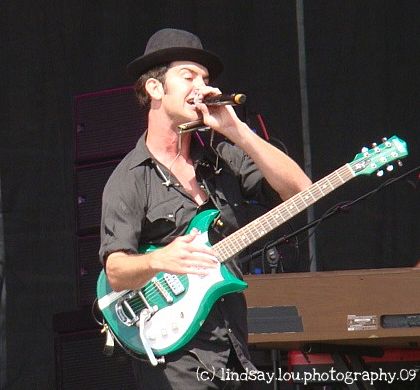 check out Steppin' In It performing at the Ranch Area. The singer sounded, to me, slightly reminiscent of Donovan Frankenreiter. This quartet from Lansing, Michigan draws you in with their old time country swing and blues. After their set I gathered my things and made my way over to The Odeum stage to catch a little bit of G. Love and Special Sauce. It was the typical set that you would expect from G. Love, a crowd pleasing, sing-along show, throwing down favorites such as 'Baby's got Sauce', 'Can't go back to Jersey', and 'Let the Music Play'. 
I quickly made my way back over to the Ranch Area to see the Canadian Indie rockers, Broken Social Scene. I was really bummed when Langerado was cancelled this year. One of the reasons was that these guys were in the lineup. BSS is like a super group of musicians who all have their other successful side projects. Or is it the other way around? You have members from Stars, Apostle of Hustle, Metric and Do Make Say Think to name a few. Feist was even a one time member of this group and frontman Kevin DrewBrendan Canning had just recently put out some very successful solo albums. BSS came on a bit earlier than scheduled. Kevin Drew, the joker that he is, made the comment, "Please be careful when you do drugs, some drugs are not good drugs, some drugs are cleaning products". I don't think that I have ever come across any of those...ever! Even though they are labeled as an "indie rock" band, their core sound is a bit more complicated than that. It is often described as "Baroque Pop". Sometimes boasting as many members as 14 on stage at a time only a small handful of 10 were on hand for this particular show. It was a common sight to see members constantly rotating instruments, switching at ease and without a skip in the groove. You would see the horn section coming and going on stage throughout the set.  Amy Millan, from 'Stars' appeared on  a few songs such as '7/4 Shorline', 'Fire Eyed Boy' and the ever so beautiful 'Anthems for a Seventeen-Year Old Girl'.  She even stuck around for an amazing 'KC Accidental' to close out the set.  And these guys are not afraid to put on a lot of improvisation as well. If you've never seen them perform live before then you should really make an effort to do so. These guys are ridiculous!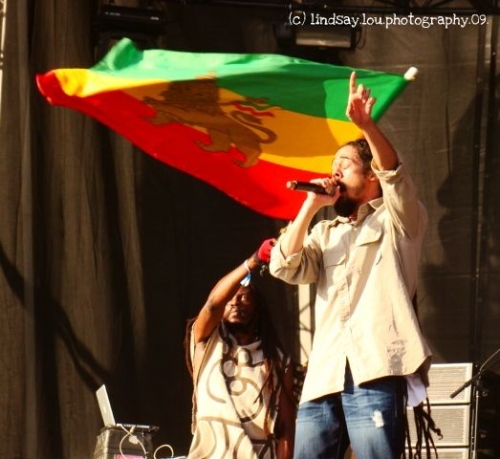 Next up was Damian 'Jr. Gong' Marley and Nas on The Odeum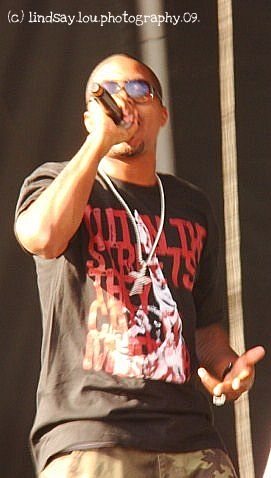 stage. Nas took the stage first, hyping up the crowd. After a few songs, including his hit 'Street Dreams', Damian joined Nas on stage, and they performed some Marley favorites, such as 'Exodus' and 'One Love'. They also performed 'Represent', a Nas classic, and many songs from Damian's 2005 album 'Welcome to Jamrock'. The artists' different styles of rock reggae and hip-hop complimented each other very well, proving to be one of the most enjoyable shows I caught all weekend. Next up, String Cheese Incident!
String Cheese Incident took to the stage almost right on time, met with the loud cheers of the fans who have been jonesing for them since they last played together two long years ago. They kicked off the set with 'Rollover'. Only seconds into the song it was quite apparent that these boys were happy to be together again, and had revived the positive energy they seemed to have lost before their hiatus. We were hit with many old favorites in the first set, such as 'Mrs. Brown's Teahouse', 'Joyful Sound', and the Talking Head's cover, 'Naive Melody'. They ended the first set by transitioning back into 'Rollover', making it (to quote a friend), "A Rollover sandwich". During the setbreak, the perma-grins were running rampant.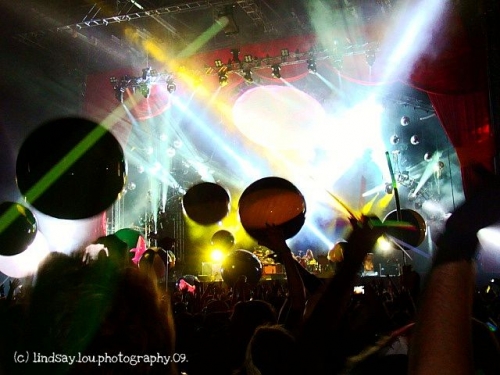 The second set was almost more than I could handle, in a very good way of-course. In addition to the ribbon dancers, hula hoopers, and fire lanterns set off into the night sky, there were also massive beach balls released into the crowd. One of the balls was at least 20ft+ in diameter. Add to that the amazing light display and endless glow sticks, and you have yourself the recipe for a show that will most certainly go down in SCI history books. During this set, SCI showcased how much their individual talent has grown since they last performed together. And just when you thought that it couldn't get any better, Keller Williams joined the band for a rousing 'Best Feeling' encore. It was, undoubtedly, the best show of the weekend. We even got teasers of 'Beat It' and 'Thriller', honoring the late, great King of Pop.
After the SCI set I rushed over to see a bit of Chromeo deep in the woods of Sherwood Court. The electric Montreal duo Dave 1 and P-Thugg, kicked off a humorously serious set on a petite-sized 'secret' stage with their own version of 'P.Y.T", another MJ shout-out. Dave 1 deems responsible for the vocals and the random electric guitar here and there, but when he dedicated 'You're so Gangsta' to his partner on stage, fans understood exactly why as the synthman/talk box paid tribute to the 80's inspired dance and hip-hop formative years,  ensuing a boggie-down free for all among the crowd.
SATURDAY
HAPPY BIRTHDAY AMERICA!!! I awoke to a drizzly, cloudy, Saturday afternoon and to be honest it had sort of slipped my mind that it was Independence Day. Then I saw all these kids dressed in their finest red, white and blue pants, hats, underwear, socks and whatever else they could get their hands on. It was a sight to see. Shortly after that I made my way over to the Sherwood stage for some Hill Country Revue. Hill Country Revue is a southern rock/blues band formed by North Mississippi All Stars member, Cody Dickenson. The nitty gritty sound of the guitar and the raspy vocals (and they even broke out the washboard!) made for a damn good way to kick off the afternoon.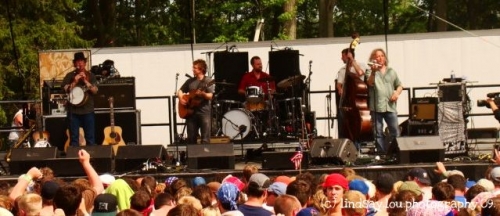 I also managed to see a little bit of Railroad Earth on the Ranch stage. They couldn't have picked a better band to perform in the middle of the afternoon. They provide the perfect blend of folk, bluegrass and catchy song writing. SCI's Bill Nershi also dropped by to play a tune with the hobos. Since I have seen these guys many times before I decided to head on over for a dose of Zappa Plays Zappa.
Frank Zappa once said, "You can't always write a chord ugly enough to say what you want to say, so you have to rely on a giraffe filled with whipped cream", and what better person to fill such a statement than Frank's own son, Dweezil. Dweezil, along with long time Frank Zappa collaborator Ray White, started doing the Zappa Plays Zappa thing in 2006. The shows presented a collection of Frank Zappa's rock-oriented compositions from 1960s to 1980s. Apart from Dweezil Zappa on lead guitar, the band consists of a mostly of relatively unknown young musicians and older musicians who previously played with Frank Zappa. The crowd was pretty large and loving it.
After a few ZPZ songs, I headed over to the media tent to charge up my batteries and see who was hanging out. To my pleasant surprise RRE was giving an impromptu, acoustic performance for some journalists and I sat in and enjoyed. Rothbury was also a weekend of free ice cream. Ben and Jerry's was onsite dishing out a new product, a little sundae that you popped out of its container. And of course, the popular Ice Cream Man was onsite backstage giving away some stellar pomegranate cherry popsicles. I chatted with him for a bit and he informed me of the DVD that he was in the process of making. Check him out; this guy travels around in the summer giving away free ice cream at festivals. Sweet job, huh?

A lockless John Butler took to the Ranch stage at about 6:15pm Saturday, opening his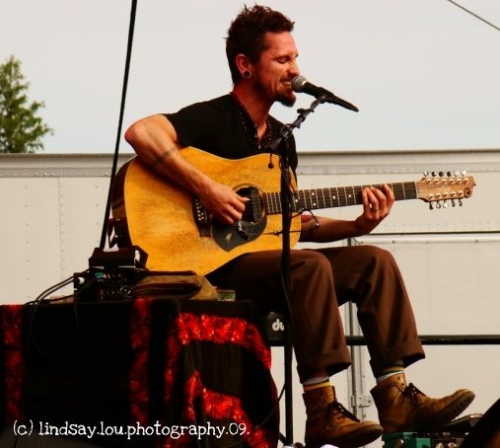 set with 'I used to get High' off his album Grand National. Halfway through the song he experienced some sound issues, which seemed to be a common woe during the festival. But if I was informed correctly, the speakers and everything were solar powered so I would say that's an excusable reason. Butler is outspoken with his political beliefs, often making political statements advocating peace, environmental protection, and worldwide love and respect at his performances. Butler's live performances are influenced by his experience as a former busker (Busking is the practice of performing in public places for tips and gratuities) in Fremantle. His playing style incorporates Western and Eastern styles such as blues, Indian and Celtic.
After a while I decided to head back to camp to gear up for the night and ended up catching the end of Lebo's painting workshop at the Tripolee tent. Lebo described his way of painting as a sketch board. He explained the history of language and painting and how they go hand in hand, from hieroglyphics and cave paintings to the more advanced style today. He ended his informative speech by telling the crowd that it's all about "engaging and realizing all your possibilities".
This brings me to the headlining act of the night, The Dead. I couldn't think of a better way to spend the 4rth of July than with The Dead.  They opened the set with a little jam that jumped into 'Sugar Magnolia'. So far, so good.  The boys sounded tight and ready to jam. Then they busted out into a slow, drawn out 'Eyes of the World', followed by 'Estimated Prophet'.  They then covered the beautiful Van Morrison song 'Into the Mystic' which was a pleasant surprise. The boys seemed to kick it up a notch towards the end of the set, with a rousing Slipknot>Franklins Tower. During the (at least) 1/2 hour set break, I overheard a conversation that seemed to repeat itself all night; "So, what did you think of the first set?" ... and the response, "Ehh, it could have been a lot better." They came back out for the second set and roared into "One More Saturday Night" which got everyone dancing and the thoughts of a bad first set quickly disappeared. The bumping bass lines gave way to a dark, funky "Shakedown". For "Drums/Space", there should have been way more drums and a lot less space. Mickey was joined onstage by four or five guest hand drummers and the crowd was gyrating to a tribal sound. But once the drums faded and the space kicked in, they lost me. It just went on for way too long. The best part of the set was of course, the fantastic fireworks display along with "US Blues". The Dead then ended the set with a crowd pleasing favorite "Not Fade Away".
Before the fireworks ended I shuffled off into the night to try and catch some
Pretty Lights
, but missed his set completely. I heard that they had a huge crowd of about 5,000 people. I was pretty bummed. I did however catch a song from
MSTRKRFT
, which I had never heard before. If any of the DJ's got me to stop in my tracks and start dancing uncontrollably, MSTRKRFT was it. I later learned that the duo was featured on one of my favorite internet broadcasts, The BBC Radio 1 show, Essential Mix. It was hard to tear myself away from the manic dance party, but the
Shpongle
DJ set was calling my name.
Shpongle is described as "psychedelic downtempo" music, and consists of two DJ's, Simon Posford and Raja Ram. Posford is responsible for the synth and studio work while Raja Ram contributes with flute arrangements. Together, they have played very few live shows. Usually Posford plays alone as a Shpongle DJ set. Tonight, it was just Posford kicking it to the crowd, and boy did he ever.

After the Shpongle set, I received word from Roots of Creation bassist, Chris, that there would be a semi-gorilla set up on Shakedown around 3 am. ROC was scheduled for a VIP stage performance Saturday afternoon and I unfortunately couldn't make it, so I rushed over for the beginning of what turned into an almost three hour rage set. ROC is one of those bands that blows your mind with varieties of styles they can so easily break into. From their rock reggae tunes like "Oh Lord" and "Rise Up" they switched gears and bust into a spacey tripped out jam. I also got a little Talking Heads action with "Naive Melody", which Cheese had played earlier in the festival.
After a hard day's work, full of great music, I decided to make one last round through Sherwood Forest and then head back to the tent to get some shut eye and prepare for yet another day.
SUNDAY
Come Sunday, I took it easy as all my dancing had finally caught up with me. I started the day with Toots & the Maytals. Toots and the Maytals, originally called simply The Maytals, are a Jamaican musical group and one of the best known ska and reggae vocal groups.  I managed to hear one of my favorite Toot's songs 'Sweet & dandy' which made me pretty happy.  For as long as they've been around they sounded amazing. The energy was high and contagious.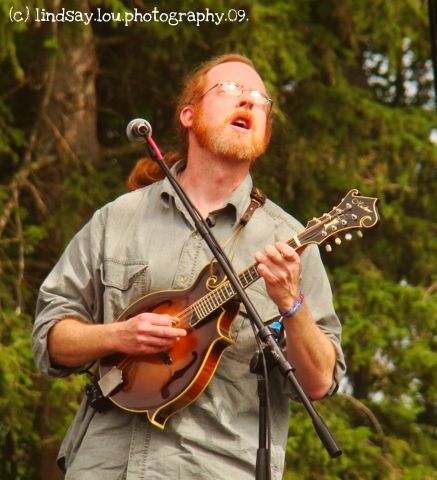 After Toots I headed over to Yonder Mountain String Band on the Odeum stage, where I heard some favorites such as "Traffic Jam", "Jesus on the Mainline" and "Death Trip". I was already enjoying myself when the notes of one of my favorite John Hartford songs, "Cuckoo's Nest," a traditional bluegrass song that he had written lyrics to, filled the air.

I decided to skip the Matisyahu set completely.  I just think that his thing has come and gone and what he does no longer interests me. I caught some of the end of Willie Nelson. There was a huge crowd and his classic's such as 'Georgia' and 'Blue Eyes Cryin' in the Rain' sounded great and I thought he was a pleasant addition to cap off an outstanding weekend.
For the last performance of the weekend I settled in with a group of friends to see Bob Dylan and his band. The only song that was recognizable through Dylan's incoherent murmuring was "Tangled up in Blue", and I think that was just because I recognized the song instrumentally. Mr. Dylan isn't quite the performer he used to be, and I say that with the utmost respect... I mean, the man is almost in his 70's, and still making albums. But to still just be in his presence had me in total awe. His music was just a tad before this young writer's time but I was more than grateful to have had the opportunity to see a true legend perform live.
Rothbury was, and I'm sure it will continue to be, one of my favorite festivals. From the spectacular lineup that leaves you running from one stage to another, to the friendly staff and security, to the overall layout and organization, Rothbury was surreal. For being so big, it feels incredibly intimate. We were all one in our quest for love through music in the trees of Sherwood Forest that weekend.