Words by Lindsay Chandler
Photos by Buffy Bender & Lindsay Chandler
       I'll travel any distance for Lotus; Nevada to North Carolina and any place in between. The three hour drive from Philly to Penn State, one I am quite used to making, went by like a breeze, knowing I was on my way to see many old friends and one of my all time favorite bands. Penn State is known for having a great music scene, despite its remote location in the middle of Central PA. Lulu's Night Spot, normally not a place that would see a crew like Lotus brings, was not prepared for us. The club has a great setup for live music though, with lots of space to dance. The typically classy club was running rampant with tie dyes, long hairs, and generally hippie kids ready to dance to some sweet, sweet jamtronica. This was the first show I was able to catch off the Hammerstrike tour.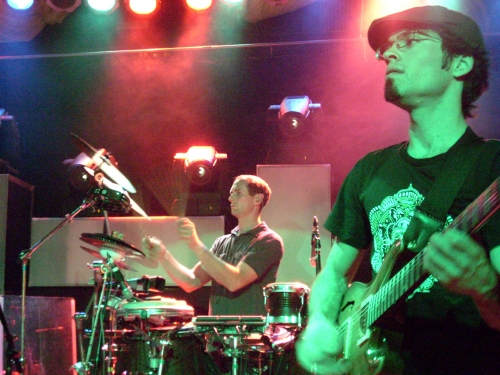 Lotus took the stage and started off the set with "Intro to a cell." The energy was to the ceiling when they broke into "Age of Inexperience," off the new album Hammerstrike. With its infectious guitar riffs, courtesy of Mike Rempel, it was just what the doctor ordered. Lotus threw in the always crowd pleasing "Nematode" and "Bubonic Tonic," both grooves got the kids sweatin' and shakin'. I was trying so hard to take as many pictures as I could but I found my body wanting to dance more and more. Unfortunately, the show was cut short due to it being an all ages show. Because of the under 21 law the show came to a halt at 9.30 pm. Talking with Luke Miller, keyboards and guitar, after the show the band was also unaware of the time restraint. As we were quickly shuffled out of Lulu's by the security, I was incredibly happy to be heading to Philadelphia the next night to catch Lotus yet again.
       Early Friday morning, we packed up and traveled another three hours back down to Philly. Some friends had set up a sweet ride for us; a school bus would be driving us from West Chester down to Philly so that we could all have a great time and do the responsible thing, no dancing, drinking and driving!! We packed the school bus, every seat doubled up with kids in costume ready to rage. Halloween was a big day for the city of Philadelphia, Lotus's hometown. The Phillies were crowned champs (GO PHILS!!!) and the city was swarming with people for the parade and other festivities honoring the Phillies. The sold out show was held at the Filmore (formerly the TLA), which is one of my favorite venues.

    The theme of the night was "Live Fast, Die Young," and while the band stuck to the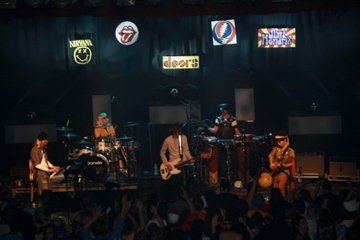 guidelines, it's hard to tell a costume from a normal outfit sometimes. I tried my best to dress the part of Janis Joplin, but I'm alright with being thrown into the category of general freeker. The Filmore was jam packed that night, and Lotus held nothing back as they ripped into the set opener "Hammerstrike." The heavy synth mixed in with the outstanding guitar made my knees weak from dancing so hard, and it was only the first song. The band played tribute to each of their characters, Jimi Hendrix (Mike), Pigpen (Chuck), Kurt Cobain (Luke), Jim Morrison (Jesse), and Brian Jones (Steve). In honor of Jimi, they rocked "Purple Haze," a first time for the band. "Purple Haze" transformed into "Flower Sermon," off their debut album "Germination". The band has had my undivided attention since the release of Germination back in 2003. Every Lotus show you see has a unique, intense feel to it. For any Lotus newbie I give you this warning: be ready to dance harder than you ever have before. The first set wrapped up with The Dead's "Slipknot!>Sunrain>Umbillical Moonset>Sunrain". After that, I think we all needed a break to gather ourselves, wipe the sweat off our brow, and grab another drink!
       The lights dimmed and Lotus took the stage again. The crowd was bursting at the seams with excitement, ready for round two. As a huge Doors fan, my ears perked up when I heard the beginning notes of "Light my Fire," which was quite a tease. The fake out intro gave way to "Juggernaut>Tip of the Tongue". "Tip of the Tongue" is a great example of how well Lotus fuses vocals into their electronic based sound. I am usually not a fan of vocals mixed in with my jammy sammy, but Lotus pulls it off better than others. The audience was in for a pleasant surprise with a cover of the Stones "Sympathy for the Devil," also a first time for the band. For the rock lovers, they served up some "In Bloom," by Nirvana. "Invincibility of Youth" off Hammerstrike ended the second set. With Lotus, I am always craving more ... I could listen and dance for hours and hours. The encore was the purely jamtronica "Scrapple," followed by what is turning into quite the crowd pleaser "Bellwether." "Bellwether" showcases Luke on vocals using a vocoder, giving the tune a spacey kind of futuristic feel.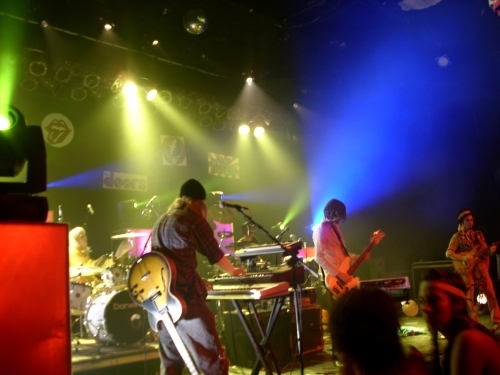 Lotus never disappoints me, which is why I've seen them so many times I've lost count. Lotus is for sure coming to a town near you, so check out
www.lotusvibes.com
for their tour dates and go see live music!!!
Official Setlist for 10.31.08:
TLA - Philadelphia, PA
I. Hammerstrike, Livingston Storm, Purple Haze* > Flower Sermon, It's
All Clear to Me Now > Slipknot!^ > Sunrain > Moonset > Sunrain
II. Light My Fire > Juggernaut > Tip of the Tongue, Sympathy for the
Devil$ > Greet the Mind, In Bloom%, Wax, Invincibility of Youth
E. Scrapple, Bellwether
* Jimi Hendrix, first time played
^ Grateful Dead
The Doors, intro fake out, first time played
$ Rolling Stones, first time played