It's always great when a summer tour is planned to be as hot as the weather that surrounds it. And this mid-July NC event was a hot show on stage and off. Wheels of Soul rolled into Raleigh's Downtown Amphitheater on Friday and the fans were ready. All the remaining tickets were bought in the minutes leading up to the show, prompting the "Sold Out" sign to go up at the box office.

This annual summer run has become more than just a fan favorite, it has become a highlight for the headliners as well. "It's been great to develop this tour into an annual event where we get a chance to hit the road and share the stage with fellow musicians we love and respect.  Each year we try to find bands that share our musical vision while bringing their own unique talents to this traveling circus," says Susan Tedeschi about the summer runs. "We go way back with Derek and Susan.  They are some of our favorite friends and collaborators," says Oliver Wood of this year's Wheels of Soul tour.  Oliver co-wrote a song on TTB's Grammy-winning debut album, 'Revelator,' and Derek and Susan guested on the Wood Brothers 2015 release 'Paradise.'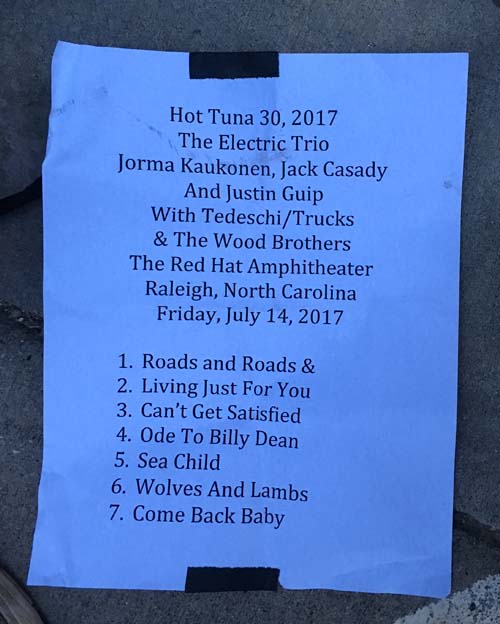 The Hot Tuna Electric Trio kicked things off.  I'd seen Hot Tuna several times in the past few years. Most instances it's the acoustic duo version, which is a nice bluesy show on the laid back side. Their set on this tour was electric and rocking! A rare treat indeed. It's good to see those guys continuing to rock out into their fifth decade. Hot Tuna has played, toured, and recorded some of the best and most memorable acoustic and electric music ever. Jorma Kaukonen and Jack Casady are former members of Jefferson Airplane, the influential San Francisco psychedelic rock band that brought you "White Rabbit" and other classics. Hot Tuna also frequently played with The Grateful Dead.

Dubbed "masters of soulful folk" by Paste Magazine, The Wood Brothers are coming off their most successful year yet, including performances at Bonnaroo, Red Rocks and Carnegie Hall. Upon the release of their debut studio album in 2006, Chris Wood already had legions of devoted fans for his incomparable work as one-third of Medeski Martin & Wood, while his brother Oliver toured with Tinsley Ellis before releasing a half-dozen albums with his band King Johnson (who was part of the Home Grown Music Network!) The Wood Brothers' latest album, 'Live At The Barn'--recorded in front of a sold out audience at Levon Helm's barn in Woodstock, NY.  They performed next and it's my guess that they probably won over hundreds of new fans during their set. Oliver has always had a knack for writing great songs and this brief set was full of them.  They kicked it off with "Tried & Tempted" - from their first album "Ways Not to Lose".  You can also get a great live version on their new LP "Live at the Barn.  Next was "Twisted" after which Oliver says "Feels pretty good. Sure do like that tree!" - a reference to the Cree Shimmer Wall - a giant fantastic piece of moving art that can be viewed perfectly from the amphitheater.  Other highlights included "Make Me  A Pallet on Your Floor"  (an old standard most attribute to Mississippi John Hurt). "Never & Always" - with guest sit ins from both Tedeschi & Trucks (see photo at top). Atlas (one of my favorite tunes) > Postcards From Hell (Oliver says "This is a true story"). > Honey Jar - which got much of the crowd on it's feet and grooving.  Those last two can also be found on the excellent new "Live at the Barn" LP.

Formed in 2010 after Tedeschi and Trucks recorded and toured for years as solo artists, Tedeschi Trucks Band is a live music juggernaut, touring over 200 days of the year. Their previous three studio records have all charted in the Top 15 of the Billboard 200, with their most recent effort 2016's 'Let Met Get By' (Fantasy Records) produced by Trucks entirely and praised by Rolling Stone, the Wall Street Journal, and Associated Press, who called it "one of the great records of the year." They've also picked up a few Grammys along the way. In my opinion, they're easily one of the best bands touring currently. No wonder the venue was filled to capacity.
TTB didn't disappoint. In no time at all the entire crowd was on its feet and enthralled by the performance. Trucks got to channel Duane Allman on "Anyday" a tune originally by Derek & the Dominoes. And on The Allman Brothers "Ain't Wastin' Time No More" - which the entire crowd was singing along with. Mike Matttison stepped up for the lead vocals (one of TTB's secret weapons - of which they have many).  Mattison was formerly the lead singer of both the Derek Trucks Band and Scrapomatic. Next TTB invited the Wood Brothers back to the stage.  They said that Oliver used to perform with Atlanta musician Donnie McCormick and they played one of his songs popularized by Sean Costello called "Have You No Shame". The Wood Brothers stayed up for the next one too which was The Rolling Stones "Sweet Virginia".
TTB then played "Bound For Glory" one of their awesome originals (of which a great live version appears on the album Everybody's Talkin'). Followed by BB King's "How Blue Can You Get". Then an eleven and a half minute rollicking take on "I Want More".  Which is exactly what the crowd started yelling when they took a bow and walked off the stage. Even though their scheduled time was up - they came back out and treated us to two more encores which included Bobby Blue Bland's "Don't Cry No More" and "Get What You Deserve" with Mattison on lead vocals and Tedeschi and Trucks on dueling guitars building to a scorching finale. 

Current Wheels of Soul 2017 dates are listed below.
July 19 - Indianapolis, IN - Farm Bureau Insurance Lawn
July 21- Cincinnati, OH - PNC Pavilion at Riverbend Music Center
July 22 - Huber Heights, OH (Dayton) - Rose Music Center
July 23 - Rochester Hills, MI (Detroit) - Meadow Brook Amphitheatre
July 25 - Rogers, AR - Walmart Arkansas Music Pavilion
July 27 - Albuquerque, NM - Sandia Casino
July 29-30 - Morrison, CO - Red Rocks Amphitheatre
Aug. 1 - Salt Lake City, UT - Red Butte Garden
Aug. 2 - Bonner, MT - Kettlehouse Amphitheater


Here's the set lists   
Red Hat Amphitheater
Raleigh, NC
July 14, 2017
Tedeschi Trucks Band
01. Laugh About It
02. Don't Know What It Means
03. Anyday (Derek & The Dominos)
04. Made Up Mind
05. Ain't Wastin' Time No More (Allman Brothers)
06. Have You No Shame (Sean Costello) - A Donnie McCormick song that was covered by Sean Costello. Wood Bros join for this one and stay through the Rolling Stones "Sweet Virginia".
07. Sweet Virginia (Rolling Stones)
08. Bound For Glory
09. How Blue Can You Get (B.B. King)
10. I Want More
11. Don't Cry No More (Bobby Blue Bland)
12. Get What You Deserve   - Scorcher for the final encore where Mike Mattison and Susan on dueling lead vocals.
Here's a link to listen to or download the Tedeschi Trucks Band's set. Thanks to our buddy Robbie Dunn for taping!
The Wood Brothers
Tried & Tempted
Twisted
Snake Eyes
Make Me  A Pallet on Your Floor 
American Heartache
Never & Always
Atlas
Postcards From Hell
Honey Jar
Hot Tuna Electric Trio
Roads & Roads
Living Just For You
Can't Get Satisfied
Ode to Billy Dean
Sea Child
Wolves and Lambs
Come Back Baby
- by Lee Crumpton
- photos by Jerry Friend