Led by multi-instrumentalist Erin Zindle, The Ragbirds have been spreading their infectious world grooves since 2005, entertaining all types of audiences from across the nation to Japan.  Their music is an uplifting sound of fresh air, containing elements of pop, gypsy, afro-Cuban, Celtic, Middle Eastern and African rhythms.  It's danceable, high energy and even sometimes exotic. On Jan 01, 2012, the band will be releasing their highly anticipated fourth studio album "Travelin' Machine'.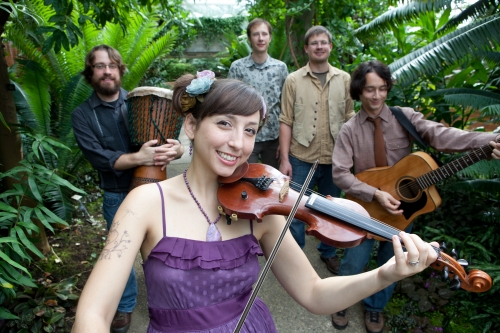 Erin Zindle - Vocals, Violin, mandolin, accordion, kalimba and glockenspiel, banjo, electric & acoustic guitars
T.J. Zindle - Harmony vocals, electric & acoustic guitars
Brian Crist - Bass guitar, dunun (sangban)
Randall Moore - Dejembe, congas, tabla bongos, talking drum, didgeridu, percussion
Loren Kranz - Drums, harmony vocals
Interview By Chris Robie
HGMN: There's a complex sound to your music. Where do you draw your influences from?
Erin: I listen to a lot of world music and I have been ever since I was a young song writer but what brought me in to traditional world music and the actual indigenous sounds were some artists that were bringing ethnic sounds into the mainstream. Those artists were Paul Simon, Peter Gabriel and Rusted Root. They have been really big influences on me. I've just been so caught up in the excitement of the foreign sounds in their music.  As a teenager when I first started to write songs I started to dig into the wider world of world music from all over the place. I also started to do Celtic fiddling around that time. It's part of my Irish heritage. I had been classically trained on the violin so I started to explore my ancestral musical roots a little bit.
HGMN: How many instruments do you currently play and which is your most favorite?
Erin: Well, that's kind of a tricky question.  I play a lot of instruments. On our records I play dozens but on stage...my main instrument is violin. I grew up playing piano. I don't play piano with the band but I do play accordion which is sort of how I transpose my piano skills on to a more portable format.  And the whole band plays percussion instruments when we do our African drum pieces on stage.
HGMN: African drum pieces?
Erin: Our percussionist whose my husband, Randall Moore, he and I actually started dating through African drumming. That's how we met each other.
HGMN: Were these drum classes?
Erin: Not exactly formal classes. It's through the community scene of drumming.  So when we started the Ragbirds we wanted to take that common love for African polyrhythm and present it on stage. Everybody that joins the Ragbirds, they have to learn to play a drum and we teach them the African polyrhythm set that we love so much. Often we put our own twist on them by singing a song over the top.     
HGMN: Were you already thinking about forming your own band before you met Randall or did this come after?
Erin: Well, I had been in a band before. I did want to be in another band and start another one up but when we met we kinda started just playing together on the streets. I was playing the Celtic fiddle and he would play the tambourine and tabla. So we just had a real musical connection. I was a song writer since I was young but I had never really performed my original songs or at least not very much.  So I just started to record my songs and it was through his encouragement that I started to record and he was on the very first stages of the recordings of my original music and that became the Ragbird's debut album, Yes, Nearby,  that first little baby recording (laughs).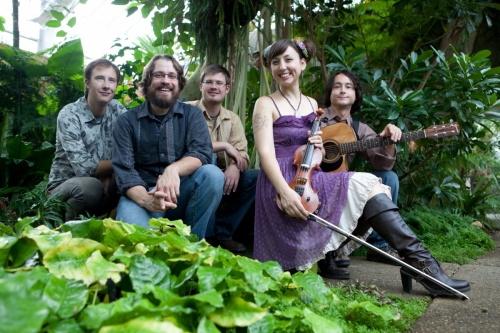 HGMN: The band has performed to both folk and jam band audiences. Do you approach each show differently?
Erin: Yeah. It's one of the things I love most about...some kind of balance that we've struck with our band, unintentionally but it's a beautiful thing, that we can kind of balance that line between those two very different formats. I love it because the music appeals to a wide range of people. In the folk audience, it may be an older crowd or families may come out to those folk and listening room shows and I'll pull out the songs that are a little more intimate, which may go over the heads of people in a more dance party environment. And the jam band scene there's really...just real loyal music fans; they're just really in it for the musical experience. They're supportive in a different kind of way. They'll travel all over and come see us, keep up with us on the internet. They're just really a great grass roots fan base. We feel really lucky that we've been able to appeal to both kinds of crowds and that we are able to present our music in both formats.
HGMN: How would you describe both formats when you play live?
Erin: Well, one of the folk rooms that we play at here in our home town of Ann Arbor, its called The Ark and it's a listening room. We usually play there once or twice a year and we're able to tell more stories and people are really listening there. It's an all ages crowd which is also fun. There might be kids there and a lot of older folks and people feel like they can bring their moms and dads and grandmas and kids and whatever.  In between songs, after a cheerful applause there's silence after they're done clapping and they're ready to listen to what I have to say about the next song (laughs).  In a jam band scene, like at a music festival or if we're playing in a venue that's much more rowdy or people are drinking and dancing, which I love playing there too, we'll pull out a lot more of our upbeat songs and we might stretch out solos more and we might throw in a few more of our creative cover songs. My band does a really great job adjusting to both of those formats.
HGMN: What's your favorite cover song that you play live?
Erin: Oh, that's tricky. Um, one of my favorites to do is "Diamonds On The Soles Of Her Shoes" by Paul Simon.  Actually, "Jump in the Line" by Harry Belafonte, people just go nuts for that song. And we have kind of a cool fun version of it. I love to sing that one.  
HGMN: What's your favorite Ragbirds' song?
Erin: Um, I think my favorite song is "Good", which is on the Wonderlove album, our second release. I think I love it most because the lyrics always point me in the right direction. It's a song that kind of feels like it wrote itself and it speaks to me each night no matter where I am, even if I'm really in a bad mood or having a tough show or if it's a beautiful place and it's outdoors and there's thousands of people. It's a song that's all about being present in the moment and recognizing all the good things about what's around you. We do that song at almost every show, maybe more because of me than anybody else because I need to sing that a lot.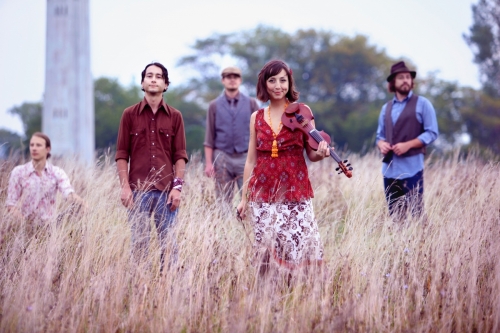 HGMN: How does a band like The Ragbirds get signed to Buffalo Records in Japan?
Erin: Well, we started to sell records in Japan through HGMN. I'm not really sure how it caught on. It's a little bit of a mystery to us what triggered the spark that lit the fire.  Regardless, we started to sell a lot of records and eventually we had to place orders just to keep up with the orders that were being sent to Japan. So Buffalo records kind of took notice and they contacted us and asked if we wanted to sign a deal with them and it's a distribution deal throughout Japan. They brought us over to Japan for a tour and we had the opportunity to perform at the Green Room Festival in Yokohama which was about five to ten thousand people. The event had ten thousand people there and there was at least five thousand in that room we were playing.  It was just such an amazing experience and we ended up having a song from our Finally Almost Ready album make it to the top pop 100 in Japan. In between like Black Eyed Peas and Lady Gaga and all kinds of Japanese bands that I never heard of and can't really even pronounce and there we are at number 53 on the nation wide charts. And then in Osaka we were number one. It's a pretty surreal experience seeing your name on these lists and knowing that people so far away across the ocean are fans. We've got fan letters from Japan (laughs). 
HGMN: How would you describe the fans in Japan compared to the fans in the states?
Erin: Um, we had a pretty limited experience; it was just that one tour. I think not knowing what to expect, um, it is hard to compare because I grew up knowing what to expect from the American audiences. I had been told that Japanese audiences are a little more reserved.  It didn't turn out that way to me. They seemed very enthusiastic. I found that they were very polite when they would stand in line to meet us. The one thing that was really striking was how they were just so conscious of each other as they were standing in line.  Each one would shake our hands and say something, most of them could speak a little English and would say something kind and encouraging. They would get their signature and move on. They were just really patient and polite. None of them felt like they needed to tell me their life stories like sometimes in America (laughs) when there's a line of people waiting to talk to us, there's always like a few people that just want to go on and on and on (laughs) - "I used to play violin" and all these things and there's like 50 people behind them waving. So I think that does speak to the culture. I think because there's just so many people over there you have to learn to be extra conscious of the people around and also there's more respect brought into them and their culture. It's a cultural difference which I really respect about the Japanese people. 
HGMN: Tell me about your new album Travelin' Machine.
Erin: We're really excited about it. It's really the next step for us.  We, in every way stepped up our game.  It's a really diverse collection of songs that are inspired by Celtic and African, gypsy and Middle Eastern and even some Cajun sounds. We've kind of settled into our sound now. This is our fourth album and I feel like we have a better sense of who we are and what we're doing. It's also inspired by our travels. We've been to so many places now and we travel so often that I'm writing on the road all the time, mostly lyrics and I'll work on the music at home.  So a lot of it is about traveling.  It's about the broader perspective that a traveler gains by seeing the diversity of the people around, the beauty of nature in all these different places. The songs are also crafted for the stage. The songs are more danceable.  We're pushing more of that "live" experience.  Even though it's not a live album I'm trying as best I can at producing to create an album that represents our live energy and our live sound.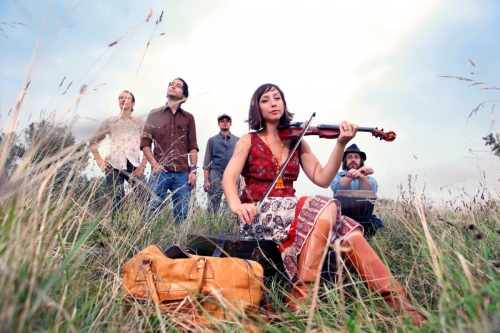 Upcoming Shows
Tuesday
01/03/12
Orlando, FL | The Backbooth
Wednesday
01/04/12
Savannah, GA | LiveWire Music Hall
Thursday
01/05/12
Charleston, SC | The Pour House
Friday
01/06/12
Black Mountain, NC | Pisgah Brewing Company
Saturday
01/07/12
8:00 PM Charlotte, NC | Evening Muse
Monday
01/09/12
8:00 PM Knoxville, TN | Barley's Taproom
Tuesday
01/10/12
12:00 PM Knoxville, TN | WDVX - Blue Plate Special
Wednesday
01/11/12
7:00 PM Nashville, TN | Loveless Cafe Barn Music City Roots
Friday
01/13/12
9:00 PM Atlanta, GA | The 5 Spot
Saturday
01/14/12
9:30 PM Columbus, GA | The Loft
Sunday
01/15/12
7:00 PM Mobile, AL | Callaghan's Irish Social Club
Tuesday
01/17/12
8:00 PM Birmingham, AL | Workplay
Wednesday
01/18/12
10:00 PM Oxford, MS | Proud Larry's
Friday
01/20/12
7:00 PM New Orleans, LA | One Eyed Jacks
Saturday
01/21/12
7:30 PM Ganado, TX | Rear Window Listening Room
Monday
01/23/12
8:00 PM Austin, TX | Cactus Cafe
Tuesday
01/24/12
8:00 PM Norman, OK | The Deli
Wednesday
01/25/12
9:00 PM Oklahoma City, OK | Belle Isle Restaurant & Brewery
Thursday
01/26/12
10:00 PM Wichita, KS | Rock Island Live
Friday
01/27/12
9:00 PM Lawrence, KS | The Bottleneck Supporting Mountain Sprout
Saturday
01/28/12
9:00 PM Lincoln, NE | Bourbon Theatre (Rye Room)
Sunday
01/29/12
4:30 PM Hesston, KS | Dyck Arboretum of the Plains Prairie Window Concert Series
Thursday
02/02/12
9:00 PM Albuquerque, NM | Low Spirits
Friday
02/03/12
7:30 PM Silver City, NM | WNMU Fine Arts Center Theater Presented by the Mimbres Region Arts Council
Saturday
02/04/12
9:00 PM Phoenix, AZ | The Compound
Tuesday
02/07/12
9:00 PM Henderson, NV | The E-String Bar and Grill Las Vegas Jamband Society Presents
Thursday
02/09/12
10:30 PM Grand Junction, CO | Tenacious Brothers Pub
Saturday
02/11/12
9:00 PM Denver, CO | Cervantes Other Side w/ Roster McCabe
Friday
02/17/12
10:00 PM Ames, IA | DG's Tap House
Saturday
02/18/12
9:30 PM Minneapolis, MN | The Cabooze Supporting Cornmeal
Sunday
02/19/12
9:00 PM Iowa City, IA | The Mill
Saturday
02/25/12
8:00 PM Cadillac, MI | Cadillac Elks Club Gopherwoods Concert Series
Friday
03/02/12
10:00 PM Traverse City, MI | The Loading Dock
Saturday
03/03/12
10:00 PM Marquette, MI | Upfront & Company
Sunday
03/04/12
8:00 PM Marquette, MI | Upfront & Company Special All Ages Early Show!
Thursday
03/08/12
9:30 PM Kalamazoo, MI | Bell's Brewery w/ Ryan Montbleau Band
Friday
03/09/12
8:00 PM Evanston, IL | SPACE w/ Ryan Montbleau Band
Friday
03/23/12
8:00 PM Ann Arbor, MI | The Ark
Saturday
03/24/12
9:00 PM Grand Rapids, MI | The Pyramid
Discography
Yes, Nearby (2005)
Wanderlove (2007)
Finally Almost Ready (2009)
Travellin' Machine (2012)
http://facebook.com/theragbirds
http://twitter.com/theragbirds