Posted by: leeway | November 12th, 2013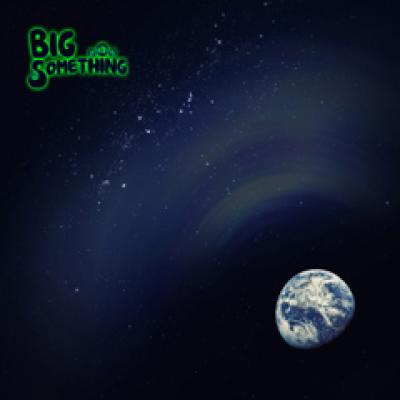 After a scintillating debut, and seizing Home Grown Music Network's "Album of the Year" award in 2010, expectations were understandably high for BIG Something's second studio effort. In the timeframe since their debut, the band has thrown two successful versions of their own music festival, The BIG What?, hosted annual Halloween shows, and increased its travel arc and miles voyaged each year. With John Custer, a Grammy award nominee, on board to produce once again, the band's self-titled release "BIG Something" offers 12-tracks of layered, complex jams, highlighted by smoldering guitar, otherworldly saxophone, and tight, intricate musical arrangements. It proves to be a dazzling and headphone-worthy effort, both in terms of songwriting, and its sonically impressive arrangements. With Nick MacDaniels (lead vocals and guitar) joined by Casey Cranford on saxophone and EWI, Jesse Hensley on guitar and vocals, Josh Kagel on keys, Doug Marshall on bass, and Ben Vinograd on drums, the confident selections on "Big Something" prove to be inspired and powerful on certain tracks, refined and sophisticated on others.
"BIG Something" pulls out the guns early, and serves up "The Curse of Julia Brown" first. Based on a true ghost story, the track is infectious and fun, full of crunchy guitar and boisterous lyrics that inspire one to sing along. This live standard is served up extra sweet in the studio setting, and Jesse Hensley's shrieking guitar is introduced nicely here. "The Undertow" swirls and sways, offering hypnotizing grooves, charming lyrics and vocals, dashed with warm Caribbean rhythms and percussion. "My Volcano" lives up to its incendiary name, offering a frenzied guitar workout for Hensley, layered on top of blustery contributions from each of his band mates. "Illuminated" is a favorite in the BIG Something universe, featuring a mix of fun vocals and enticing grooves that inspire one for dancing. The same sort of warm quality applies to "It Comes Around" and "The Moonshine" with the former invoking the spirit of campfires and nights spent under the stars. The cinematic opening strains to "Jose's Pistola" segue into a funky, loping stroll that manifests in several different moods, and is nicely embellished by MacDaniels' smooth baritone voice. MacDaniels' voice ambles smoothly at times throughout the album, and howls with urgency and intensity at others. "EWI 4000" seethes, tremors, and trembles, offering an eclectic instrumental jam before "Bright Lights" closes the album in more wistful waters.
The 12 tracks of "BIG Something" create large, cinematic-feeling canvases. These songs are defined by guitar pyrotechnics, rumbling jams, and feature nice interplay between Josh Kagel's work on keys and Casey Cranford's luminescent saxophone, while Jesse Hensley's muscular guitar shines throughout as well. If MacDaniels' lyrics and vocals are a major part of the charm and charisma of the BIG Something equation, and they definitely are, then his band mates bring a lot of other important variables to bear, and the resulting tracks on this album features lots of interplay, and dynamic layered jams. By incorporating these great rock-n-roll lyrics with Hensley's guitar, or Cranford's out-of-this dimension saxophone, or any manner of contributions from Kagel, Marshall, and Vinograd, the overall concoctions prove to be excellent and well-produced, making "BIG Something" an impressive album by many different standards, and maybe even more importantly, fun to listen to.
- J. Evan Wade