Posted by: leeway | July 16th, 2020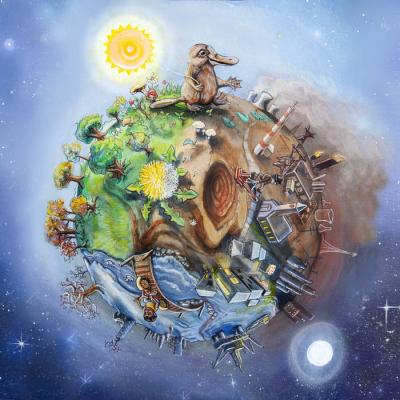 In his "off time" as saxophone player for North Carolina "jam" luminaries, BIG Something, Casey Cranford has formulated an eclectic, energetic "space quintet" that offers a compelling mix of jazz, funk, soul, rap/hip hop, even world music in its dishes. Featuring a hand-picked group of friends and colleagues from the North Carolina foothills, the band features Cranford on saxophone and EWI (electronic wind instrument), seasoned vet, Bill Stevens on keys, Greenboro's Julian Sizemore (The Mantras) on keys, William Trentini on guitar, and Ben Vinograd, fellow band mate from BIG Something, on drums. Several guest musicians are brought in for various tracks on this recording, offering a diverse array of styles, modes, and presentation for the album. The album proves to be ambitious and sophisticated, full of swirling, exploratory passages, coupled with charismatic, crunchy grooves. While the tracks prove cerebral, there's a lot of bottom end here too, some dirt even, leading to hip swinging, and maybe even the joy of celebration.
The album begins with the title track, featuring smooth lacquered polish, reminiscent horns and playful flourishes. In discussing this song, the liner notes mention the effect of cell phones on today's youth, on the staggering flow of information, how kids can be lost in technology. The song characterizes the clash between "old" and "new," passing quickly and ephemerally. The second track, "H1N1" is a revived track from one of Cranford's earlier bands, The Brand New Life. The song fuses Eastern rhythm and cadences across a lush, layered landscape, building in feverish intensity. Cranford's EWI proves particularly potent and demonstrative throughout this track. "ExciteBikeRack" offers jazz fusion sensibilities, with shades of Return to Forever dotting the perimeter. The track playfully alternates from jazz to funk flourishes, featuring playful lyrics from TommyBlaze336. Cranford brings it all home with saxophone sophistication. 
"Fall" offers an entirely different sonic perspective and feel, with wistful keyboards, lingering saxophone, yearning lyrics (penned by Bill Stevens) and several guest performers. These guest musicians offer vocals and even, bassoon. The track is sophisticated and methodical, luminescent, layered, and lovely. "The Adventures Of PuPu Platypus" proves to be an ambitious, layered jam, clocking in at 8 minutes, featuring BIG Something vocalist and guitarist, Nick MacDaniels on "spaced out guitar." The title track makes "A Slight Return," a playful track composed and written for 4 bassoons, 4 saxophones, and 2 flutes. "Mister Donahue" is a layered, funky jam, featuring Snarky Puppy's Nate Werth on percussion, Ian Merrigan on vocals and Billy Cardine on lap steel. The album closes with "Kidz These Daze (Reprise)," featuring an extended take on the "theme" track of the album, fading into silence.
I do consider myself a rather unabashed fan of Cranford and his work over the years, but even as a "fan," I wondered what to expect with this package. Although I loved my jazz fusion albums from the 70s, not all of those jams translate to a larger, more general public. Yeah, the weird dudes in the corner may be nodding their heads, but is anybody else having any fun? And the answer with the Comrades, is a most definite Yes. I used the term "cerebral" above and that seems to be one way to describe this album, but it has a lot of funk, and soul, and "heart" as well. The album is ambitious in scope and length, providing 10 varied tracks to chew on. In fusing all sorts of elements, songs, and friends from his history, Cranford has put together a remarkable recording.
- J. Evan Wade