Posted by: pkerr | June 23rd, 2020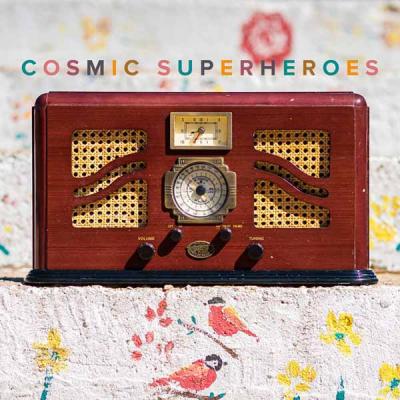 Cosmic Superheroes' self-titled third album is a veritable tour de force across the musical universe. The Raleigh-based quartet captain an epic journey through a rich tapestry of styles and sounds, with spirited songs about love and life sprinkled with dashes of humor and flashes of inspiration. "Dr. Thunderhawk" opens the occasion with a chunky timeless stomp that launches into outer space, unveiling an expansive psychedelic groove bursting with Brandon McLean's energetic guitar explorations and Bongo John's sweetly rolling drum fills. The short and sweet instrumental "Not My Name" offers a fierce and thick rhythm as Paul Benner's bass barrage flies past like a meteor shower. Things slow down for a refueling with the gorgeous melody and lush four-part harmonies of "Moonlight": "Looks like it's all coming together / Not much more we can say / Looks like we're gonna see better weather / And in this moonlight, I feel quite okay." The delicate beauty of the verses opens into a glorious keyboard solo from Paul Sanders and a passionate guitar solo that perfectly finds its place in the pulse of the song.
Clocking in at almost nine minutes, the soaring vocals and tasty changes of "Fly" reveal a distant world dotted with dynamic peaks and valleys that morphs into a funky shape-shifting guitar gallop. A momentary ease off the gas pedal leads to the hefty harmonies of "Change Your Mind" and "Angels in the Garden," whose guitar solo grows into a giant beanstalk right before your ears. McLean's solos have an inherent sense of melodicism, and take listeners on a musical ride filled with scenic overlooks and outright cliffhangers. These sonic starbursts don't just soar over the band but naturally lead them into new orbits together, with dazzling group interplay fitting like puzzle pieces, and a crisp production showcasing each instrument in its own slice of the spectrum.
The sweet and sunny big band jazz rave-up "Make Her Mine" is a lost radio transmission from the '50s beaming out to the stars, a catchy love song featuring guest heroes Brian Buzby on saxophone and Paul Kreader on trumpet and flugelhorn. The expedition returns to homebase with the groovy shuffle of "Just a Dream," a camouflaged tinderbox that detonates into a piercing guitar solo whose energy peaks like an exploding star. Cosmic Superheroes have unleashed an album that at its core is a blast of honest rock and roll soaked through with devotion, emotion and an endless sense of fun. In a world gone mad, some extraterrestrial escapism is downright therapeutic. Looks like it's all coming together.
- Paul Kerr