Posted by: mamasherry | July 31st, 2015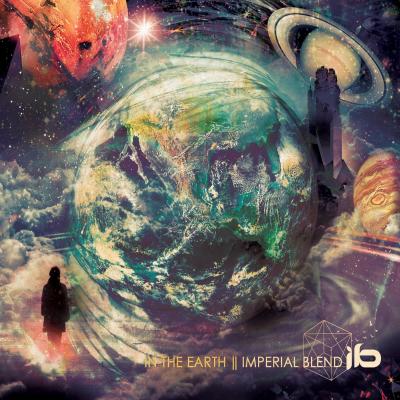 Having spent years fermenting and developing their vision and talents in and around Greensboro, NC, Imperial Blend offers a sophisticated take on the genre of live electronic jam, with soaring moments full of complex passages, and at other times, moody arrangements that are more reflective and measured. The band features Brennan Fowler on keys and synth, Chris Teague on guitar, David Teague on drums, and Ethan Riffe on bass and synth. The band employs an elegant approach, offering layered and precise jams that are interactive and intuitive, expansive yet focused and precise.
The album begins with "Cosmos," which builds in intensity from its initial measures, utilizing feverish guitar and synth, propelling the song forward. "Starship" embellishes the recipe with an ambitious jam that is at times layered and ethereal, at other times dirty and funky; as one listens, the tracks on this album travel across many different spectrums. "Oberon" is quirky and elusive, beginning with jazzy flourishes that culminate in a funky sprint. After a spirited romp, the track draws up in dramatic fashion and releases. The title track, "In the Earth" displays Fowler's airy work on the keys, while Chris Teague's guitar is exact and precise, sophisticated and well-delivered. The two coalesce nicely here and are well positioned over Riffe's confident, intuitive bass lines.
"SnowDance" is frenetic at times, precise in others with measures of nice, yearning guitar skirting against and around keys, bass, and drums. "Redbud" begins with a funky, loping groove that one will find hard to resist; the song swells in intensity, creating a nice tapestry for Teague's guitar and Fowler's keys. The track undulates and soars, progresses into moody, measured chaos and closes abruptly, leaving the listener in stark silence. "Solstice" begins in complicated, cerebral waters, offering a methodical, measured jam that swells in intensity. Skittering synth effects dot the perimeter, coalescing into an insistent jam that closes the album with swagger and bravado.
The 8 tracks on "In the Earth" definitely represent an intriguing, compelling debut. As the genre of live electronic jam has formulated and gained steam over the last decade or so, and in the years before that, the members of Imperial Blend have done their homework and practiced their craft, and the results on this debut album prove to be satisfying in lots of ways. The arrangements on the album are intricate and expansive, yet cogent and focused as well, making for an excellent release.
-- by J. Evan Wade