Posted by: leeway | August 24th, 2010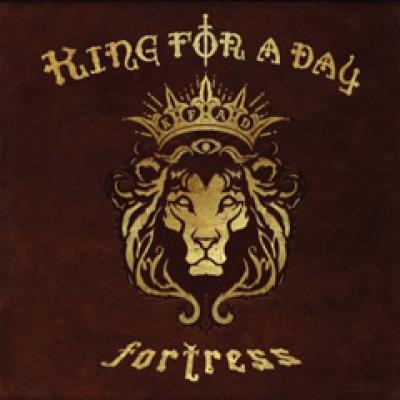 According to their website, King for a Day has been "servicing eardrums since 2005."  The band received rave reviews at the 2009 Gathering of the Vibes, and has used that gig, the release of this album, and other tactics to garner more exposure for their guitar-driven, rock-heavy sound.  The Connecticut-based band features the talents of Dan Labich as main songwriter, vocalist, and acoustic guitarist, Benj Lefevre on bass and percussion, Randy Funke on guitar, percussion, and Moog, while Scott Lebish anchors their efforts from his seat on the drum kit.  The release of the 13 tracks in "Fortress" find the members of the band at an exciting point in their career.  The results on this recording show positively on their efforts to garner more acclaim and higher exposure gigs in the jam and festival circuit.
Power chords and crunchy guitar signals the arrival of "She Tells Me So," a raucous number defined by enthusiastic guitar and feedback.  "Hard Enough" begins in similar fashion, with scorching guitar framing the song as it jaunts forward;  "Something to Say" begins wistfully and romantically.  Slight plucking on guitar invokes a subdued, quiet mood for this track, while "Mile after Mile" begins with the bluster of talkative guitar.  This track ventures through varied textures, exploring the various tones of bluesy guitar, soul, and rhythm & blues.  "Chasing Juliette" begins with a sense of melancholy and sadness, as Dan Labich's vocals are highlighted against the sparse instrumentation of his band mates.  "Turn Me On" utilizes soulful, searching vocals and evocative guitar to invoke its feelings.  "America's Song" is an energetic number, steeped in power chords and patriotic spirit, featuring nice vocals and work on guitar.
"Tired of You" is a melancholy track telling the story of lost love and changed circumstances.  This leads our narrator to the recount his love story, revealing a man who has grown tired of his current scenario and needs a change of scenery.  "She's My Baby" is a short, subtle, understated track focusing on transient love and finding a baby for "tonight."  "Gypsy" is punctuated by fuzzy guitar chords and a sense of frankness and emotional honesty.  Labich's vocals on this track and others seem to summon the spirit of John Popper and Blues Traveler.  The tracks on this album offer that same sort of revelation, with lyrics that offer insight into the heart, and guitar that moves you on the dance floor.  The album closes with "Here We Go," a short yet energetic track spotlighting Funke's guitar and interesting vocal arrangements.
The tracks on "Fortress" reveal a band flexing its relative muscles, with a blend of guitar-infused rock that sounds familiar, yet new and exciting at the same time.  The 13 tracks on display for "Fortress" range from straightforward "rockers" like "She Tells Me So" and "Mile after Mile" to the more pensive, reflective tracks like "Tired of You," and "She's My Baby."  The overall mixture is pleasing and well-produced, resulting in an energetic release that surprises with each new listening.
- J. Evan Wade