Posted by: Robie | August 1st, 2013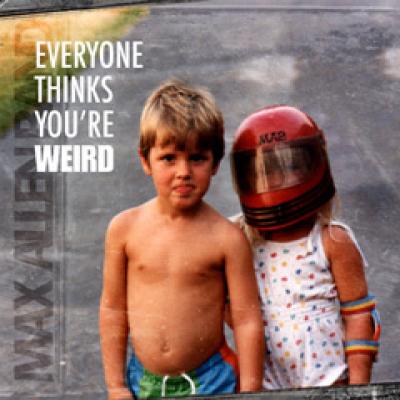 Regardless of the song, from beginning to end, you can't help but do more than the casual head bob. The music of MAB takes us on a journey exploring the many offerings of various genres whether all in one song or the complete track list. The changes in time signatures from song to song blends well with the smooth, funky, guitar that sings in harmony with the driven tempo of the six stringed bass, while being kept in line by the crafty laid backbone beats of the drums. This accomplishment that we call great music should not be taken lightly. "Competitive Goods" states "they just don't make things the way that they used to" and MAB is 100% on. This, to me, speaks to the mass music of today not being as talented as it once was. Not only is MAB making music like they used to, but they're adding something fresh. Through this album they have not only paid homage to the greats that paved the way before them, but added something new to the conversation. I asked Max Allen (guitar/vocals) about their influences and he stated, "Personally Phish has been one of my biggest influences, they are without boundaries. Shaan France (drummer) is a big Umphrey's McGee fan and Dace Robie (bass) is dirty south to the bone – Outkast/Dungeon Family". With this album there is no doubt they took their influences and added their own style.  Style does not come by luck, but by listening, hearing, studying, practicing, innovating and surprise. Max told me, "To tell you the truth our biggest inspiration is everywhere and everything. You can find inspiration in any music. We are constantly listening to music across the board". MAB have done their homework and they have the spirit.  
It is not too often that one band, yet alone one album can give you everything that your ears desire. I'm here to show you with full confidence that "Everyone Thinks You're Weird" will touch your palate with a variety of flavors satisfying your taste buds. Your appetizer starts with tasty tapas, from "Intro" to "Competitive Goods". Through these five songs you get two beautiful instrumentals and three spot on rock jams with the lyrics leading the forefront. In these first five songs you get a hint of where this album is going to take you, a well crafted light rock album. But just as with any great piece of art, you are taken by surprise. That surprise comes in the next tune, my favorite, "Moorish Invasion". This is the sweet nectar; that amazing beverage that brings the entire meal together. It starts off in this jazzy psychedelic jam band style with a hint of Latin influence. Take a minute and think about that last sentence… That is just the beginning of the song. Throughout the track you get various breakdowns and peaks into different styles, but the best is right around the end. Easing into more of a Funk jam making sure to get you to move your feet if you weren't doing so already. Next is the main course, I'll leave you to discover that on your own. It is filled with plenty of surprises with spectacular vocal harmonies and songs touching genres such as blues, jazz, jam, reggae and funk. Wrapping up with dessert is "Tro" to "Uphill". "Tro" is another amazing instrumental highlighting the guitar abilities of Max Allen. It brings you back to those beautiful memories, dancing in unison with a crowd all letting the guitar groove guide us to transcendence. "You're gone" is next. People still believe that rap and rock don't go well together. This song surely lays that notion to rest. The fast pace beginning takes you down into a well lyrically crafted rap and back; a tasty Ice cream sandwich. Last, but not least, "Uphill" is that cigarette and coffee after an amazing meal. "Uphill" is filled with beautiful orchestral instruments, easy drums, smooth lyrics and voice. A type of song you wish to hear at the end of a show that jams on for minutes, never wanting it to end.
There we have it, a beautifully well crafted three course meal. From start to finish "Everyone Thinks You're Weird" will satisfy everyone of your musical palates.
Bonus: Get to know the men behind the instruments.
I always want to make sure that the readers and bands can bond through both a musical conversation and a personal one. Therefore, I asked the band to finish three sentences for me.
1)    Music is…
2)    Playing music feels like…
3)    MAB loves…
Here was there response.
1)    Music is my life, religion, sanctuary, therapist, friend, enemy, lover, career, drug, passion and along with my wife; it is what keeps me striving to better myself and everyone around me.
2)    Playing music is what I was put on earth to do. It's like breathing.
3)    MAB loves to play to an appreciative audience and completely surprise new listeners. We also love the company of each other. Ask any musician. True friendship in a band is hard to come by.
- Kevin Tshiamala