Posted by: leeway | November 13th, 2012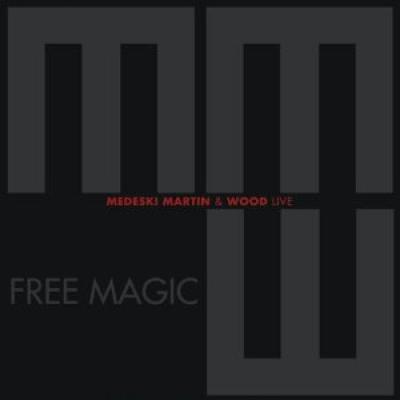 Free Magic is a collection of live-recorded, reworked material and tracks you've not heard before. MMW should be infamous enough, at this point in their career, to build excitement in a list of genre lovers at their mere mention; Free Magic is proof of their value, for those who might not yet be aware of their reputation.
Mix straight ahead jazz with the seemingly out-of-control spasms of its acid fed cousin… add unparalleled music sensibility, unrestrained bravado, and masterful control of one's chosen instrument(s), and the scope of MMW's capabilities starts to come into focus. Not only are they capable of approaching great feats of musical exploration, they consistently perform flawlessly in executing these feats.
Recorded at the McCarter Theater (Princeton, NJ), The Grand Opera House (Wilmington, DE), and The Birchmere (Alexandria, VA), Free Magic is a five-track recording of what MMW gifts to its audiences. Only five tracks? Well, when two of them approach 15 minutes in length, one breaks the 16-minute barrier, and the remaining two are 12:27 and 9:26 in length, it becomes obvious that this isn't some simple EP. These guys give until they can give no more.
Like a well-planned set list, the five tracks flow in a manner so as to keep the listener guessing and excited for what's to follow. "Doppler" begins as a schizophrenic build that results in a tune any funky jazz aficionado would cherish, "Blues for Another Day" tumbles along, building a tension that calms at moments, only to trip into another glorious fall, and so goes the MMW equation. One is always left adapting to the treatment their ears are receiving. "Free Magic"/"Ballad in C Minor, Vergessene Seelen" is an exploratory coupling, the recognizable rollercoaster of sedate and brash that is "Where's Sly" (from 1993's It's a Jungle in Here) pays a visit, before the album caps with a touch of class, in "Nostalgia in Times Square"/ "Angel Race."
Get this, let it spin, and enjoy! MMW fans will rejoice, new listeners will wonder why they haven't heard of these guys, and musicians will attempt to be so great in their own artistic attempts. Either way, everyone is a winner when MMW whips together another exhibition.
- Jeremy Sanchez