Posted by: Robie | February 26th, 2014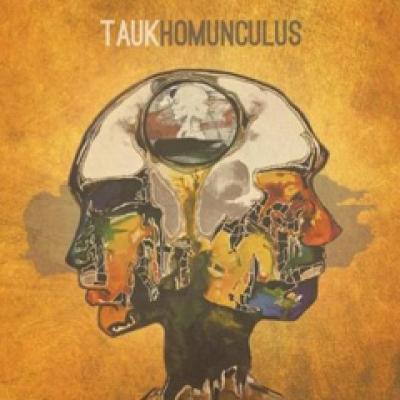 "Dead Signal" kicks off the album and does so in a way that makes you double check who you're listening to – oh yes, Tauk, sounds like Lotus circa 1997. Where'd these guys come from? – The big apple of course. Next on the list is a bit more eccentric, pop disco tune, "Afro-Tonic." The switch in genre from more jam electronica to new wave-ish should throw you off, but the tone and feel manages to flow well. The diversity in genre, key changes, tone, instrumentation, rhythmic pattern, and technological usage from song to song makes it clear that Tauk is not necessarily concerned with fame, but instead the experimentation of variant sounds. "The Spot" evokes many heavy rock influences with the driving drum patterns of Isaac Teel, but the mix with jazz undertone throughout by the keyboards of A.C. make it an unusually pleasurable tune.
Throughout Homonculus the band has flashes reminiscent to many artists who have managed to break through the jamband genre generalization and finally began to gain recognition for their overall musicianship. This makes sense for Tauk has been opening up for famed artists such as Moe, Robert Randolph and the Family Band as well as working with world renowned engineer Dave Natale and producer, Robert Carranza. Their ability to break the mold of a typical jamband artist by showing their understanding of music theory early in their career is a complementing sign as to the direction in which their music and career is headed.
Towards the end, the album wraps up with "When in Doubt." It is a mix between a classic rock ballad and a smooth jazz number, which highlights the guitar work of Matt Jalbert. Fitting for a close out, many would have chosen to end on this note, but not Tauk. "In the Basement of the Alamo" is a driving, spacey, funky, groove that is well controlled by the bass of Charlie Dolan and Jalbert's guitar progression skills. Similar to Dave Matthews Band or Umphreys the instant and dramatic tempo changes seem to come with ease.
Homonculus is a good piece of work by a band out of left field. As Carranza stated, "What's compelling is the raw power of the band, from their light moments to full-out jamming. Music is a language that some feel and others speak – and Tauk do both very well."
I agree. Find out yourself.
- Kevin Tshiamala