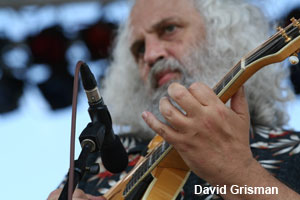 The feeling of magic was in the air, as per usual, and some 15,000 music lovers, young and old, enjoyed livng in this enchanted village of whimsy in the heights of the Blue Ridge Mountains for four summer days.
This time around, the flow of the festival was seamless; everything ran so smoothly. It makes perfect energetic sense to me that after 7 years of community, perserverence and positivity through the torrential strorm, that the stars would line up for these fine folks and shine sun on Floyd County all four days July 24-27th, 2008.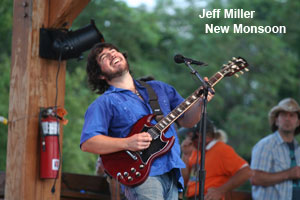 Even if it's your first year you sense that there is something different in the air here. A family of people come together each year to make this experience happen, and the love and soul they pour into the event is evident. I brought my family, and was thrilled to begin our adventure.
The drive to the festival site down the Blue Ridge Parkway is always an excellent preparation for the journey you are about to take. The lush green of the mountains usher you in, and then before you know it, you spot the majestic Dreaming Creek stage peering through the treetops. It always amazes me how high up we actually are.
We arrived late on sunny Thursday afternoon;  Our check in went smoothly and we found a great spot in RV camping near the global village. As we sat up site, I sat on my yoga mat and awed at the beauty of the hillside I have come to year after year...  I found myself  immersed in the magic once again. Thankful for the amazing day, I breathed that fresh Blue Ridge Mountain Air in and out.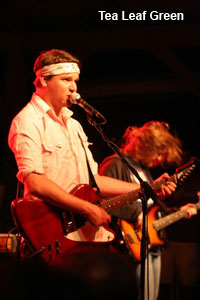 Being nearby the Global Village, we were treated to an eclectic setup seranade by the Alliens, a saucy, tropical blend of reggae, funk and Latin rock. The vibrations massaged our spirits and we breathed in again.  
At this point sounds were calling to us from all stages, so we set off to begin our musical journey. We took a round through the site; past the Pink Floyd Garden stage we walked, where a young band, Madrone, was rocking hard. I noted the furious pace with which the dummer was moving his feet, and on we trodded. On Hill Holler stage My Radio was warming in the night.

On the sweet mulch path we kept on; the flavors were wafting from the food village into my consciousness.
We passed the Blue Ridge & Beyond Dance Tent, an array of vibrant art offerings, the Healing Arts Village and the Children's Universe on our voyage. As soon as we entered the mainstage area I spotted Laura Reed at the booth for Gathering of the Peacemakers and I beelined towards her like a magnet. I had drummed onstage with her at Culturefest '07 and it was quite an experience; I wondered if she would rememeber me. And sure enough, like a shining star, she warmly greeted me with name and all. That's real. I was ready for her show and already feeling its vibe.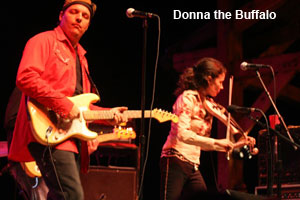 On that note of positive vibration, I happily settled in for Donna The Buffalo. The schedule was laid out brilliantly for audience participation this year. Donna kicked off to a sizeable herd demonstrating that Floydfest does, indeed, start on Thursday now. It was awesome to see the field already packed with families. Tons of kids danced with their parents; I love to see that, a staple of the Floydfest experience.  Donna The Buffallo is so positive and inspiring; what a perfect way to kick off the weekend, thrusting us straight into our happy spots. I love to watch people feeling their message and being infused with its hope. Yes!
From Dreaming Creek I booked it to Hill Holler for Laura Reed and Deep Pocket. When I stepped into the vibe of that show it drove straight to the core of my soul; I was at Halleluiah from the get-go. The revolutionary spirit of this music is powerful, so powerful that WIllie Nelson & company recruited her & Deep Pocket for the Green Train, a cross country tour to promote sustainbility and all things green. Watch for this tour starting in April '09. We are changing the world. And it is easier to be tuned into this fact, right there in the throws of this music, funky and oh-so-soulful. Upon encore, Laura said she wanted to leave us on a spiritual tip. "Sing praises to the most high," she proclaimed. "We've got to take it back to Zion."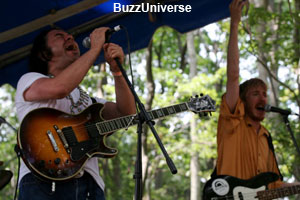 On Friday we woke to delicious sounds from all directions: Kat Mills and Jan Smith's soulful voices drfited from the Wine Garden down our hill, the rhythms of the Gokh-Bi System of Senegal bounced up the hill and off the mountains, and tons of amazing sounds danced through the air from Dreaming Creek and Hill Holler.
We made it to our spot at the Dreaming Creek stage for DJ WIlliams Projekt, whom I have always enjoyed. So smooth, that cat. He reminds me of Jimi Hendricks without the acid, chill and soulfoul... like I like my afternoons.
Then we hit the Global Village curious about the Indigenous Gourd Orchestra, to find ourselves enriched with the history of the gourd and grooving to something very interesting and unusual. I love this about Floydfest. If you surrender to wandering, you never know what flavorful and enlightening experience may greet you.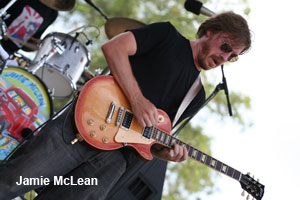 Before the show had started, we were relaxing by the fire pit when we heard the call of a drum, over at a vendor's booth. We immediately answered, grabbing drums and joining in the rhythm. A young man, who we later determined to be with Iron Lion, flowed for several mintues atop our hip hop beat. His voice was passionate and insistent, and you could sense that he needed to speak those words; it was like fire burning inside that must be released... It felt incredibly good to pound the beat that supports that kind of expression. The Global Village is where it's at. 
We made it back to Dreaming Creek for the second half of Golem,  Klezmer folk/punk fusion which spins Jewish, Gypsy and Slavic folk songs into moshable rock music in an extremely entertaining way. This show was flavorful and theatrical; it reminded me very much of Devotchka whom we had seem on this very stage last year. The racous show included accordian, trombone, viloin and the cartoony on stage antics of singer Aaron Diskin.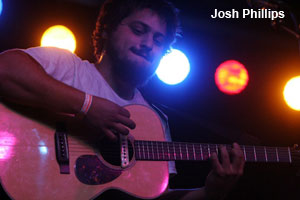 Next we caught Oneside on Hill Holler. Banjo in the mix with this solid rock sound was poigniant. Lyrics from the singer were inspired, and the whole hillside was brimming with beauty. Frisbees were flying and the sun was shining. This was lift-me-up rock.
The multitalented soul force Lynx kicked ass for 15 mintues on the mainstage making way for New Monsoon.
The crowd was thick by now and New Monsoon did not disappoint. Tim Carbone of Railroad Earth and Jason Flournoy of Larry Keel & Natural Bridge joined them on stage for an amazing, crowd pleasing jam.
Josh Philips Folk Festival, featuring the multitalented drummer of Yo Mama's Big Fat Booty Band, put forth his lyric driven musical offering  on Hill Holler, while Turbo Pro Project mixed it up on the Garden stage with their unlikely blend of turntables, keyboard, banjo and stand up bass. I really dug this funky sound.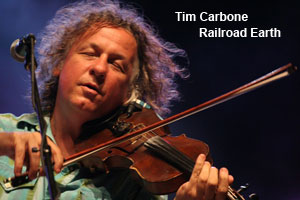 It was time for Railroad Earth, a key element of Floydfest for me. Once again, the wind was blowing in Tim Carbone's hair and every moment seemed more poigniant and filled with beauty than the last. This is exactly what I remember as the defining moment of my first Floydfest. Oh, the soul stirring beauty of Railroad Earth.
Tea Leaf Green took the evening further with a high octante rock experience to a massive hillside crowd.
After that Yo Mama's Big Fat Booty Band took us dancing into the night. The bootys were bumping hard in that tent. Oh, yes.
And oh, the zen of Giant Panda Guerilla Dub Squad in the global village at 2am...  On that hillside we could be anywhere on Earth, whilst the stage beams light into the night sky like a portal to another dimension. I was well happy, with projection screens to trance my mind, egnited with energy from the day, and sounds to pulse through my exhausted body, prepping it for sweet tent rest.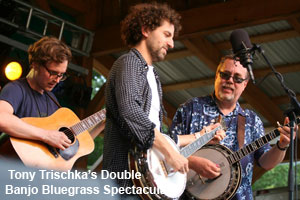 I fell to sleep to the pulsing of drums.
I would've preferred to wake to 9:30 Vinyasa Flow Yoga in the Healing Arts Village... but alas, my taste for late night music overrode that schedule.
Instead I began my day with Kat Mills in the wine garden. This is such a charming space, with light shining through the green green trees, little ponds and twinkly lights, local wineries and pillars around the stage. I sat down at a table and enjoyed her insightful folk soul, speaking to the heart of the peaceful people. "Free ideas flow freely" she sang. Ah, the garden in the morning. I rustled the stragglers back at camp and rallied them towards Jamie McClean. This was some damn good rock and roll. He finished with a rousing rendition of Tom Petty's "You Wreck Me"  and the day was in full swing.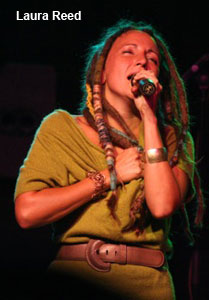 I caught Bombadil, one of my favorite shows, in the dance tent. These boys are so entertaining and lively, with a raw, youthful energy. Very unique instrumentation have they, tansitioning with flute solos and xylophone.
Over at the Garden Stage, Buzz Universe was up, up, up! I settled in time to hear, "I'm goin' up the mountain and I'm never coming down!" This was some serious high energy and it definitely buzzed me up. I even got stuck with a sticker that said "Buzz-U." Nice. 
The David Grisman Quartet relaxed me into my comfy chair to feel the beautiful sunny afternoon. Such quality sounds serenaded this scene; the field was full! Upon encore,  Shady Grove, there were tons of dancing families.
I must make mention of Gokh-bi System, who I made a special trekk to the global village in quest of. I saw a documentary on world LInk TV about the emerging African hip hop movement, and the aritsts power and passion, about their struggle and their hope. I was anxious to hear this group which fuses traditional & ancient African rhythms with the urban beats of today. Sure enough, they sparked my fuse and I danced with hands high. Power to the peaceful. One love.
Our next stop was SciFi on the Garden stage, and they took us out there. This is my wavelength. I was hooked into STS9 from the time I heard them at Bonnaroo and this band has my attention at the moment. I will definitely be keeping up with SciFi.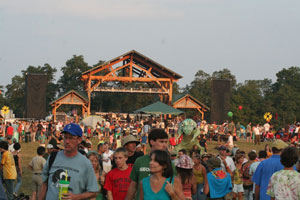 We made it to Dreaming Creek for the last bit of the inspiring Zimbabwean sounds of Oliver Mtukudzi, which was well worth the trek.
Then Lynx hit us again with some wicked beat boxing and word flow and we were primed for Rusted Root, who gave a killer show to the biggest crowd I have ever seen at Floydfest. They brought Lynx back out for a jaw dropping beat box number. 
We skimmed past Dumpstaphunk on Hill Holler and into MO2 in the garden.
We danced past Yo Mama and then tranced out again to Giant Panda Guerilla Dub Squad in the global village.
It sent me straight to a very colorful dream land. 
Sunday came and we prepared to say goodbye to the weekend. Once again I would've loved to catch yoga or any of the awesome healing arts activities, but maybe next year.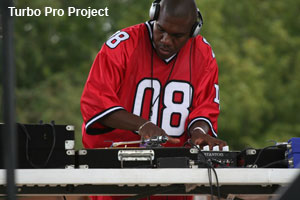 We made it to the mainstage for Turbo Pro Project and, once again, I enjoyed this mix of banjo & turntables very much. It was another very pretty day and I kicked back to the funky beats and melodies picking on top.
At this point, all roads were pointing to the Avett Brothers. We prepared camp for departure and made it back to finish the evening with a few more shows. Tony Trischka & Double Banjo Bluegrass caressed the Holler Hillside, so fine.
All weekend I had heard about Reverend Payton's Big Damn Band, so I had to hear what all the hype was about. The crowd, hands raised, were jumping. Rowdy and urgent, they were howling and feeling moved to the depths at the same time like a racaus, big damn revival.  They conjure all this with an acoustic guitar, washboard and snare drum. a must-see.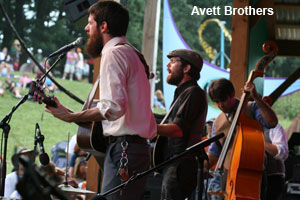 The Avett Brothers gave it every bit, as they always seem to, and the crowd gave it back. We romped and dust flew and it was the most beautiful sight. More sunshine shone down to reward the magic faeries who dedicate their lives to making this experience happen... One faerie painted in all green danced through the crowd with a magic wand, leaping  and turning pirouettes... It is always at the tail end of this journey sitting on the side of the Hill Holler field when I am struck by the beauty and refreshingly peaceful diversion of the Floydfest experience. I imagined returning home to concrete and phones ringing, and appreciated more and more the moment I was living in.
The golden sun just shone down on us, and I knew I would be back again and again.
by Lori McKinney
photos by Robert Blankenship