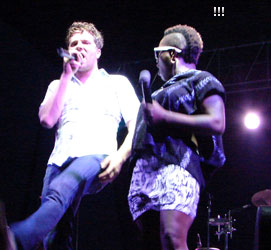 I have loved Langerado every year I've gone: It's 80 degrees. It's early in the year. The lineup is always stellar. But then the music was over at 11 pm? Lame. 
The first night, following torrential downpours that held up campsite setups, That 1 Guy impressed the crowds with his homemade instruments and bigger-than-1-guy sound. The New Deal rocked my booty in a way that those electronic bands can do, and Perpetual Groove put out their evergrowingly famous light show as strong as in any small club. My ass shook in its usual manner to Mr. Transistor, and the fans who may not be as familiar with their music rocked out to a cover of Peter Gabriel's "Digging In The Dirt," which was done in a much edgier version that, I believe, Mr. Gabriel would be proud of. 
Friday came with a schedule involving everything from bluegrass to reggae to my absolute favorite show of the weekend. !!! (Chk Chk Chk) blew UP the entire crowd, which was surprising thin considering the show they brought. To !!!, you do not just dance. You dance, jump up and down while you're dancing, and pump your fist in the air, all while screaming your fat melon off in the most uncontained bliss you can imagine. THEY. RULE. They are the kind of band you can go in knowing absolutely none of their material, but you never want the show to end. I heard it from many on the way out of the show, but I, too, just wanted the show to go on all weekend. It's all I wanted to hear. No other band even came close to touching what they put out. They will not stay in America's mid-size venues for long, so if you get a chance to see them in one, go. Hell, go see them anywhere, just experience it for the good of your soul (and biceps. from the aforementioned fistpumping.)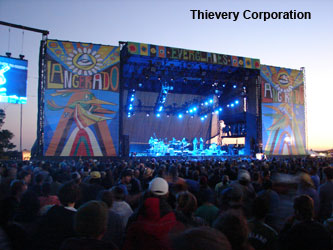 Beastie Boys headlined on Friday night, and man, they still have it.  I thought there'd be blips in their show from performing for so long, but they were extremely tight. They played a really well balanced mix of their radio hits (Intergalactic, Sure Shot...) and their instrumental stuff, which is my favorite. It was a show that would be appealing to pretty much everyone in the entire world.  
My favorite shows on Saturday would have to be Citizen Cope, Thievery Corporation, and Ghostland Observatory.  Citizen Cope had a perfectly timed set, in the late afternoon, at a time when we could sway, take in the sunshine, and enjoy his passionate lyrics. He's an amazing songwriter, and his sound is so easy to fall in love with. It's light and heavy, it's romantic and dark. Same would have to be said for Thievery Corporation and their onslaught of beautiful female performers. They have a belly dancer when it's just their downtempo instrumental material to fill in between all their vocal stuff.  Ghostland Observatory didn't need any fill between anything. They rocked every song, and if you had your eyes closed, you'd never believe there were two of them. The vocals are original sounding, the beat is dancy, and the one laser machine they had beaming out over the crowd was enough to captivate anyone for the entire set. They definitely blew the crowd away, and were one of the weekend's favorites by pretty much everyone who was lucky enough to see it.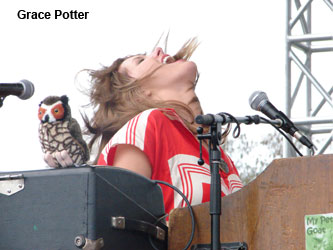 As the festival wound down on Sunday, I was most looking forward to Minus The Bear, Of Montreal, and The National, but Grace Potter is really where a lot of the attention went that day. Though she was rumoured to be suffering from a cold, it did not hinder her set one bit. She's steamy and full of light, and The Nocturnals complement her in a perfect way. She's soul and they're rock. I can't imagine either one of them without the other.  Of Montreal (and their crazy shaving cream and confetti stage antics) filled the Kubrick cartoon-like slot (I was looking for?) of the weekend, and fulfilled every expectation I had for them. They were entertaining though they could have been on mute, and could have been standing still in t-shirts and jeans with no props or supporting roles and I still would have loved the show. The fact that crazily costumed people were tossing each other around on stage mixed with the fact that they played an awesome set really made the show perfect. I couldn't have asked for a better set from them. They were the perfect end to my 80 degree, early in the year, stellar lineup, stayin'-up-late weekend. And I can't wait to do it again next year.
- Words & Images by Leslie Evans