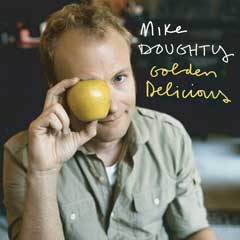 A sellout crowd waited for Doughty shortly after dinnertime on a crisp Saturday evening, and he emerged from an upstairs dressing room carrying his guitar in a travel bag. With a 20-song set clocking in just under 80 minutes, he built anticipation for his new album, Golden Delicious, and delivered the same interactive verbal jostling his fans have become accustomed to. His songs are amazingly vivid, lyrically complex and highly mysterious, but as a solo act he's really selling the interaction, the comedy, and his personality.
Doughty's devotees would recognize nearly every song on this night, as the show was basically by-the-book - "Tremendous Brunettes," of course; "Busting Up A Starbux," natch; and "Shunned and Falsified, no doubt - but after years with no solo show (the last was at Ziggy's back in March of 2003) and a sparsely-attended Mike Doughty's Band show in Chapel Hill in 2005, the crowd savored each tune lovingly.
His perfect cover of Mary J. Blige's "Real Love" always gets a chuckle from the newcomers and delights the faithful, and it tuned the crowd in early. Two new songs dotted the setlist - the lovable, awkwardly titled "I Just Want the Girl in the Blue Dress to Keep on Dancing" and the somber military tribute "Fort Hood," which draws liberally from "Let The Sunshine In." The former is sure to be an instant hit among the fanbase, with typically descriptive-yet-hilarious lyrics. "Fort Hood" is one of Doughty's few directly topical tunes, but he handles it as only he could, even injecting some wistful humor into the serious subject, basically telling the young people that they should be "blasting Young Jeezy in a parking lot" instead of dying in a mindless war. Sounds like the new album is going to be tasty indeed.
The last part of the show featured a slew of Doughty's definitive songs, including Soul Coughing faves "True Dreams of Wichita," "Circles," and "Janine," along with some of his best-known jams - "27 Jennifers," "Madeline and Nine," and the show-closing "Looking At the World from the Bottom of a Well." A cover of Kenny Rogers' "The Gambler" also appeared late, and it worked better than anyone could have thought. Doughty's studied vocal style lent itself perfectly to the story of the song.
While his solo travels have endeared him further to the leftover Soul Coughing fanbase, his former band is hardly worth a mention in reference to his current sound, as he's re-defined himself to a great degree. He dares not speak the name onstage these days, and further refining has arrived with the making of band-oriented albums. For this longtime fan, the two eras of Doughty's career are becoming more difficult to connect after each passing show, and that's a delicious trend.
--Bryan Rodgers