The night was sure to be a fine one as several of us had been looking forward to this show for quite some time.  As a few of us met up at Natty Greene's for some sustenance & spirits, I could only be just a tad impatient waiting for the show.  One of our newest HGMN Bands, Groove Fetish out of Wilmington NC, were about to open up for the legendary Col. Bruce Hampton.  Their unique sound blends rock, jam, jazz, funk and soul into their driving rhythms, punctuated by fiery solos and seductive melodies. The line up consists of Clay Crotts (lead vocals/rhythm guitar), Andy Blair (lead guitar/vocals), Ethan Schilf (bass guitar), Jason Woolwine (piano/organ), Andrew (Drew) Massey (drums) & Hugh Mallard (percussion).  Clays vocals bring John Bell of Widespread Panic to mind with similarities, however stronger & more pronounced.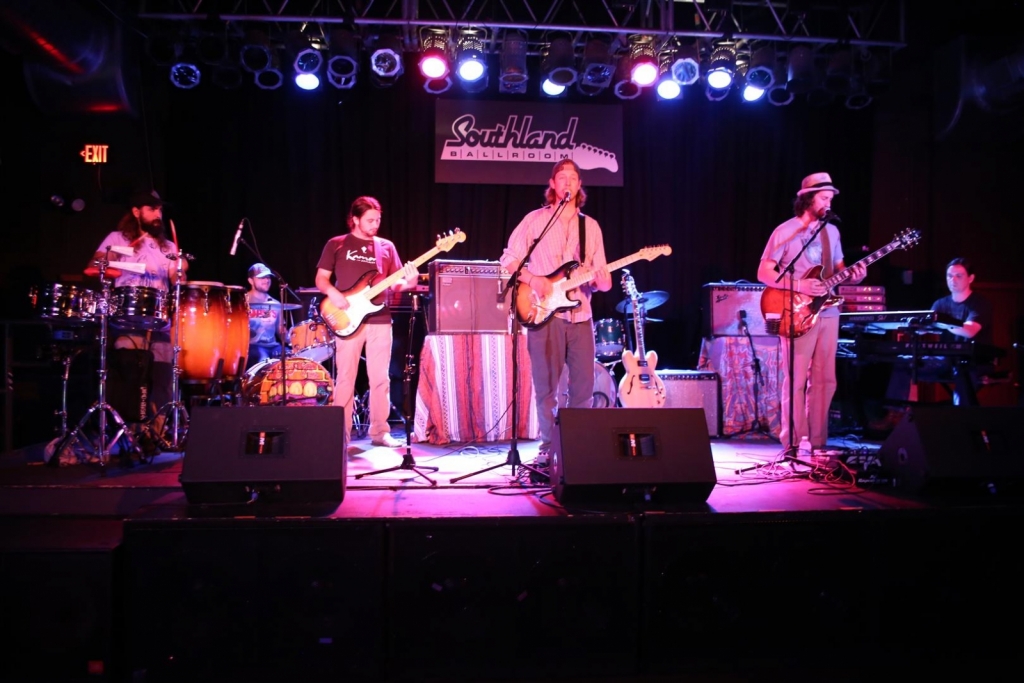 Groove Fetish immediately pulls the crowd in with a great track "Brewkowski", from their debut CD called "Between Earth & Outer Space". With an effortless transition they roar into their popular instrumental "The Wizard". This song showcases hard ripping guitar licks, steady groovin' beats and funky flowing keys that demand our attention and keep our feet moving the entire way. As they dive into their next original "In The Moment", the strong driving beat commands your ear.  "Don't worry about tomorrow, forget yesterday. Right now we have each other so let's enjoy today".  The song speaks of life's truths and making the best of it, no matter what it throws at you.  The song's arrangement mimics everyday ups & downs, taking you on an emotional journey with creative tempo changes throughout the song.
The melody of a familiar Bobby McFerrin song "Don't Worry Be Happy"  is used as an instrumental intro, transitioning into a Groove Fetish original "Back My Way". A sweet jazzy groove pairs with Clays soothing vocals, creating a blissful sway among the crowd. "What if I, begged you to stay, give up your plans and head back my way. What if you, were to agree that we both need the company. I might not make it if you go away." These lyrics tell of the trials & tribulations of being in love & not giving up. Clay's delivery expresses every ounce of the heartfelt truth we have all experienced. In "Back My Way" Andy pulls us in with his guitar solo leaving us drifting into another world. close your eyes & let go. With finesse, he finishes his journey with you as a slow & gentle lead transitions into Jason's funky, yet mellifluous keys. Ethan's bold bass line is pointedly backed by the tasteful precision of the beatmasters Drew Massey & Hugh Mallard.
The set continued to flow seamlessly into other captivating songs - keeping those on the dance floor from escaping their trance. Groove fetish energizes the crowd with a crunchy transition from "Lost Souls" into another original "Lightside". The musical form of "Lightside" progresses after a raunchy guitar intro slowly welcomes in the keys. Clays smooth voice leads the way, driving the song into the melodious lyrics that speak out to the crowd.
Don't take the path of least resistance.  Thing about what's worth fighting for.
This world is made up of good and evil.  What does your future have in store?

How do you want to be remembered?   Will you fight for something more?
Don't lose your sight, never surrender.  You will be rewarded like never before

Losing it all won't make you happy, but giving it all can get you high.
There's so many paths laid out before us as we walk down this road called life.

How do you want to be remembered?  Will you fight for something more?  
Don't lose your sight, never surrender.  You will be rewarded like never before.

Which side of this world are you on?  We only get one chance so take it.  
Everyone knows the difference between what's right and wrong.
The right choice is there for you to make it.

Which side of this world are you on? Which side of this world?
Which side of this world are you on? Which side of this world?
With every question in this song, it caresses the turmoil of living life, making the hard choices, and defining yourself & the mark you want to leave on this world. Jason's flawless fingerplay over the keys builds you up into a ripping guitar solo from Andy while the beats kept pushing it on that brought the crowd into one of the best grooves of the night.  Groove Fetish closed with their newest original song,"Starstruck".  The Sabbath-esque guitar riffs are reminiscent of something you might hear at a Mantras show.  The metal like mesh of guitar jams between Clay & Andy throwing you into the throbbing bass that gets your head banging.   The guitar tingles your ear with a few simple notes during the vocals to remind you that it lingers in the background ready to take you on another ride. Clays powerful vocals slide in with a message that conveys the journey of seeking your dream, the reality of it coming to fruition, all while not completely losing yourself within it.
"Everything that I was, that will cease to be.
Universe break me down, cast me to the sea.

No one deserves such a life we've been given
I hope its not just a dream.

Oh God, I feel it inside and out.
Starstruck, I'm burnin don't put me out."
His crisp voice portrays what one can imagine most go through, when reaching for their goals & having them a fingertip away.  Clay gives way to Jason slithering over the keys with such prowess you can't help but get your boogie on . As the keys wind down, the the rhythm section falls into a deep rounded groove, Andy steps in to tantalize your ears with his scintillating guitar solo that grabs and pulls you in.  Lifting you higher with the notes, Andy's fervent playing bows out only  to have Clay finish the song with such force, it felt as though they sent us spinning to another place, "Between Earth & Outer Space".
You could tell several folks in attendance were there to see this act. The songs touch you, with each lyric Clay reveals to us or each note delicately executed by the rest of the skilled musicians in the band, they have the talent & the potential to make a name for themselves.  Recently they had the chance to play BIG Something's festival The BIG What? held in Mebane NC a couple of weeks ago, they played along beside some amazing acts & made quite an impression, with another festival play in September at Mantrabash! These guys are on the rise.  You are sure to be hearing & seeing them around the region as they start to take the southeast one groovin' beat at a time!
Col. Bruce Hampton is a living legend in our scene. Dubbed the "Godfather of Jam" by some.  He's introduced us to some of our favorite players like Jimmy Herring, Oteil Burbridge & Jeff Sipe - all from the original lineup of The Aquarium Rescue Unit (who are doing a 26th Anniversary Tour this summer - don't miss this!). Hampton is a Southern musician, singer, actor (look for him in Sling Blade among others), magician, artist and numerologist (he always manages to remember the week of my birth - he only missed by three days this time). He has been touring since 1963 with various groups. 
With Hampton this night was a group he calls The Madrid Express, featuring: Johnny Knapp (New York,NY) on the piano, Jack Jones (New Orleans,LA) on Drums, Franher Joseph (Valedeoro,Uruguay) on Bass, & Jacob Deaton (Hazard, Kentucky) on guitar.  A solid group that laid down a nice blues and jazz vibe for us. We weren't sure what was happening when we first saw them help Johnny Knapp out on stage, he has use a walker to help get around. Turns out he's had a long an fruitful career as a sideman for many legends (Billy Holliday, Barbara Streisand), a film & TV composer/performer, educator and more. Check out his bio here. The band entertained us with many of Hampton's standards including: Time is Free, Basically Frightened, and the always fun cover of Skip James' "I'm So Glad".
- "Mama"Sherry Reynolds & Lee Crumpton
- photos by Jerry Friend