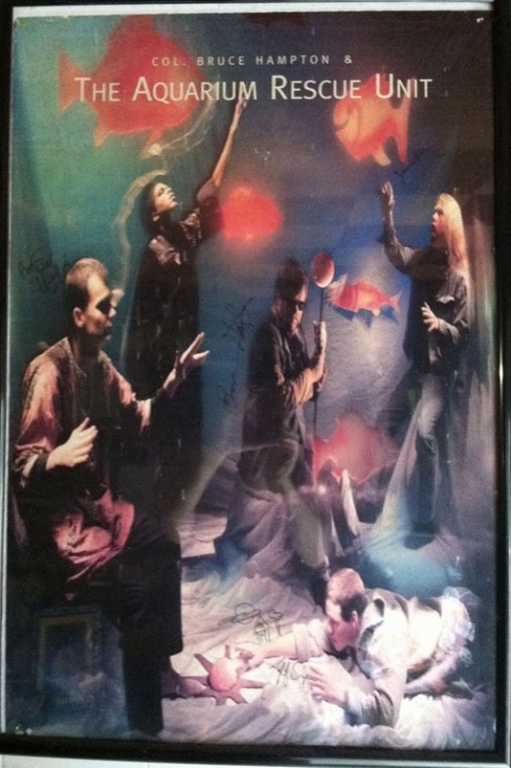 The original lineup of Aquarium Rescue Unit will always have a special place in my heart. They were one of the main bands (along with Phish & Widespread Panic) that forced me to become a lifelong diehard fan of "jambands". In 1992 I was a DJ at a big rock station. On Sundays I had a two hour show called "The Sunday Night Alternative" that allowed me a bit of free reign as far as what could be played (vary rare on commercial radio). I would often highlight the good live bands that would play our region. One day the Program Director handed me a CD single of "Basically Frightened" and said "you'll probably want to play this on your show". I recognized the Capricorn Records logo as it had also graced some of the early Widespread Panic albums I already loved.  This song was unlike anything I'd heard before.  Humorous lyrics with a jazzy groove by a band who obviously had some chops. Shortly after I tracked down a copy of the entire self-titled/live album and I was hooked!  Soon after it was announced that they were playing a free set at an annual festival hosted on campus at East Carolina University. It was a cold and misty April afternoon and I seem to recall only about 30 people actually watching the show. After that set I grabbed my copy of the album's poster I had gotten from the radio station and knocked on the door of their shuttle bus.  All the guys were super nice and were pleased that I wanted them to autograph my poster. Jeff Sipe even drew a little doodle of an apartment with the #258 on the front.  That poster has hung on the wall of the Home Grown Music Network office since it was founded in 1995.
Also in 1992, they played on the inaugural H.O.R.D.E. Tour. A musical heaven for fans of this genre. I made sure to get into the venue early to catch their opening set. After 1993's HORDE show in Richmond (which featured ARU, The Samples, Big Head Todd, Blues Traveler, Widespread Panic AND Phish!) I was on Cloud Nine and left with the feeling that I somehow needed to be more involved with this sub-culture of music. The seeds of HGMN had just been planted.
Flash forward to present day: HGMN is celebrating its 20th Anniversary and Col. Bruce Hampton and the Aquarium Rescue Unit are touring celebrating their 26th year.  All of the original guys are back sans mandolinist Matt Mundy - who we've not heard anything from since the mid 90s.  Jimmy Herring Band's keys man, Matt Slocum is also in the lineup and has the chops to hang with this impressive bunch.  He'd played with them during their reunion show at Georgia Theatre a couple years back - luckily there was a pay-per-view broadcast (and I was able to watch that show a few times!). Since the 90s the members of ARU had gone on to play in other groups that brought them much more name recognition and attention than they had ever received in the early days of ARU. Bands like The Allman Brothers Band, Widespread Panic, Phil Lesh & Friends, Leftover Salmon etc etc.  Even Bruce Hampton himself has remained active, fronting groups like The Coldetalkers, Fiji Mariners and The Madrid Express.  As a result - the attendance and venues for this run of shows were much larger than the group had ever experienced back in their early years. Many of the shows sold out.
Raleigh 08.12.2015 at The Ritz. I'm guessing there were at least 1000 on hand and the anticipation was high. On this night we had been promised a special guest. I was expecting that this guest would sit in on a song or two - but as the band took the stage I saw Branford Marsalis walk out and I knew it was to be a bit more than your average sit-in. In fact he played the entire night only sitting out for the last couple songs.  And not only Branford, we also got Otiel Burbridge's brother, Kofi on flute and keys (another Grammy-winning bad-ass)!
In the audience I spotted lots of old friends and also lots of musicians.  Mark Harris (sax) from Purple Schoolbus states, "The stage was over-flowing with talent,the room was full of smiles and love. Branford and Kofi played like long lost brothers, the woodwinds really took the grooves to a new cosmic dimension".  Purple Schoolbus bassist Bernie Taylor added, "Improvisation at it's best with players that comfortable on their instruments, is truly something that needs to be savored in this day and age. This performance was the creme of the crop!"
Those guys sum it up nicely. Rather than struggling to express music with words - I've included a link below where you can listen for yourself. The whole show is stellar. One highlight that stands out for me were the licks traded between Herring and Marsalis during "Time is Free".  This song designed to be an improvisational vehicle and this version went to another universe and back, fell apart and was put back together again. Guitarist Marcus Horth of Doby says, "Herring is a god. The interplay between he & Marsalis gave me hot flashes!"
The show featured a nice mix of ARU classics, some newly revived tunes from Hampton's catalog and some brand new songs that debuted on this tour.  My sincere hope is that some of these new and previously unreleased by ARU tracks will make it to CD.  The odds for this are good considering the band's manager also head's up the record label/jazz-fusion distributor Abstract Logix. We can all thank Mr. Souvik Dutta and his staff for making this incredible tour a reality. Let's hope they're already making plans for another run!
Setlist:
01. My Brother's House
02. Another Man Done Gone
03. Time Flack
04. Compared To What
05. Rampage
06. Basically Frightened
07. Phantom On The Curb
08. Jack The Rabbit
09. Fixin' To Die
10. Hey Old Lady
11. Good Morning Little Schoolgirl
12. Time Is Free
13. Working On A Building
14. 1911
15. Encore: The Dragon
- Lee Crumpton
- Photos by Jerry Friend