By Andrew Place
Photos by Blake Robertson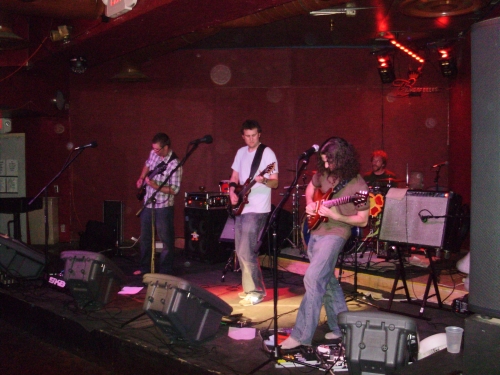 The Goat Head Saloon is the spot for live music in the Phoenix area. A chill atmosphere and the insight to book great bands, such as Quactus, is the lifeblood of a music scene here in the valley. That being said, I would like to thank the members of Quactus for a delicious April Fool's day show.

The opening segment of a familiar tune caught my attention immediately as Quactus opened their first set on a beautiful night in Arizona. The song "Fluffhead" was not lost on anyone's ears and a few people in the bar got a little riled up for a minute. The band chanted, "Quactus" in harmony during the part that the boys from Vermont usually chant, "Fluffhead". Alas, we were april fooled! The band U-turned into one of their funky original's from their debut, "Once Upon a Pond, a Spine".

You could tell right away that this band was tight musically. Plush vocal harmonies and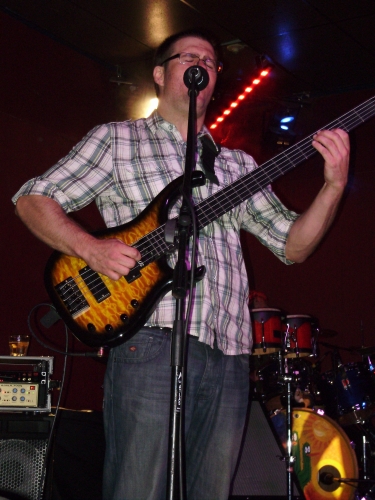 clever songwriting was apparent from the start, just listen to the album and you too will know what I m talking about. Gabe's raucous leads never faltered, Seth's rhythm guitar and Greg's funky bass foundation's complimented the music perfectly as they never missed a change even as the songs switched tempos with brilliant precision on the part of drummer Matt McDuffee.
The song "Roger Waters", which is not on the new album, is an ode to the great Pink Floyd bassist/songwriter and just one of many great reasons to go out and see this band live. I don't think I know anyone out there who wasn't moved in some way by Pink Floyd's music so when Seth Gordon sings, "Roger Waters is a part of me" you can't help but crack a smile.
Another great reason to get out there and check out Quactus besides the awesome album, musicianship, and stage presence is the selection of cover songs they do. A damn near perfect Zeppelin cover of "The Ocean" can be heard at many of their shows as it was at The Goat Head on April fool's day. If you don t believe me there is a video on YouTube of Quactus nailing it on "The Ocean" also filmed at The Goat Head back in October.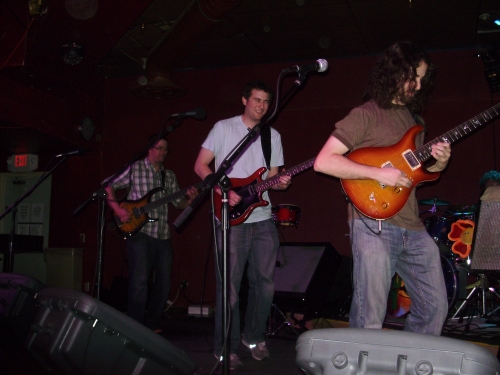 Yes, the "Fluffhead" tease was a nice April fool's joke, but it would not be the last that
Quactus played on us. "Sample in a Jar" almost opened the second set but...NO!
Another prank as the crowd once again got all riled up for another Phish classic. What
ensued is hard to explain. Remember a rap song around 89 or 90 by a group called
Bell Biv DeVoe called "Poison"? You know, "That girl is poison". Ha! Right, well imagine
that with a quadruple shot of live funk and little choreographed hilarity by the band. That s what ensued. If this doesn't convince you to go see Quactus, what will? Do you not like having fun? My guess is you do. Like it says on their stickers "Half Duck, Half Cactus, All Band"