By Peter Murner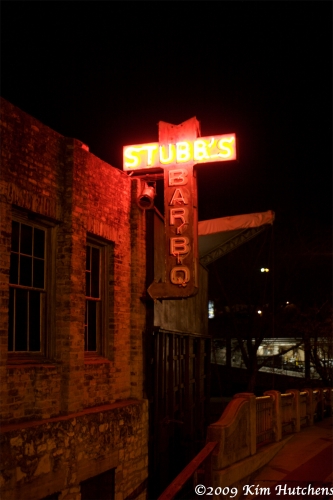 On a typical Saturday night in downtown Austin, Texas you will find a vast array of bars, clubs, dives, and venues all hosting their own unique scene. Some feature pulsating blue lights and mind droning club music; others showcase two dollar beers and 3 dollars shots with under appreciated local musicians acting as little more than background music. There are however,  a few flagship spots that savvy music goers can count on for quality live music regardless of the night and Stubb's is one of those places. Since the 1970's Stubbs has been one of the premiere locations for BBQ and live music in Austin featuring Waller Creek, an amazing outdoor amphitheater and their indoor "club stage" setup which has tendency to foster an intimate yet energetic  setting. The indoor venue is where I find myself this night, Saturday February 7, 2009 awaiting Baltimore's own The Bridge to take the stage.
This tour supporting their latest release "Blind Man's Hill" , put out on HYENA Records, has the band touring from coast to coast.  Their stop in Austin was the 4th in Texas and 13th of their 30 date national tour. As part of this tour The Bridge invited the artists over at VORCAN to paint 26 of their gigs. If you haven't seen live, improvised, music-inspired painting at a show before, CHECK IT OUT, because it is quite a visual experience. You can see some of the work the painters have been putting out over at 50dollarlunch.com.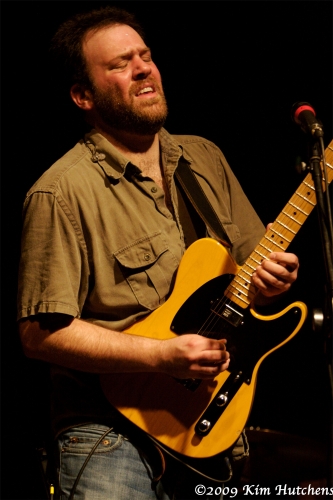 The Bridge took the stage around 10 pm and launched into a set that mixed tunes from all three of their albums, as well as some tasteful covers from Little Feat, Van Morrison and The Band. In particular, the new song "Honey Bee" showcased the band's trademark sound while highlighting how they have continued to develop and hone their songwriting and arrangement skills. The song's balance of bluesish lyrics, tight progression and perfectly sprinkled solos painted a perfect picture of who The Bridge is and what their sound is all about. For some, it was obvious that this was their first time seeing The Bridge. This was made evident when Kenny removed his mandolin and brought his microphone tight to his face concealing it from the audience with his hands. Then as I expected- he beatboxed his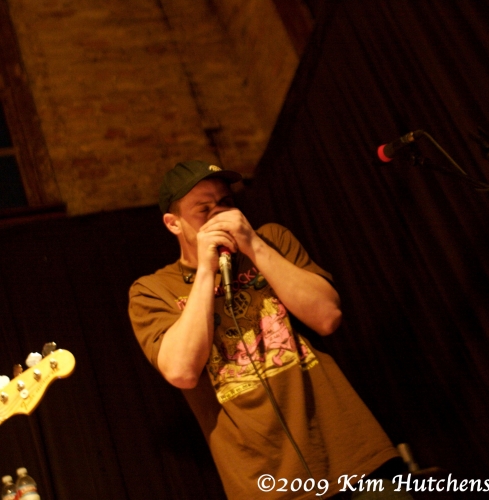 way into a series of awe inspiring vocal contortions and melodies that stunned the crowd into a state of amazement. He even subtly snuck in a short Led Zeppelin interlude and then segued into a hip-gyrating version of "Drop The Beat" that kept Kenny, the band and the crowd busy.  Overall the night was off to a great start.
As the set progressed the band kept everyone entertained in between songs as well. Their fun banter and crowd interaction made everyone feel as if the show was a personalized performance just for them. At one point in between tunes a member of the crowd ran up to the stage and placed a note at the feet of Patrick the sax player and ran away.  At the urging of the rest of the band Patrick read the "love note" aloud which asked him to Facebook the fan Brittany because it was her birthday. For everyone, except for Brittany I am sure, it was an endearing and funny moment. The band seemed to really be enjoying their second time playing Stubb's, as well as kicking back a few Lone Stars throughout the night. This was emphasized by Kenny saying that "We all know this is the best city in Texas" which few if any could argue.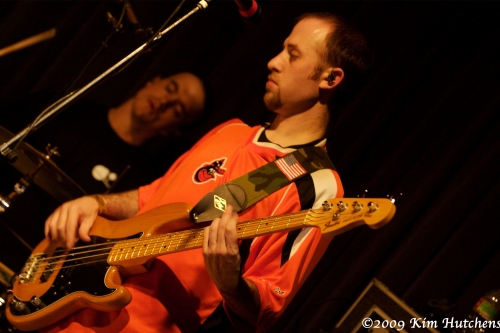 After "Diggin in the Cold Ground" -> "Into the Mystic" and another jaw dropping beatboxing "Ballad of Clear Rock" the night was seemingly coming to a close. But not before what in my opinion was the best jam of the night. Chris's take on "Heavy Water" was nothing less than 'Jerryesque'- the slow building spacey jam was punctuated by throbbing bass lines  and elegant sax riffs. The culmination of the song featured Chris's fluid guitar solos driving the jam, and the rest of the band, to a almost orgasmic peak. This "peak" was punctuated when 2 of Chris's guitar strings snapped right as the song was settling into it's final resting place. With that, the set came to a close. I then had a chance to glance over to see what this night of musical exploration had birthed on the canvas, and as you can see it was as unique and interesting as The Bridge's set and ever-evolving sound.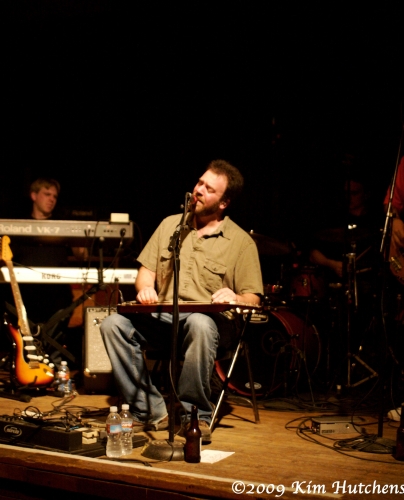 All photos taken by Kim Hutchens