The Trinumeral is a yearly music and arts festival held on the date which the day, month, and year align in an numeric sameness. The festival began on January 1, 2001 - 01/01/01 - and since has expanded to become a multidisciplinary event held every year on synchronized dates. Past Trinumeral events have taken place in Atlanta, Miami, Charlotte and Asheville. Their goal for 2008 was to offer over 40 musical experiences and over 40 visual and performing artists. The three day event took place at the beautiful Deerfields located in Asheville, NC.
        Even though we made arrangements way ahead of time and even confirmed the day before, getting in to the festival proved to be a major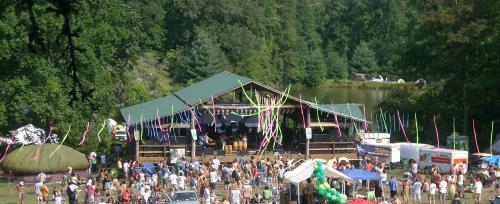 challenge. Inconvenienced in so many ways we finally made due with our HGMN set up and credentials. In the end only one of our volunteers went without a wrist band for the entire weekend. Out of all the festivals I have ever attended Trinumeral is by far the most unorganized.  From a music lovers point of view... it was pretty damn impressive.
       For the average festival goer there was a lot to see and do at Trinumeral. With an impressive line up of musicians the festival also

offered some great visual arts and activities. You had many talented painters such as Lebo, Kris D, John Hairston Jr, David Hale, Vorcan & Michael Garfield doing some live painting throughout the weekend. Victor Leong was hard at work building a giant sandcastle next to the pond just as you entered the main area. The Asheville

Aerial Arts had something going on near the RV camping area just below the Ocho Stage. The Unifire Theatre was also pretty entertaining, spinning and juggling fire. In honor of the Olympics there was the Trinumerolympia. I heard they had games such as corn hole (a redneck favorite), a six legged race, tug-o-peace, frisbee golf horse, and tube racing. I don't know of anyone actually taking the time away from the music to attend any of these activities but I'm sure it was a winner.

       FRIDAY

       I ran in to Brett of
Roots of Creation
late Friday afternoon and he reminded me of their 7PM set on the Ocho Stage. It's a good thing he stopped by. It seemed like only a few dozen festival schedules were printed out and they were the size of a postcard. Many of the set times were confusing and hard to read. It was very difficult trying to hold on to one of these schedules. By Saturday no body had one and I found myself relying on word of mouth. Although frustrating I did stumble upon a few great shows just because I thought someone else was performing. The 2008 Trinumeral lineup, for my own musical taste, was one of the best lineups of the summer.
      The first band to see on Friday was Asheville's Yo Mama's Big Fat Booty Band on the Ba Stage (main). These guys know how to bring the funk. This early afternoon set wasn't as high energy as you would expect from a Booty show but the fans were dancing and the hoopers were hooping. It was a great way to start off the festival. Not only was it world Hoop day but it was also Al Al's (Aka: Sweet Nasty),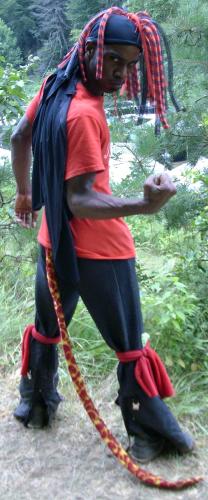 bass player for the Booty Band, birthday. Sweet Nasty is an interesting character and I suggest you approach this dude any chance you get and strike up a conversation. There aren't too many artists with a persona like his. You usually never have to look too far to find him either cruising the camp grounds, roaming the crowds, or just hanging out with random fans.
      After the Booty Band show we bounced over to the Ocho Stage (plateau) for some Roots of Creation. I'm not much of a reggae fan but bands like ROC and Dubconscious put enough spin on the genre to hold my attention. Roots of Creation performs addictive experimental rock reggae. I thought they played a really good set and I highly recommend catching their live show. After the show Bret informed me that they would be performing a special spunion set at 5am Sunday morning. I told him that I probably wouldn't make it out but you just never know how you end up at festivals. You try to have some sort of a plan but that all usually goes to hell soon after the sun goes down.

      Later that evening GZA, one of the founding members of the Wu-Tan Clan, performed a mediocre hip hop show on the Ba Stage. It seemed like he rapped the entire show with one hand in his pocket. You just got the impression that he wanted to be someplace else. It was still entertaining to watch. It's not every festival you get to see someone like GZA at Deerfields.

      We made it a priority to go check out the band,
The New Familiars
, on the Ocho Stage. First off, the Ocho stage,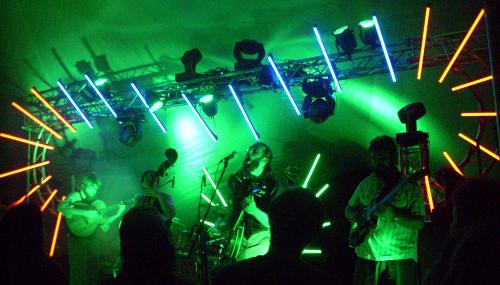 at night looks downright amazing! The lights over the stage, the back drop and vibe gave you the impression that you are inside this hip dance club. Even some of the bands performing on the main stage wished they were playing here. It was definitely cool and the design top notch. I had never seen the
New Familiars
before. I was told that I would like them but you never know. I usually try to keep my expectations low. It wasn't long after hearing the first song that I knew they would be one of my new favorite bands. The energy, the talent, these guys are the real deal. I would describe their sound as high energy indie folk rock. You can bet we'll be hearing a lot more about these guys in the future. Next to
Sci Fi
this would be one of the best performances I would see on Friday night.
      It was getting close to 10:30 and we wanted to go check out some Galactic at the Ba Stage. I thought the show was so-so. Some people like them better instrumental and some people like the rap/vocals. They seem to be more heavy on the latter these days. Despite one's preference this is undeniably a talented group of musicians. I've seen them throw down some ridiculous jams in the past but tonight I just wasn't feeling it. Right after their set we headed back over to the Ocho Stage for some Granola Funk Express. The music had already started by the time we got there and the place was moving. I'm not a huge GFE fan but I thought it was a pretty decent show and Derrick & Greg of The Booty band added some horns on a couple tunes.
     The first band delima of the weekend was between
EOTO
and
Sci Fi
, both bands performing around the same time late Friday night. We decided to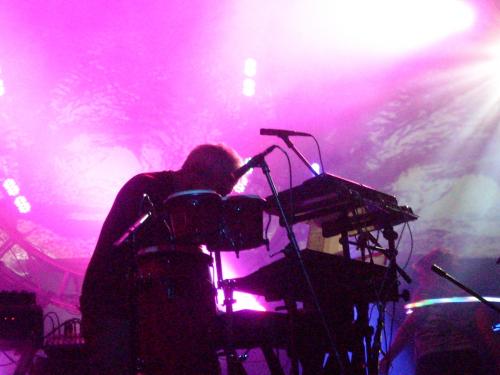 start off with
EOTO
and then go to the Ocho stage to catch the second half of
Sci Fi
.
EOTO
- Pronounce "E-oh-toe" is
Jason Hann
and
Michael Travis
(percussionist and drummer from the band
The String Cheese Incident
). Joined by another original String Cheese Incident member, virtuoso
Michael Kang
, the show turned out to be the perfect late night set. Their music is mainly trip hop, break beat, Drum & Bass but all improvised. We felt a little bad having to leave but we had to catch some of the
Sci Fi
show. Have you ever been to a show and you're having so much fun you turn to your buddy and go, "Yeah!" Go see this band,
Sci Fi
from Wilmington, NC. These guys bring it! You can't help but dance to their jazz/funk electronic grooves. Their studio album doesn't even come close to the raw energy of their live performance. 
     I really wanted to make it to Conspirator but I just couldn't hang. It had been a long day and a 3:15am set just didn't seem like a good idea, especially if we planned to stay up all night on Saturday. We also missed out on the Pnuma live PA set. That's a shame because I heard it was really good.
SATURDAY

    I got up pretty early on Saturday morning. The weather was beautiful so I decided to take a walk around Deerfields before the crowd set in. There were a few lingering spunions here and there, dazed and confused as they walked across the field near the Ba Stage. I noticed the car that they were giving away parked behind the sound board, a classic Mercedes Biodiesel Benz. One lucky winner was going to drive away with it on Sunday. I couldn't help but imagine some schwilly kid winning the prize, some dude that hitched a ride to the festival. That would be great.

   The longest hour during the entire festival came when the band Custard Pie took the stage. Don't we have enough Led Zeppelin tribute bands?!

We made our escape to the Ocho Stage to catch a little bit of Eymarel's set. EYMAREL (pronounced emma-rehl), is a duo from Wilmington, NC. I would describe their set as SEXY! The energy these two generate on stage is highly addictive and some of their songs remind me of classic 007 (James Bond) theme music, but with a modern edge. Great stuff!  From there we walked back over to the Ba Stage to see some Afromotive. Their afrobeat rhythms seemed to be the perfect blend for the hot Saturday afternoon. Laura Reed sat in on the first song, adding her vocals to the Deee-lite classic hit, Groove is in the Heart. I thought they nailed it.
     At 5pm it was all Laura Reed & Deep Pocket on the Huit Stage (pond). With conscious lyrics and captivating vocals Laura Reed will get your body shaking. The backdrop of the pond behind the stage was perfect. The only thing I don't like about the Huit stage is the hill you have to dance on. It's really awkward and brutal on the legs. The Deep Pocket showed no mercy and I could feel the pain slowly work its way from my feet up to my thighs. A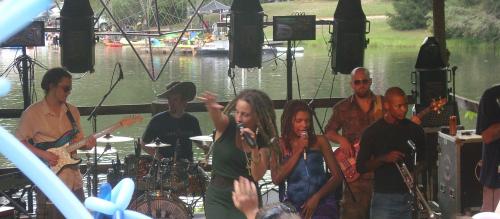 small price to pay for some great soul shaking funk.

    Exhausted and battered we arrived just in time for Kaki King. Her set was pretty mellow and I was actually surprised that there weren't that many people there to see it. I'm a fan of her studio stuff but I was a little disappointed with her live performance. It wasn't bad...just a little boring. I could tell by the look on some of the faces in the crowd that some of her stuff was just way over their head. It's a shame because I think she's super talented. I would much rather see her perform in a different setting.  After that we treated ourselves to some Dubconscious, a reggae band from Athens, Ga. I like these guys a lot but after their set we just couldn't do another reggae show and decided to skip out on Midnite who performed that evening on the Ba Stage.  We thought it would be best to rest up before Lotus and the long night ahead of us.  

     For the first time that weekend it looked as though we were going to be pounded by some rain. It was already 10:30 and Lotus would be taking the stage at any moment. You could feel the excitement in the air as a crowd of people began to surround the Ba Stage. After only a short drizzle of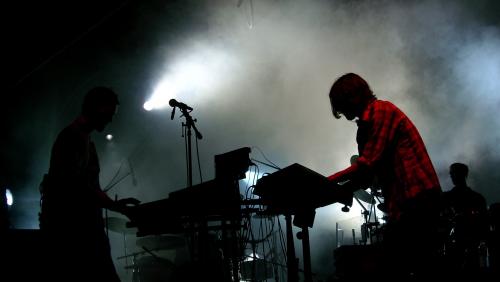 rain the band came out and put on one of the best live shows I've seen this year. These guys just keep getting better and better every time I see them. The show was ridiculous! This was by far the best performance the entire weekend. I look forward to seeing these guys again NYE in CO! Right after their set we decided to hang out a bit inside this huge tent set up backstage. The roof of the tent looked like it was made from a giant parachute and inside there were large pillows and hookahs. The vibe inside was little strange at first. Everyone seemed to be huddled in small cliques and you couldn't hear anything but the chatter noise outside. It was sort of a buzz kill at first. It made me think everybody quit talking just as soon as we walked in.  I guess we did look pretty crazy covered in sweat and all. It wasn't long before we struck up a conversation with a group of people sitting next to us. This girl offered us some wine from a bag. I declined because it looked like it could get a little messy but after a bit of pier pressure I gave in and ended up having most of it spill all over my neck and back. I remember it was around that time when this girl walked inside the tent wearing nothing but pasties.

   Lotus is a hard act to follow and we all felt sort of bad when Particle started to set up. With multiple changes in their lineup tonight it was just Gould, Molitz, and  Pujalet. I sort of liked them when they had a guitarist, was totally confused when they added vocals, and thought they were just outright boring as a three piece.  Lacking any new ideas I thought it was just more of the same old stuff minus a guitarist.

    Right after Particle we walked across the field back over to the Huit Stage to see The Malah. I thought their set was alright and then I was informed that they normally played with a bass player. He was just unable to attend because he was currently out of the country. They sort of remind me of Lotus in a lot of ways but they do have their own sound. One of the guys handed me a copy of their new CD which I highly recommend.

   Soon after we walked back over to the Ba Stage to catch the SeePeoples 3am set. Matt McDonald, former keyboardist of Perpetual Groove,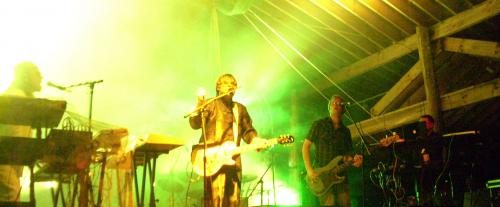 would sit in the entire show. The band is amazing and they are one of my favorite acts to see live. It's just that they are more psychedelic rock and most of the people were just in the mood to dance. For a SeePeoples show I thought it could have been much better...these guys are just so talented in what they do. I think the 10PM slot would have been ideal. Their light show was looking pretty  cool.
   Eliot Lipp, a DJ that combines hip hop influenced drum programming and electronic beats from San Francisco, took to the Ba Stage at around 4am. This dude was pretty damn good! I was all ready to pack

up and head back to my tent but I just couldn't break away.  It was a great way to cap off the night. Too bad I was going to miss out on the Roots of Creation spunion set at 5am but I had no energy left. I heard it was pretty interesting, though. Apparently someone got a hold of a box of vegetarian bacon and decided that it would be funny to throw them on unsuspecting peeps dancing to the music. So by the time the show was over the ground was covered in bacon. Damn, I really love bacon.
   SUNDAY

   I didn't get much sleep but I still manged to crawl out of my tent in time to see MSM, My Subversive Media (Matt McDonald). Matt uses modern media fused with electronic music. I was really impressed the first time I saw him perform in Raleigh but was just totally blown away with his Sunday afternoon set. It was an early set for some but I heard that a lot of people were diggin' it from their tents.

   The last two acts we managed to catch that weekend were Donna Hopkins and Snake Oil Medicine show. Donna Hopkins is an amazing musician that combines elements of blues and rock. The last time I saw her perform was in a small club in Atlanta over six years ago. I thought she was pretty good then. She's still got the chops but her back up band now is way better.  Snake Oil Medicine show is always fun to watch. Humorous and always entertaining these guys know how to fuse jazz, reggae,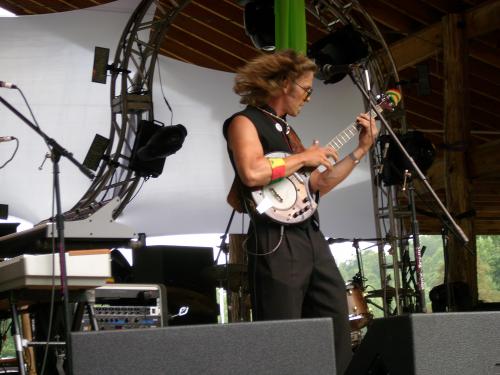 and bluegrass in a psychedelic craze reminiscent of a Sid & Marty Krofft Saturday morning variety show. After it was all over I would have to say that Trinumeral was the best time I ever had at Deerfields. The way things are organized behind the scene needs a lot of work but other than that I think festival goers got their moneys worth and then some. 

    As we said our goodbyes I ran in to Josh Phillips of Josh Phillips Folk Festival, formerly of Yo Mama's Big Fat Booty Band. He seemed to be a little out of it and his arms were full with mic stands. He said that he was in a hurry but he would be sending HGMN his new CD sometime within the next week. We have since received those CDs and I must say that its been in my CD player for the past few days. The new CD is called, 'Wicker'. Check it out! Oh, and I was a little disappointed that a schwilly kid didn't win the car but the lady who did really seemed like she deserved it.
  By: Chris Robie
  Photos by: Lindsay Chandler