Posted by: leeway | December 8th, 2011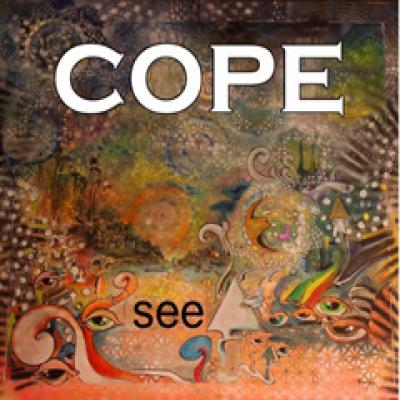 Listen to COPE and you'll find a band that adroitly changes tempo, temperament, even style in presenting sophisticated, fun jams. Brothers Kenny (bass) and Dennis (guitar) Stadelman , and their band mates in COPE, offer lots to chew on in the five tracks and 50 minutes of "See."  Joining the brothers Stadelman are Juan Montero (sax / keys) and Dave Gerulat (drums). The album shows considerable promise with its tasty jams, engaging lyrics and likable sensibility. I enjoyed their first album ("Going Home") very much, but this second release from the Tampa, Florida quartet proves to be quite charming throughout. It even proves revelatory in places, with tracks like the lofty, ambitious closer, "Shake Anything" venturing across many musical spectrums.
"See" begins with the infectious "What Goes Up," featuring confident vocals and razor sharp saxophone, hitting its stride with sophisticated horn and syncopated measures. An instrumental jam features excellent interplay between keys and feverish guitar, offering blistering runs that should have the dancers twirling.  "Every Time" combines a fun sing-along quality with skittering runs on guitar and keys. The title track clocks in at over 10 minutes and offers varied mood, settling into a nice instrumental jam that displays even more scintillating contributions from Montero. "Suwanee River Scrubdown > Dark Hollow > Suwannee River Scrubdown" offers a hilarious look at the trials, trails, and travails of the "Festie Kid." Although the track offers a tongue-in-cheek depiction of the "scenesters" that borders on satire, there's a certain engaging quality and love evident here. The song transitions into the amazing "Dark Hollow" prompting one to sing and dance along. Stadelman's banjo offers a nice cadence and quality to this whole track, but it's his smokin' guitar that impresses me the most here.
It might seem self-serving to even introduce my opinion here, but I have never devoted a whole paragraph to one song in my near 3 years of writing for the Home Grown Music Network. But the qualities of "Shake Anything" sort of demand that I do such a thing. The seventeen minute journey you take through this track proves utterly remarkable in places, decidedly jamming in others, and proves almost symphonic in its varied composition.  After a fun, funky overture to start the track, the song segues into paint peeling guitar theatrics. After working this theme satisfactorily, the jam dissolves into a spacy, delicious overture filled with loping, clean guitar and nice organic groove. This part of the jam reminds me of Lotus and it just delights me after the places this track has been. Dave Gerulat shines throughout the album, but he gets a nice drum solo in this track to offer some teeth. Playful hip hop lyrics offer a dash of machismo and hilarity, and the jam concludes with more incredible saxophone from Juan Montero, who seems downright wizard-like at this point in the album. The track concludes with the vocals that claim "this could be the best night that we ever had." Indeed.
The 5 tracks in "See" prove to be varied, divergent numbers. They feature striking jams, amazing guitar, and confident, likable vocals. This second release dispels the notion of a sophomore slump, and the band fuses differing styles and genres with facility throughout these 5 tracks. The resulting concoctions prove to be shifty doppelgangers at times, changing texture and genre frequently within songs. The album proves to be charming and likable, yet complex in arrangement and musicality. Such a balance seems rare in the musical scene of today, and COPE succeeds in both counts here.
- J Evan Wade