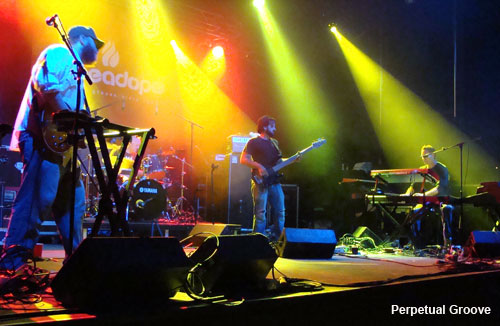 All the festival goers and Phil followers descended on Masontown, West Virginia for All Good '08, the 12th annual to be exact, with a vengeance, promising to deliver rip-roarin' fun for all.
            Car troubles in Massachusetts forced this disappointed journalist to miss the early arrival sets including "The Join" which by doing my duty and interviewing some folks who were actually there, was apparently, "a gnarly dance party!" and, "absolutely delicious!". No, we ended up driving through the night to the festival and with no sleep under my belt I pounced on All Good feeling the impending awesomeness that was welcoming our wonderful lust for raging live music and complete and utter debauchery that completes any life-altering experience in beautiful Masontown, West Virginia.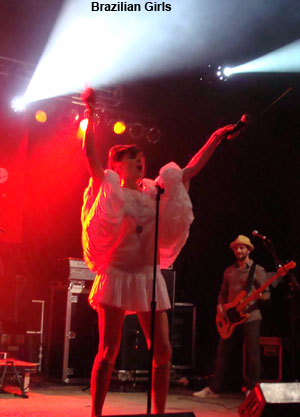 Vermont's own hyperfunkers Raq took the stage with a mission to shred and shred they did. From the "Will Run" opener to all the extended jamming throughout including "Scarlet Begonias" teases Raq refused to go quietly into the night. Amidst rumors of their breakup they once again prove they belong with the big dogs by closing their set with a nasty hyperfunkalicious "Brother From Another Mother". I for one would be greatly saddened if this vibrant collective of brilliant musicians from the green mountain state decides to call it quits.
            After a funky evening with Lettuce and Medeski Scofield Martin and Wood, Phil Lesh and Friends were finally on for their Friday night headlining set. Jackie Greene's guitar solos were gut busting, on point and creative. The rapidly growing lovers, appreciators, and addicts to the music known as '80's Dead got their fix quickly when Phil opened up with "Feel Like a Stranger". But the most mind-blowing aspect of this particular Phil set, which was by no means this journalist's first, was a monumental trance fusion jam which was actually a song by Phil's keyboardist's band Particle. For some of the purists it was blasphemy but to me it showed the continuing evolution of Phil Lesh not just as the Grateful Dead's bass player, but as an independent musician in his own right. Like it or not Phil has had a long running respect for bands such as Particle that fuse live jam music with electronic music. After two slow songs, "Loser" and the always beautiful "Ripple", Phil and Friends pumped up the crowd and melted faces by playing the Particle song,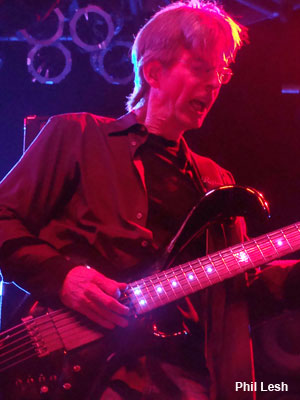 "Gone Wanderin'" sometime after darkness fell. Doing my journalistic duty I danced my ass off and wandered through the crowd with glowsticks aplenty seeing many familiar faces and meeting some new ones to the sound of Phil's new groove. I don't care what anyone says, I like it. 
            "The Golden Road", one of the oldest Grateful Dead songs got all the hippie chicks groovin' and hula hoopin' while the band jammed Viola Lee Blues into New Potato Caboose into the Beatles classic, "Revolution" that led into "Jack Straw". What a sexy group of songs. Just looking at the setlist makes me crack a smile. I can honestly say that not just one or two people had tears in their eyes when the band played "Brokedown Palace" as their encore. I myself felt goosebumps in the hot West Virginia night.
            Freshly off a mini-reunion with Trey at Rothbury, Mike Gordon and his new band pumped out two songs, "Dig Further Down" and "Crumblin' Bones" which both had their moments. But what really struck me was a tune I believe is called "Radar Blip" that featured some very strange but hilarious (only Gordo could think of) crowd participation. You just had to be there. The highlights of his show for me were the same duo of songs played with Trey at Rothbury, the Phish tune, "Meat" and "She Said, She Said" by the Beatles. No Trey this time but we'll see what happens...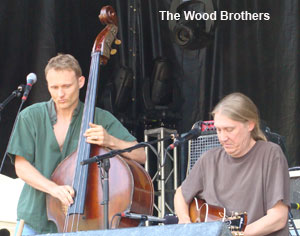 Elegantly dressed and full of mellow yet infectious dance grooves Telepath got the crowd moving despite the short set time and scorching temperatures. Oh yeah, I love the bass player's hair! Bringin' back the '70's!
            Now that Widespread Panic has Jimmy Herring formerly of The Dead and Aquarium Rescue Unit, they rock harder than ever and they've been around for 22 years. Their raucous headlining Saturday night set showed off their masterful chops by featuring a rocks-off cover of P-funk's guitar classic "Maggot Brain."
            The Bridge followed by opening their set with two sick instrumentals and eventually featured Mr. Micheal Gordon sitting in on bass as a special guest star blooping out all the right notes. Once again the All Good fireworks display tickled everyone pink.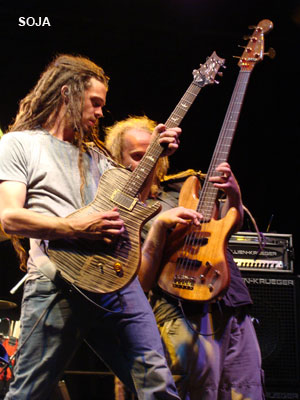 The stars seemed to align for DSO's late-night set. The weather was perfection and the glowsticks were flying, especially during the always crowd pleasing "China Cat Sunflower>I Know you Rider" and the other classic song duo, "Scarlet Begonias>Fire on the Mountain". A rare but beauteous "Mission in the Rain" slowed things down and a just as rare "Alligator" ran into the Bob Dylan epic "Visions of Johanna" where, "we all sit here stranded though we're doing our best to deny it". The continuous set concluded with massive glowstick wars and sexy girls dancing to "One More Saturday Night" which in essence was all this was...although technically Sunday morning. We brought the band back onstage for an encore which they played the gospel song "Brothers and Sisters" and nobody left disappointed although I hadn't seen my photographer in a while and still haven't since. If I know him he's fine, just going where the wind takes him. A little warning or some pictures for this article would have been nice though...
The political hip-hop, roots rock reggae styling of Micheal Franti and Spearhead closed out another blazing amazing weekend on magical Marvin's Mountaintop. To all the wonderful people I met and kicked it with; Love you! 
- by Andrew Place
- photos by Lee Crumpton
We also recommend viewing Colleen's Gallery featuring many of the interesting people of All Good 2008.
More photos: