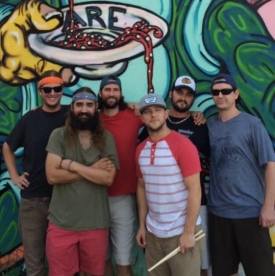 On Friday, November 13th, I took the opportunity to go see some live music, as I knew that two of the newer acts on the Home Grown Music Network roster, Groove Fetish and Imperial Blend, would be playing up in Greensboro at The Blind Tiger that night. With the eminent arrival of Saturday's Dead and Co. Greensboro show, the show was hailed via word of mouth as a sort of "pre-party" for Dead's Saturday performance, and many of the locals showed up with this mindset, ready to kick the weekend off right. I get to the Tiger and get my first drink while Groove Fetish is setting up. I find myself looking forward to seeing them, as I've only seen them a couple of times so far, and it had been months since my last Groove Fetish performance at The BIG What? festival in June. I was curious to see what direction they had gone in over the last few months, and what direction they appeared to be going from here. I reviewed their album "Between Earth and Outer Space" for Home Grown earlier this year as well, so it would be interesting to see what had transpired over the last several months.
   Groove Fetish takes the stage for their opening set, and I come away really impressed. Groove Fetish employs a muscular, guitar-driven sound coupled with soulful vocals and tinges of Southern rock. Groove Fetish's lead singer, Clay Crotts, has a strong voice with moments reminiscent of John Bell from Widespread Panic. That's a dangerous comparison to make in the world of "jam" as one doesn't go comparing to the pillars of any establishment without being really sure of the comparison. Crott's voice croons with a nice cadence and timbre, and is nicely punctuated and framed by the embellishments of his band mates. There are lots of layers to Groove Fetish's sound; these light vocally energetic moments correspond with darker, bluesy riffs and the resulting stew is quite savory. I end up chatting with a good friend and big supporter of Groove Fetish and there is a certain glimmer in her eyes when she speaks. "I haven't seen them play in months, so this is quite eye-opening for me," she relates, and I find myself nodding in agreement. Groove Fetish played well, interacted nicely with the crowd, and left me wanting more, and that set the stage nicely for Imperial Blend.
Groove Fetish - 11/13/2015
Lightside
In the Moment
Wizard
Starstruck
Monicus
Talkin'
Lost Souls

Imperial Blend has been working diligently over the last year since the release of their debut album, ratcheting up their sound and production values, and bringing an increasingly complicated, sophisticated approach to their live shows. The resulting mix has proven excellent, with larger attendances and a sense of expectation and excitement regarding their shows, even getting write-ups in local magazines along the way. It's a tough business, but Imperial Blend has been measured and deliberate in its approach, putting the focus on new rhythms, tight interplay, and a tendency to make wicked, nasty jams. Such dedication is paying off, and it's definitely showing on this Friday the 13th. The early "Redbud" proves delightful for me, as I had mentioned the song specifically earlier that night. The crowd undulated and swayed, rather hypnotized in this track's particular hypnotic groove. Blend delivers an excellent set this night, even tossing in a Grateful Dead cover of "Feel Like A Stranger" as a nod to the following evening's impending Dead set. All in all, Imperial Blend played excellent, showing off for the home crowd, and their pairing with Groove Fetish proved to be excellent entertainment to start my weekend off.
Imperial Blend - 11/13/2015
Spyro >
Redbud >
Monogon
Zoltan >
Katana >
Solstice
Your Move
VCR >
Low Tide
High Tide
Feel Like a Stranger (Grateful Dead - 1st time played)
Pinweel
Yuna
   Being that Imperial Blend plays locally, they are a band I get to see more often, but I'm definitely intrigued to see more Groove Fetish as well, when those opportunities present themselves. They are scheduled to play with BIG Something at the Lincoln Theater in Raleigh, NC for New Year's Eve this year, and that looks like a tempting evening of entertainment, and an excellent pairing of bands.

-- by J. Evan Wade